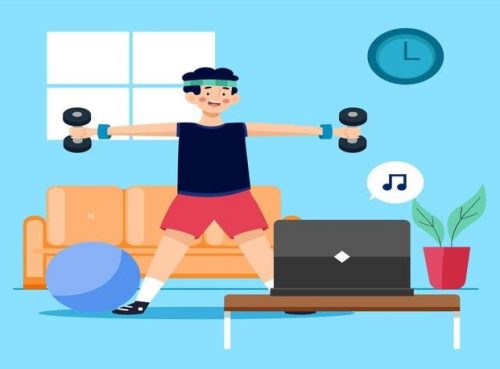 Digital fitness experience is similar to the face-to-face fitness experience provided today. It differs only in terms of the medium. While offline fitness experience takes place face to face, digital fitness experience happens virtually, all thanks to technical innovations by app development companies and fitness experts.
With the COVID-19 pandemic still ravaging lives across the globe, conducting offline fitness sessions has become complex and risky. Several people who wish to attend gyms, yoga classes, and fitness sessions are hesitant due to the pandemic.
Many fitness experts have adopted a mixed route and conduct both online and offline workout sessions to adapt to the changes in daily lives due to the pandemic. Digital fitness experience is taking the fitness industry by storm. Digital tech in fitness is the new IT thing.
With gymnasiums closed and lockdown being frequent, home workouts, fitness apps, and personalized workouts are becoming popular. Digital innovations like Wearable tech, Gamercising, and Wellness apps have also gained momentum.
Digital technology has come up with innovations to provide fulfilling sessions to fitness enthusiasts and experts. Virtual workout classes have the twin benefits of being accessible and just as effective.
Fit Tech Boom
The technology boom in the fitness industry is not very new and not entirely a product of the pandemic. However, the pandemic did play a role in popularising it. The fitness tech boom happened with the introduction of the apple watch.
The year 2020 was a ground-breaking year for the fitness technology industry. While pandemics necessitated lockdowns and social distancing measures, fitness enthusiasts looked for alternatives that helped fulfill their goals.
Contemporarily, digital technology and fitness consist of fitness apps, online workouts, to wearable tech like health tracker watch. The industry is not only innovative and accessible but also highly convenient.
Innovations of the Fit Tech Boom
1. Home gym equipment
Number one on our list of fitness technology innovations is home gym equipment. Home gym equipment range from dumbbells to treadmills, cross trainers, and small equipment like resistance bands and foam roller connect.
Stationary bikes are another famous piece of equipment, especially among work-from-home individuals, as they can work along with biking. This equipment negates the need to visit the gym each day, and people can work out effectively at home.
2. Fitness apps
 The most significant innovation of the fitness tech boom is fitness apps. There are hundreds of fitness apps available today on the Apple app store and the android play store, providing free and paid workout lessons and meal planning.
Online fitness apps have also caused a boom in related techs like connected devices- home players, Alexa, and Siri. iPhone Bluetooth is used to connect to smart TVs and work out while following steps on the big screen.
Fitness apps were all the buzz during the first half of 2020 when lockdowns were the norm worldwide. From free apps to paid and even subscription-mode apps, workout planning apps grew at exponential rates.
3. Fitness trackers
Some of the best wearable fitness trackers include the Apple Watch. Fitness trackers have bands and another tech that measure heart rates, types of exercise, calories burned, steps taken, and even sleep patterns.
Fitness trackers are no longer only meant for tracking workouts; they are now a fashion accessory and a style statement. Wearing suede black apple watches with semi-formal suits is a style statement.
4. Wellness apps
Wellness apps aim at harmonizing sleep, aiding in meditation, and calming the mind. Popular wellness apps include guided meditation, sleep music, and relaxing background noise to accelerate a restful sleep and peaceful mind.
5. Online coaching
Free as well as paid coaching is another innovation aided by the fit tech boom. Fitness influencers have launched subscription-based workout classes targeting specific parts of the body.
Online coaching allows people from all over the world to follow workout regimes of their favorite people using only an internet connection. Often classes are recorded so you can watch and workout out according to your convenience.
6. Virtual reality
Virtual reality and online coaching are a stellar combination. Health clubs are now encouraging users to stimulate a gym-like environment with the use of virtual reality tools. Virtual reality helps bring a sense of motivation in individuals and also prevents the feeling of alienation.
Benefits of the Fit Tech Boom
The most significant advantage of the technological boom is the motivation it has provided to thousands of people to work out and get fit. The first lockdown due to the pandemic created a buzz regarding fitness and working out.
The download rate of workout apps grew tenfold, and more and more people started at-home exercises to stay fit, get in shape and spend the extra free time they received due to lockdowns.
Workout of fitness influencers grew overnight and fitness challenges ranging from a few weeks to a few months became famous. Influencers like Chloe Ting, Emi Wong, etc., started to get thousands of followers in just a short period.
The fit tech boom offers a list of benefits such as –
Better convenience
More accessibility
No time constraints
Fewer chances of catching COVID
Works even during lockdowns
Social distancing is enforced
Cheaper for many
Motivates
Lower carbon footprint
Increases the importance of working out and fitness in general
The technological boom in the fitness industry has made workout motivation widespread and has also opened up avenues for new businesses such as fitness trackers and meal planners.
So, the fitness tech boom has helped make fitness accessible and easy and has also provided business opportunities for entrepreneurs, start-ups, and small businesses.
Innovative ways to create a digital experience
Each day some new creative idea is being thought of and revolutionizing the fitness industry. Here is how you can create an innovative digital fitness experience –
Gone are the days of traditional workouts with counts and steps; people do not like to work out while talking, listening to music, and even working. Make your regimes flexible by allowing options such as a no audio option for those who like to vibe to the music, a recorded class for busy professionals, and more.
Be creative, reachable, and friendly.
Another way to create an innovative digital experience is to create highly personalized workouts for clients. A straightforward approach is to complete a google form that shall contain questions related to health conditions, fitness goals, stamina, targeted areas, and such.
Let each client fill this form and then record personalized workout videos for each client. Many people look for customized workouts, and such trainers are high in demand.
If you have the precise budget in place, you can also gamify workouts. Technology such as Nintendo can be used to create activities, and users owning such tech can use it.
Having high-feedback environment
Feedbacks are the backbone of the device sector. Be it traditional institutions like banks or innovative business ideas like small shops, feedback go a long way.
Letting people give you feedback on your work or asking for their opinion on what they would like to experience while working out can help you brainstorm and develop innovations.
Another traditional yet effective way to make workouts more fun and engaging is to mix different activities.
Dancing and singing, cardio and weights, etc., are examples of adequate mixing of workouts for the best results.
Some examples of innovative digital technologies to better enhance fitness experiences
Example 1:
Technostacks has come up with a mobile application for enabling innovation in digital fitness experiences. The app will be used by coaching classes and gyms.
The app will display the presentation and play selected music right from the player app. Facility owners will be able to add instructors and trainers to the app. Trainers can download the app from the links received through the email along with their credentials.
The creator app will permit users to create the presentation. The presentation app can be configured to control Smart TV and Lighting system. The Smart TV will display the presentation videos, images and will play the music.
The Smart TV screen can be split to showcase the presentation and scores on the screen by each user. The presentation visualization and music will be played in a loop.
Example 2:
Online exercise classes have been revolutionized by taking innovative steps like setting updates between members using their compatibility in the type of exercise preferred.
A Fitbit is a tech band that common individuals can wear on their wrist to evaluate their day-to-day fitness routine and much more to offer.
A romantic angle to workouts makes them more engaging and exciting. It is seen that people are more motivated to work out when presented with the prospect of going on a date later
Example 3:
Another way of working out that has been revolutionized by digital fitness tech is fitness games. Gaming while exercising is a new concept that has enthralled the hearts of many. This includes dancing while gaming, role-playing, and much more to offer.
Nintendo pioneered Gamercising by creating tools that allowed one to exercise while playing their favourite games.
 Key Takeaways
The fitness tech boom refers to the digital innovations that have happened in the fitness industry. 2020 was a beautiful year for fit tech and saw a significant boost in its popularity. While the tech boom started way before the COVID-19 pandemic, the pandemic acted as a catalyst in its favour.
The fitness tech boom has many benefits such as workout motivation, accessibility, cost-effectiveness, overall better health standards, restful sleep, and more.
During the fitness tech boom, innovations include fitness trackers, fitness apps and websites, online classes, and recorded lectures. You can also keep up with the fitness technology boom by adopting innovative techniques like personalized training, mixing workouts, and more.
---
Interesting Related Article: "Importance of At-Home Fitness During a Pandemic"