There are different ways to become an expert blackjack player. If you watch tons of video tutorials or start reading various guidebooks on blackjack or spend hours reading online blackjack articles. But before you join a casino and invest some money, you must read a good casino review so that you do not lose any money.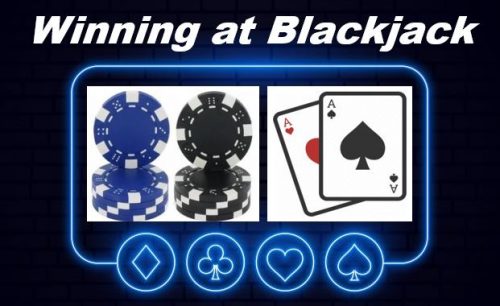 All of these happen to be extremely helpful for a beginner and you should certainly try them. But here in this article, we will give you a few tips that will help you quickly to improve blackjack results in five minutes.
Learn Blackjack Rules to Influence the High Return to Player Numbers
Every blackjack rule can influence the return to player numbers. The return to player percentage gives an idea of how much of the money the player bets will be returned to him, and from this, he knows how much the casino is going to win.
Basically, the aim is to play at blackjack tables ensuring a high return to player numbers. At these tables, the player loses less money overall and has the best chance to win real money.
There is no need to remember the return to player numbers for each probable rules combination. But you must know which rules offer better results than others. When you learn to choose the best rules you can get a good idea which blackjack will be a good game for you.
All you need to do is some simple research and understand every rule. To begin with, follow the below-mentioned rules.
When players double down after splitting it helps to make the return to a player go up.
The general rule is for a dealer to stand on a soft 17 as this is better than when they hit.
Surrender is a better option compared to the games that don't offer surrender.
Splitting pairs 4 times or more will be better than if splitting 1, 2, or 3 times.
It is better to double down on any 2 cards than more restrictive rules.
Use Blackjack Strategy Card
The Blackjack basic strategy Card is one of the most important things for any blackjack player. The strategy recommendation is derived from a mathematical point of view, and the blackjack strategy card is the table that includes all the solutions recommended by the blackjack strategy. This is the most convenient way to check with the strategy every time you play.
If you don't use strategy cards there are high chances to lose more money than other players who do use strategy cards.
There are multiple blackjack hands and different hands are played in different ways. But the best way to play each hand will be to consider the card the dealer will show along with your 2 cards, and then decide which one will help to earn more profit in the long run.
For many years players couldn't figure out the easy way to decide the best play. They needed to learn many mathematical factors to figure everything out. But things became easier when players started using computer programs to run all of the possibilities.
These computer programs helped to discover mathematically proven ways to find the best play. And these results were printed on a card in tabular form so that anyone can use as this will give the best chance to win.
Use Free Blackjack Software Program to Practice
Proficient blackjack gamblers practice a lot to improve their skills. Though you can practice while playing for real money, but if you want to practice without taking any risk of losing money there are various tools available that don't charge money play to practice.
Even if you prefer to play for real money in a live casino, you can still practice Blackjack on your computer or mobile phone using software that will highly help you to improve your skills to a great extent.
You will find many software programs to help to learn how to count cards. If you make a small investment to purchase a good counting software program, it's worth it as you can learn how to beat blackjack effectively.
Avoid Playing on 6 to 5 Blackjack Tables By All Means
The utter mistake a blackjack player can make is joining a table that pays 6 to 5 for blackjack. But solving the problem takes only a few seconds. Just make sure not to play a single hand blackjack at a 6 to 5 table.
You must be thinking why 6 to 5 is so bad. In fact, most blackjack players do not have any idea just how bad it is.
Usually, the majority of blackjack tables pay 3 to 2 for blackjack. Many tables still offer the traditional amount, but plenty of 6 to 5 tables are now available than ever before. The real reason is casinos make more profit when they pay 6 to 5 compared to when they pay 3 to 2. As long as blackjack players are interested to play on bad tables the casinos will keep offering them.
You can get an idea of how much you can win from this example. When you get a blackjack betting $100 at a 6 to 5 table, you win $120, which sounds good. But when the same amount you wager at 3 to 2, your chance of winning can be $150. If you play blackjack for an hour, the difference will be $30 an hour. That means you will give the casino an extra $30 per hour just to play blackjack.
Learn How to Count
Learning how to count cards is one of the most crucial steps to becoming a successful Blackjack player. It can take probably a few hours to learn how it is done. With a decent level of practice, you can even start counting cards. But to get really excellent at counting you will need to invest a lot of time.
So you have to be persistent in learning how to count cards and it's going to transform your gambling life altogether if you do it well.
---
Interesting Related Article: " Winning at Blackjack: 3 Important Things to Remember"