If you feel like your business is stuck in the mud, or you want to produce more sales, I will introduce you to a kicking buddy of your business in this article.
It's all about adjusting your marketing plan and being customer-centric. Whether you are new to business or an experienced pro, you must not overlook what really matters: your CUSTOMERS.
If you really want a kick for your business, make people the first priority for every action. Allow customers to log in with just a single click and increase the customer experience of the store with Google One tap Login Extension for Magento 2.
Customer Value Optimization is what Starbucks, McDonald's, Amazon have used to build their kingdom. No matter what you are selling, this system changes the way you manage and handle your business.
Customer Value Optimization bluntly works
Customer Value Optimization (CVO) is a key to grow your business for the long term and make you number one in customer loyalty.
Is Custom Value Optimization easy? No. 
Is Custom Value Optimization essential? Yes.
There are merely three ways to develop your business:
Increase the number of customers.

Increase the average transaction value per customer.

Increase the number of transactions per customer.
These are the ways that control the Customer Value Optimization system.
Customer Value Optimization is about creating a terrific customer journey and increasing the ROI of all the marketing operations. Customer value optimization aims to create a sales channel that helps to acquire and retain customers and outstand the competition.
Marketers and businesses must take advantage of CVO to create an unconquerable business. Competing with businesses that practice CVO is not possible.
CVO process is building a marketing funnel that allows spending more than your competition to gain customers.
Stages of Customer Value Optimization:
Customer Value Optimization is made up of 7 stages to lean customers towards making a purchase. Let's dive in…
Determine Product and Target Market
Perhaps, the first most important stage of Customer Value Optimization is determining whether the product is the right fit for the target audience. You can achieve this by solving the problems of customers.
Start by determining the "before state" of buying the product. They are frustrated or unhappy due to a number of reasons. They are looking for solving their issues.
Your product is the solution. It can move customers to a much-fulfilled state as we call it "after state". In this state, the customer is pleased and satisfied.
Once you have got the right way to change their before state to after state, you need to determine the pricing. The bigger the problem, they are more willing to pay. After you are sure about the product that fits the market and you have decided the pricing, it's time to jump to the next phase.
Determine Traffic Source and Platform
In order to drive traffic to your site, you need to determine what your traffic is worth. It shows how you interact and engage with your customers.
Your business traffic source can be from social media platforms, blogging, email campaigns, advertisements, or organic search. Irrespective of trying to attract customers, focus on the budget and traffic your main goals: Drive traffic to your CVO funnel.
When you select your source of traffic, make sure you have adequate resources to monitor the data in order to check out what's working well and what's not. Without tracking it will be difficult to identify the market that is the correct fit for your product.
This stage increases your numbers of customers and leads. The lead magnet offers a valuable piece of information in exchange for contact details. It is the first transaction of you with your customers.
A lead magnet is generally offered on the landing page. This landing page is optimized to convert traffic into leads. Your lead magnet need not be fancy, complex, and lengthy to be effective. Your lead magnet needs to solve a problem. Offering a free trial or free shipping or discount on the first purchase can generate high-quality leads. It does not matter what business you are in. All that matters is, your lead magnet must solve a specific problem.
The next phase in the CVO process is converting those leads into customers. To do this, you need Tripwire. Unlike Lead Magnet, Tripwire also increases the number of customers. Tripwire is the first exchange of money between your business and customer.
The goal is to get someone to spend even a small amount of money by making a purchase that later becomes your permanent customer. To make your Tripwire compelling, offer the product at original cost or sometimes at a loss.
Even though you do not make a direct profit with Tripwire, it is the most important addition to your business.
This your key piece. Core offer is when customers come to you for a specific product or service. The key action is to prove that your product or service is worth the investment. The mistake some businesses make with core offers is that they try this process with first-time visitors.
You should reinvest the money in marketing and acquire more customers. This is how you stay ahead of your competitors and generate more profit in the long run.
The product that goes well with your core offer is your Profit Maximizer. It is the upsell or cross-sell product that is used to maximize the transaction value. Any offer made after the initial sale is a profit maximizer.
For example, if you sell mobile phones, your profit maximizers will be phone cases or earphones. They are the items that customers want to buy that come with your main product. It may also include subscriptions, usually bought together, people also bought.
Revenue obtained from the Profit Maximizers will be much more than that of Tripwire and Core Offer.
Ultimately, the last stage of Customer Value Optimization is to bring back the customers. A return path includes loyalty programs, exit offers, content marketing, email marketing, or retargeting. The goal is to drive customers back to the CVO funnel and purchase a tripwire or any other offer.
As you have received their contact information in the Lead Magnet stage, you can continue marketing them online. Return Path helps to increase the number of transactions per customer. Return Path works for businesses and it will help to expand and measure your business.
Bonus Step: Turn Your Customers into Crazy Fans
Nothing is better than the customers who are mad about your business. If they fall in love with your product and services, they will not stop telling their friends. They will become the mouth marketer of your business. These crazy fans will bring in more traffic and business to you. And to do that, the Customer Value Optimization model is the better way.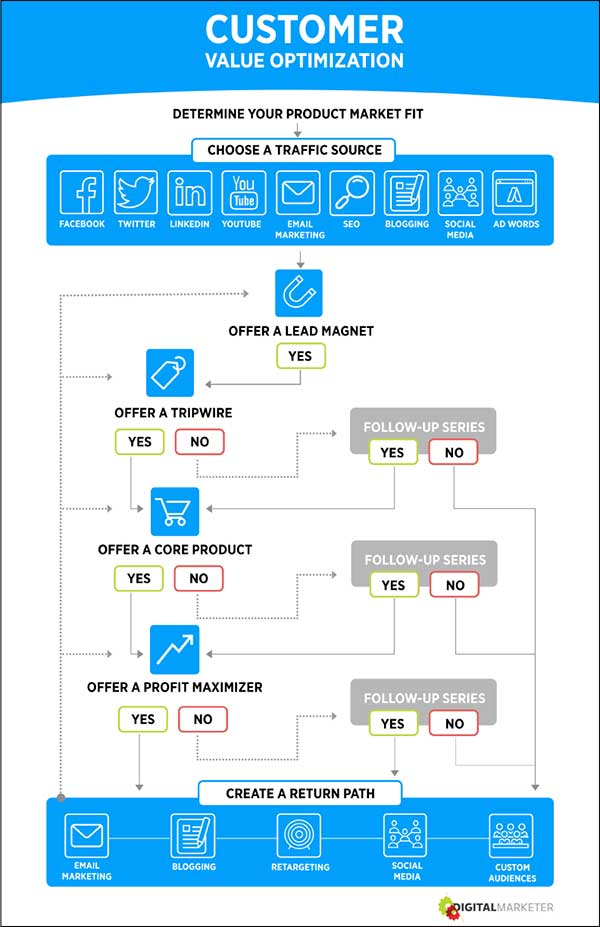 Image Source: Digital Marketer
Final Say
Customer Value Optimization is an unending process for many businesses. It is a far better approach than increasing your ad spend. More traffic does not mean growth of the business.
With the Customer Value Optimization method you won't be able to achieve growth all at once. Focus on the things where you are underperforming. With the appropriate tools and people, you will be able to bring light to the qualitative and quantitative data of your store.
Author Bio
Gaurav Jain is Co-Founder of MageComp and Adobe Certified Expert-Magento Commerce Business Practitioner. Being a Computer Engineer and possessing Extensive Marketing skills he handles all kinds of customer Queries and his Happy & Helping Nature makes customer's day Delightful.
---
Interesting Related Article: "How to Enhance Customer Experience in 2021 Through Personalization"