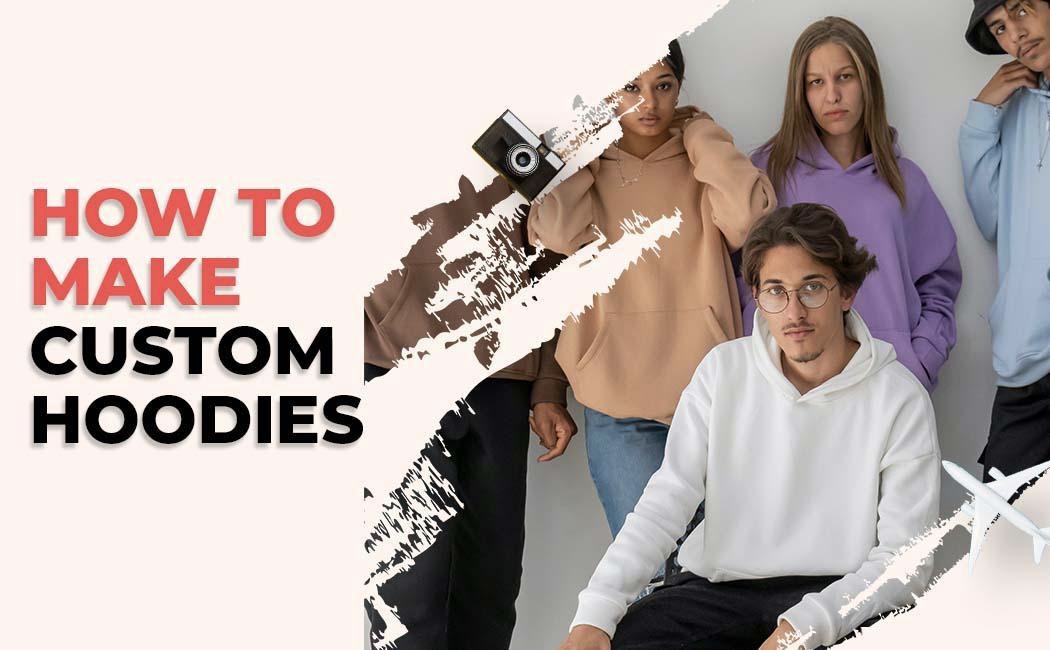 In the growing field of fashion, custom hoodies have become one of the most popular ways of expressing oneself and finding a reliable hoodie manufacturer is crucial for bringing your designs to life. They are also becoming very useful when it comes to the promotion of a brand or gifting your loved one something unique and personal. When one creates the design of their own hoodie, it allows them to express their creativity.
This article provides a comprehensive guide to designing and creating custom hoodies, ensuring that you end up with a unique and well-crafted product. Throughout the process, working with a trusted hoodie manufacturer can ensure the finest craftsmanship and attention to detail for your custom hoodies.
Substances Required
A blank Hoodie (made of cotton or a cotton blend)

Paint or markers to work on Fabric

Stencils (optional)

Iron-on transfers (optional)

Scissors to cut Fabric

Sewing machine with needles and threads of the colors needed

Ornamentations (such as patches, beads, or sequins)

Iron and ironing board

Design software or drawing tools (optional)
Step 1: Design your Hoodie
To start making your own custom hoodie, you first need to design a logo or design for the hoodie. The design can be anything ranging from inspiration from your favorite book to a scene from a movie. If you don't know how to draw, there is no need to worry, and various online design software are present that provide a huge variety of templates and design ideas as well.
One can also hire a digital artist to help bring their idea to life. When your design is ready, you can have it saved digitally on a computer and print it out as well.
Step 2: Prepare the Hoodie Blank
The next step in creating a custom hoodie is to lay your hoodie on a surface and remove any wrinkles from the hoodie. In the case of a new hoodie that has not been washed before, one important suggestion is to have it washed and dried at least once before to save you from any shrinking in size. To provide a smooth surface for imprinting your design, spread your hoodie and make sure it's properly stretched.
Step 3: Transfer your Design
Next up is transferring your design onto the hoodie, which can be done in numerous ways,
Freehand Drawing:
The first method enlisted here is to draw on your hoodie yourself by using paints or markers that work on fabric. This method allows one to take matters into their own hands and represent their creativity at max but also requires precise skill. Thus, to succeed in this method, the first thing to do is sketch your design's outer boundary. 
For this purpose, use a pencil or chalk so it can be washed off later. The next step would be carefully filling in the design with fabric paint or marker. Take as much time as needed but make sure to draw even strokes with fine colors for the design to look ravishing.
Stenciling:
If you are not comfortable drawing yourself, you can use stencils. They can be brought easily from any craft store or can be created at home as well. Using the stencil is easy; all you need to do is have the stencil placed over the hoodie and have it in place with any available temporary adhesive. With the help of a stencil, fill in the design with fabric paint or markers and get your job done without the fear of any streaking.
Iron-on Transfers:
The third method discussed here is the iron-on transfer. This allows a detailed and precise transfer of the design on the hoodie. The process is pretty simple. All you need to do is follow the instructions and transfer the design on iron-on transfer. Horizontally mirror your image, especially if it is a text, but make sure to do so before printing. After printing, neatly make a cut around your design by leaving a small space around the border. 
Again follow the instructions, have the iron transfer paper side down on the hoodie, iron it, and apply slight but firm pressure to make sure the design imprints properly. Wait for the paper to cool down, and then slowly peel the paper off to see the design.
Step 4: Add Embellishments (Optional)
Adding embellishments to your custom hoodie makes it look more unique and ravishing. Patches, beads, and other such ornaments will add beauty to your design. The ornaments can be sewn into the hoodie by hand or by the sewing machine. Try out different options to see which one suits your design the best.
Step 5: Finishing Touches
When the imprint of your design on your hoodie is complete, ensure the fabric paint or marker is fully dried or the iron-on transfers are fully cooled. The next step is to ensure the top-notch quality of your design and enhanced colors. 
For this purpose, place a cloth over the design and iron it on medium heat. By doing this, you are making sure your hoodie survives the regular washing and doesn't get faded away.
Step 6: Finalize the Hoodie
Making a custom hoodie is not enough; one must ensure it is top quality. Carefully examine your hoodie for any loose thread or drawing changes you need to make. Take your time carefully and examine if your hoodie needs any touch-ups.
Importance of Hoodies
Hoodies offer comfortable fashion, which is why they have become so popular. They are made from comfortable material, providing a cozy feel to the customer. They are perfect for every occasion, whether sitting comfortably in your lounge, out with your friends, or in the office. All they do is provide a blend of comfort and style. They come in various designs and can also be customized, any hoodie for any event. 
Hoodies are also used to present communities, various societies, or universities design custom hoodies with their logo for their members or students to express a sense of belonging. Whether one is considering going in style or looking for comfort, a hoodie embodies the perfect attire for any event.
Conclusion
By creating their own hoodie, one experiences the joy of the creative fluid in them and allows them to express themselves in what they wear. This article has provided a brief guide to making your custom hoodie; all you need to do is follow the steps carefully. Just unleash your creative side of yours, express it in your designs, and with some more time and effort, create your own masterpiece of a hoodie.