2020 changed a lot of things in the way people conduct business. The rise of social distancing shows no signs of going away. Any technique that allows people to interact face to faceless is strongly encouraged, so work from home and distance working techniques have become hugely popular, and will likely remain so.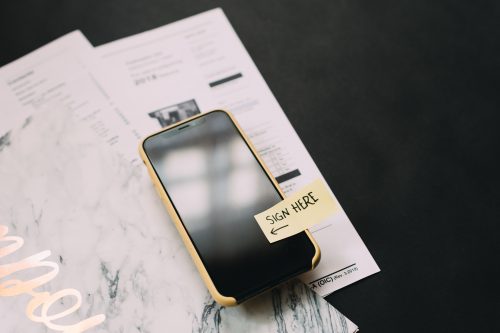 At the same time work from home has become more popular, internet-based shopping has become extremely common, with companies that focus on eCommerce solutions taking larger market shares every day.
One aspect of business that many companies struggle with when switching to remote work is contract management. Traditional wet signed contracts are a necessarily face to face business. There are some great reasons to switch to e-signing.
Why E-sign?
E-signing saves a huge amount of money. Wet signed documents require storage for all of that paper. That means storage space in addition to the administrative costs of having an employee handle all of that filing. On top of that, you are responsible for the cost of office supplies to produce all of those documents.
If you are handling contracts traditionally, there are really only a few ways to get those contracts finished and filed, and all have their own costs associated.
If the signers come into the office to sign, there is a loss of productivity while a member of your team handles the customers. If you are mailing contracts, there is the cost of postage, and return postage, as well as the lengthy turnaround time. If you have the client print the documents, you transfer the costs of printing and shipping to them but increase the likelihood that you never get the document back, or that it takes a really long time if you do.
The solution to all of this is to offer e-signing.
E-signing is Easy
With e-signing solutions from Revv, you gain the convenience of simple e-signed documents. Revv allows you to produce documents in a simple to use document builder, with over 400 templates.
Once you have completed your contract or form, click e-sign, and send it to the signer. Revv will send you email updates as the signer completes each step until the document is complete.
To sign the document, the signer will either type their name, and allow the app to convert it into a font based script, or they will sign on-screen or with their mouse, depending on your settings. If your company's security settings require a digital signature (most don't) you will need to establish PKIs (virtual security keys) for both parties ahead of time, but otherwise, the process is the same.
Simple e-signing requires no specialized software on the signer's end and can be signed on any device with internet access and a browser, including a smartphone. This convenience factor greatly shortens your turnaround time, so you can move on to other tasks.
Once the client has signed on their end, the document is complete. Either party can log into Revv's secure server to view or print the document whenever they need to view it.
The document will be permanently stored, so there is no need to download and file any documents, saving on all of those document costs we've mentioned. US law and court precedent make e-signed documents as legally binding as wet signed traditional contracts, so there is no worry with safety or legality.
Revv also allows multiple users on a single account, so the forms you create for your business can be shared between your entire team, and contracts can be maintained by as many people as you need.
In summary, with the right software, e-signing is simple for you and your customers.
---
Interesting Related Article: "How To Use PDF To Secure Your Documents"