Video call and chat technology have been around for years. With the pandemic, from work to school to shopping, banking, and health care, video calls with multiple users have become the new norm. Group video call apps have made it possible to instantly communicate with distant colleagues, friends, and family and even be virtually in class with one's classmates. They are great tools designed and specialized in multiple areas, such as business, casual, gaming, education, health care, e-commerce, and more.
What is a Video Call? 
"Video chat" can be used interchangeably with "video calling." However, video call often refers to specific services such as Skype or FaceTime.
Video calling is initiated from a chat platform, usually between two people or small groups. Not all chat platforms have video calling functionality. It lets you switch from text chat to video call with a single click. If video mode is not activated, it turns into a voice call that is doable online using VoIP for free; otherwise, one can opt for a regular offline voice call with a phone number.
Another often-used term is video conferencing, which indicates using video calls with multiple users, particularly in companies' and organizations' environments.
Video Calls in Business and Organizational Environment
The past decade has seen an astonishing increase in remote work and distributed teams, culminating during the Covid 19 emergency.
Companies have adapted to circumstances with smart working and hybrid work to ensure business continuity. Video chat apps with video and voice call for multiple user capabilities have been the lifeline. They have perfected communication enabling face-to-face nonverbal communication.
Companies use video calls and video conferencing for:
face-to-face video chats

video conferencing for groups, including project teams, customers, and partners

online demos

sharing information such as presentations, whiteboards, and files through screen sharing

company events like promotions etc
Types of Video Conferencing
Based on the type and number of interlocutors and the purposes, there are different ways to video calls for multiple users. We can identify the following:
Individual business meetings have become very common in companies and organizations; by speed and efficiency, they mimic in-person meetings.

Customer video conference enables external communication between companies and their clients; this tool is becoming a must as it humanizes the interaction between business and client, thus improving their experience and building loyalty.

Team video conference allows weekly, or monthly group video calls between colleagues, especially with remote collaborators

Company video conference goes beyond team composition and is an expanded virtual meeting with all employers for essential updates between management and employees
Video calls and video conference are used interchangeably. However, there is a clear distinction between video calling and video conferencing. If nothing else, video conferencing is used in formal, work-related environments.
What is the Difference: Video Calling vs Video Conferencing
Video conferencing is video calling with multiple users. Primarily considered a tool for meetings, business meetings, events, seminars, and courses.
Video calling, on the other hand, is a quick and informal way where usually only two people interact. Video calls have replaced voice calls and are generally done simply from smartphones.
As much as we can attend a video conference through a smartphone, the norm in businesses is to do it with a PC and projector. This facilitates reading shared files and information, such as charts, tables, and diagrams.
Precisely because it is more straightforward, video calls are inexpensive. Free or usable with a monthly plan. Video conferencing, on the other hand, especially in large enterprises, requires a more elaborate platform and involves a more significant investment.
Video conferencing software is more complex than video calling. It is enough to use video calling applications such as Facebook messenger or Skype for video calls.
Critical Technologies Enablers
To make a high-quality video call, you need two essential requirements:
A stable Internet connection

An app or program that allows you to make a video call
Video calls are interactive by definition and constitute a real-time communicative exchange. Low latency is the technology behind everything the Internet world enables in real-time, from video calls to live streaming. As interactivity is the buzzword today, content distributors hope to achieve sub-second transmission soon.
Connection speed is essential for smooth content transmission, and 5G technology comes to the rescue in this regard. Image quality is also crucial; besides requiring an excellent connection, it needs HD or, even better, Ultra HD video.
Critical Features of Video Calls With Multiple Users
There are essential requirements that the solution for video calls, especially with multiple users, must have to make this experience possible, enjoyable, fast, and secure.
Security is essential in an increasingly digital age; the software or service chosen must have encryption, particularly for companies and businesses, to ensure that internal conversations remain private.

Technology integration: in businesses, it is vital that the solution seamlessly integrates with the technology in use to ensure a continuous data flow without manually entering information.

Great user experience (UX): this typically comes best with a free trial and discounted rates for yearly paid solutions; some providers allow you to try video calls and temporarily integrate demo apps.

High-quality voice and video: no technical problems should jeopardize the progress of a good meeting; therefore, high-definition video and calls should be opted for to create the feeling of being "in the same room."

Data analysis: data analysis must be intuitive and monitor call quality; real-time usage and reporting in companies and organizations guide decision-making.
These are the basics for a good choice of video conferencing software, ideal for business environments. The best option depends on companies' and organizations' needs.
What Video Conferencing Solution to Choose?
In general, the choice takes into account:
the intended use of the video call, starting with the different scenarios we saw earlier in the business environment

business and organization size.
So let's see what solutions are possible by combining these two criteria.
Enterprise and organizations video conferencing technology
Video conferencing technology for internal use must fit the size of the business organization. For startups and small businesses, consumer-grade video software such as Zoom is optimal for inexpensive meetings.
An enterprise solution suits better for video conference and video calls with multiple users. In multinational corporations that require communications between various locations, platforms such as Microsoft Teams or Google Hangouts perform pretty well.
However, there are realities where a tailored solution adapted to the digital business ecosystem is needed. They use a video conferencing system, easily possible with a video conferencing API. A company's most essential features for group video conferencing are screen sharing and co-browsing.
Customers' videoconference technology
Given the importance of using video conferencing with customers, businesses must pay attention to video and audio high quality to provide an excellent customer experience and service.
It will help if the video chat software integrates seamlessly into the browsers of clients who visit and interact on the corporate site. Thus an on-brand experience is guaranteed.
Therefore, the solution must provide the freedom to customize video conferencing systems. A video conferencing API may be the answer, provided by an SDK vendor for real-time voice and video, such as ZEGOCLOUD.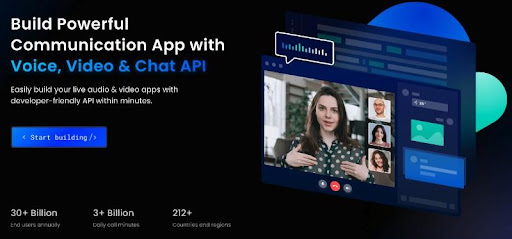 Another consideration to make is the integration with mobile apps. Most online video conferencing platforms do not offer a mobile solution to integrate with business apps, undermining customer experience.
Features that provide an enhanced client experience include on-demand and scheduled video chats. Businesses should also opt for a video chat solution that meets clients' needs on-demand and scheduled video chat.
ZEGOCLOUD SDK for Video Calls With Multiple Users
Most ready-to-use video calling and video conferencing solutions in the market are generally satisfactory except in the circumstances we mentioned earlier. However, a key element in video calls with many users is the number of participants.
So many video conferencing apps and software have a limited number of participants, with exceptionally high costs to access this option. The best solution is to integrate video chat into the existing platform in companies or organizations or build an app for that purpose. Integrating the video chat feature will ensure harmonious and efficient internal and external communication with customers and stakeholders.
Vendors such as ZEGOCLOUD propose an advanced video call sdk that incorporates all the features we have recalled together for an excellent video call and video conferencing experience with multiple users, especially for business purposes.
ZEGOCLOUD Video chat and video conference SDK is fully customizable and easy to integrate; plus, it quickly enables high-quality and scalable video calls in mobile, web, and desktop applications. This solution supports over 15,000 end-user device models on all major OS platforms, ensuring cross-platform compatibility.
ZEGOCLOUD Video call and videoconference SDK makes video communications more effective and engaging with many valuable features such as super-resolution, recording, call quality monitoring, screen sharing, co-hosting, and more.
The prebuilt UI kits allow businesses and organizations to create engaging apps in the shortest possible time instead of starting from scratch. Samples and demo apps are available to try ZEGOCLOUD solutions to the best video calls with multiple users and video conferencing ever!
---
You may be interested in: 5 Best Video Chat APIs in 2023