Even in a job market like this, where good applicants have their pick of jobs and employers are left scrambling to find top talent, trying to secure your dream job can be difficult. There will be plenty of applicants, and your application will be just another one in the stack.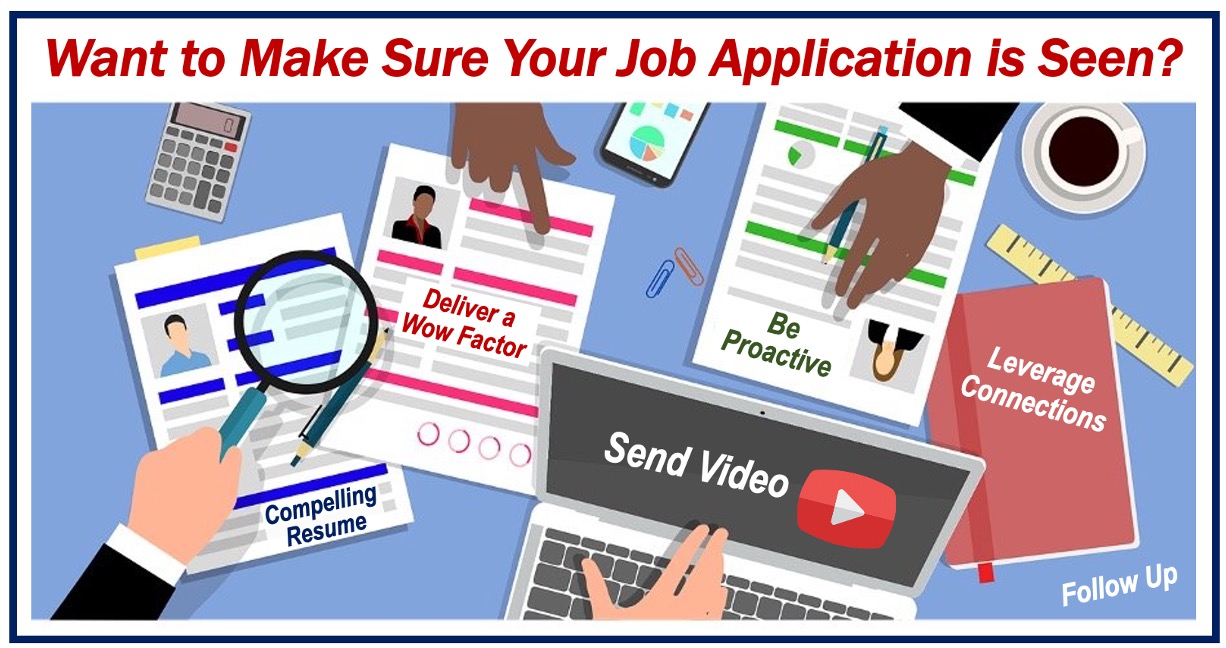 So the question becomes, how can you move your application to the top of the stack?
Tips for Getting Employers to Notice You
You won't earn a job offer on visibility alone, but you can certainly disqualify yourself without it. To be hired, you must be seen. And to be seen, you can't just assume that your application will land in the right hands. You must go above and beyond to set yourself apart. Here are some suggestions:
1. Write a Compelling Resume and Cover Letter
It all starts with creating a compelling resume and cover letter. Because if you're going to go through the effort of trying to get employers and hiring managers to notice your application, the application itself better be impressive.
If it's been a while since you've updated your resume, or if you aren't sure about the proper layout and formatting, Resume.Supply has some really good examples for different industries and job types.
As far as cover letters go, you want to be direct and focused. Skip the long winded preamble and get straight into it. Focus on the intersection of what you bring to the table and what the company is looking for. The employer only cares about one thing: Can you help them get better?
2. Send in a Video
It's important to show some personality and develop rapport with the hiring manager. Otherwise, you're just another PDF on their computer. One way to do this is by sending in a video after you apply.
For best results, use a tool like Loom or BombBomb. These tools let you send personalized videos and screen shares. You can also track when the video is watched, so you know if it was actually seen or not.
Keep these videos short – no more than two to three minutes – and try to show off your personality and passion for the job opportunity. Send personalized videos to all key decision makers at the company, including the business owner, hiring manager, HR director, and/or CEO.
3. Leverage Your Connections
As you know by now, it's often who you know that helps you land a job. Make sure you're leveraging your connections to secure the best opportunities possible.
While you might not know anyone at the company, there's a good chance that you know somebody who does. Search for mutual friends on Facebook or second-degree connections on LinkedIn and be sure to leverage relationships strategically.
4. Follow Up
Follow up is so important. Never assume that your application has been seen, processed, or reviewed. Make it a point to follow up immediately after submitting your application and every few days after. It might feel as if you're being too aggressive, but this shows your commitment and interest.
5. Present a Wow Factor
Sometimes you just need to deliver a wow factor. If you feel like your application is deep down in the stack and isn't getting any visibility – or maybe you're neck and neck with a few other candidates – doing something totally outside the box can help.
One suggestion is to mail a physical package to the business owner, CEO, or hiring manager. Inside that package, include something that shows you're equipped for the job. For example, if it's a position that will require you to handle specific projects, you could include a custom-printed spiral notebook that outlines how you would handle specific scenarios. You could also include a USB drive that links to a collection of videos or presentations that accompany the notebook. There's a 99 percent chance that no other candidate is doing this.
Be a Proactive Job Candidate
There are times in life when being patient is a good thing. In fact, patience is a virtue that should be cultivated in most areas of life. But a job search isn't one of them. This is a time to be proactive and determined. Candidates who sit back and wait to be called will get picked over 99 times out of 100 by applicants who put themselves out there. Use this article as a resource for getting started.
---
Interesting related article: