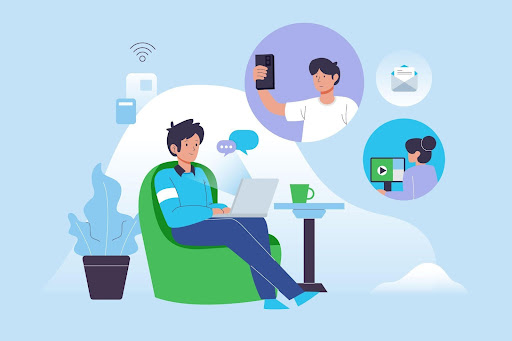 Onboarding in a remote environment is new compared to traditional onboarding. Both processes play a crucial role in the company's success. Good onboarding helps employees quickly join the processes running in a company and become an efficient part of them. 
Onboarding remotely adds additional difficulties to this already complex process. Remote employees don't have as many opportunities to integrate into the company, learn its culture and join working processes. Today's article covers every major topic of remote employee onboarding and offers several virtual onboarding ideas and tips.
What Is Remote Employee Onboarding?
Onboarding for remote employees is as vital as traditional onboarding. It represents activities that let new hires get to know their team and learn the company's methods, rituals, attitudes, and tools. This explanation suits both in-person and remote onboarding. Yet, the latter has a crucial difference – all the processes take place online. Traditional onboarding allows employees to get used to new offices, colleagues, and practices. It offers an employer a chance to introduce new workers to all the necessary aspects and show their role in the company or organization.
Onboarding can be formal and informal. SMBs, large entities, and organizations combine these approaches. Informal onboarding usually involves getting to know the team, owners, and management and grasping the company's policies, ways, and practices. Formal onboarding consists of training, video calls, and tasks.
The Onboarding Process For Remote Employees
AcademyOcean believes onboarding is one of the most critical factors affecting employee experiences. A well-planned onboarding program allows for reducing the adaptation time allowing, comforting an employee, and allowing them to achieve better results during the first months of work. It explains why companies praise specialists and platforms that support and implement best practices for onboarding remote employees. 
General simplicity of the term – onboarding and its positive effect on SMBs, large entities, and organizations don't necessarily mean that implementing onboarding ideas for remote employees is effortless. Remote onboarding has its unique problems. We highlighted them in our remote onboarding checklist:
You have prepared an onboarding plan.

You have chosen a convenient software for training and onboarding, such as LMS.

Ensure communication – virtual hangs, meetings with HR, orientation calls, etc.

Provide clear information about your product and vision of the future.

Introduce new hires to your company's values, beliefs, and value system.

Run specially designed training considering the position of the employee.



Considering that onboarding is a complex and multilayer process, you can make it more pleasant and manageable with funny onboarding ideas for remote employees. For example, send employees a warm welcome video when they enter your company. Also, host icebreakers, and arrange games meet-and-greets to encourage participation. Ensure reliable technical support if you use numerous digital tools to ensure that an employee feels confident using them.
The Top 3 Tips for Onboarding Remote Employees
Don't overflow your fresh hires with information. Deliver it bit by bit, letting people understand and comprehend it.

Highlight the most convenient channels where new workers can ask questions, so they won't have to struggle and drown in doubt whether text their managers with their questions.

Arrange regular meetings and establish communication to keep newbies engaged, let them feel welcomed, and avoid isolation.



How Long Should Remote Onboarding Take?
Companies often plan onboarding for a week, yet such a short process leaves new workers confused and uncertain. Other companies broaden their onboarding for more than 3 months, which is excessive and doesn't allow new hires to show their full potential to be efficient. Depending on the industry and the complexity of the position, an optimal time frame for onboarding lasts between two weeks to 3 months. 
Don't be scared to implement fun ways to welcome new employees virtually, as those won't make your company look childish and immature. You will boost engagement and help newcomers to overcome shyness and stress. Remote onboarding shouldn't be strictly official. Your task is to deliver your values, introduce new hires to their roles and ensure their comfort—if one is creative and open enough, there are plenty of ways to do it.
---
You may be interested in: 6 Tips for Improving Your New Hire Onboarding Process