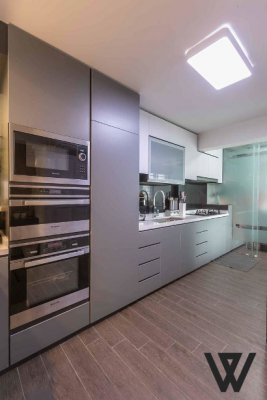 Perhaps, you've seen those perfect workstations, living rooms and kitchens on social media. Nowadays, the trend of making your home look like it came out of Pinterest is more viral than ever. While it's not something imperative, creating a small mall, movie theatre or restaurant at home is always beyond satisfying. For this reason, it's vital to reimagine your space and bring in some stylish appliances to match your interior design.
Undoubtedly, searching for appliances after you've installed all your kitchen cabinets may not be the best idea. After all, you must see the interior design in terms of functionality, too. Therefore, you must ensure your kitchen oven or Smart TV complements the rest of your interior. Whether you're renovating your HDB or starting from scratch, picking the right appliances will set the tone.
At the same time, you'd want to find the balance between price and value. As expected, finding the perfect widgets for your interior may take some effort, but it's certainly worth it. Here are some handy tips to get you going when choosing appliances to match your interior design:
Try to Envision the Bigger Picture
Before you furnish your home, you must take your time and try to envision the overall design. Cohesion and symmetry are essential parts of aesthetics. That's why you must do your best to make sure everything matches your concept.
In this regard, you should avoid mixing different styles. While you'll get a much higher chance of success, sticking to one technique will make designing much more straightforward. To put it simply, if you like Scandinavian interior design, you don't need to bring in some vintage appliances.
On the other hand, modern or minimalist kitchen household machines may not fit in a rustic interior design. Still, an industrial-style setup may fit perfectly in a current home look. In other words, it's always better to ask an expert for advice before you buy your appliances.
Set a Realistic Budget For Kitchen Renovation
Undoubtedly, money can significantly influence the way your home looks. Typically, you wouldn't want to go overboard with your budget. However, this part is where many homeowners fail. No one would like the idea of chasing after the most expensive widgets. On the other hand, it's not a good idea to bet on the cheapest ones, too.
In such cases, your best move would be to set a realistic budget. That way, you'll narrow down your options. Ultimately, you'll quickly pick the most efficient and beautiful appliances to match your interior design. Sometimes, choosing a more budget-friendly option may just fit the overall tone and mood of your interior, as well as the kitchen design feel.
Match Your Appliances with Your Lifestyle
Before you decide to purchase any of the appliances you've liked, ask yourself if you need them. If you live in a family of two, then it may not be a good idea to buy an oversized dishwasher. But if you cook often, you might want to get a double oven.
Of course, you might want to invite friends and family over. In such cases, a drink fridge and a larger dining table may come in handy. Either way, you'll do much better if you try to adapt your home appliances to your lifestyle. If you're one that can't be bothered with washing dishes or maintaining the porcelain utensils, giving disposable dinnerware sets a try might just save you from all of the work that is usually expected from porcelain and other material utensils.
Use Your Space Wisely
Last but not least, don't forget that you're dealing with items that are likely to take some space in your rooms. In this regard, you must ensure every item fits its dedicated place. After all, everybody would want their smart TV to match the living room cabinet. That's why it's best first to measure the dimensions of each appliance before you start purchasing.
Another clever idea is to consider the floor and wall space your widgets might occupy. Perhaps, sketching things up will make things a lot easier. Of course, you shouldn't let this go over your head. Making a plan for your interior isn't that effortless. More or less, you'll have to bear in mind things like power sockets, pipes and other stuff.
Don't forget to try and make the most out of your vertical space. When hiding your appliances in cabinets doesn't work, you should get a bit creative and start using your walls for your TV, microwave or wine cooler. After all, you can use your gadgets to complement your interior design, too.
A Basic How-to Guide on Picking Kitchen Utilities
Problems usually arise in the kitchen, where you'll situate most of your household appliances. Here are a few tips on how to pick some standard utilities in this area of your home:
How to Pick a Dishwasher
Typically, dishwashers aren't a must-have machine you'll need in your kitchen tasks. Still, it's a great helper, especially if you have a large family. However, you have to keep in mind that these complex appliances may take up lots of space. Moreover, you should consider your dishwasher's capacity, energy and water consumption, as well as the noise level and other specs.
Since they tend to be bulky, dishwashers can become a massive problem for your small kitchen. Luckily, there are plenty of countertop versions that will fit in your kitchen cabinet. If you have a higher budget, you can choose a high-end smart option for more increased convenience. Bear in mind that this doesn't always equate to higher efficiency.
How to Pick an Oven
Undoubtedly, you can't have a kitchen without an oven. The issue is that there's an endless number of models on the market. Depending on your room size, needs and preferences, you have to find the balance that will give you all. Of course, let's not forget the price, as it may be the driving force behind your choice.
For this reason, you may want to get a product that will deliver functionality, style and size. In terms of energy consumption, you would seek to minimise your expenses. But if you happen to cook often, a double oven might be more efficient. Moreover, you may consider getting a model that runs on gas instead of electricity.
How to Buy a Wine Cooler
One thing that every wine-lover must have in their kitchen is a wine cooler. Of course, you can quickly put your favourite wine in the fridge. However, your stash will have limits that may not always meet the demand, especially if you're a party type. In such cases, it's best to have a dedicated cooler and keep the fridge for other stuff.
Perhaps, the most significant advantage of this type of appliance is the temperature. Typically, standard refrigerators have a default temperature of 2 degrees Celsius. In comparison, all wines require about 7 to 12 degrees Celsius. That's why a wine cooler will provide the best conditions for long-term storage. You can integrate a small model in one of your kitchen cabinets to match the overall interior style.
Final Thoughts
Whether you're considering buying a computer station or a TV setup, you should stick to your interior style. Just like any other home accessory, household appliances play a significant role in how your living space looks. Therefore, you must make sure your kitchen and living room utilities don't look out of place. If you'd like more ideas on the latest kitchen interior design trend, be sure to check out the best kitchen interior design ideas out there.
The experts at Swiss Interior will help you design and find the best appliances to match your interior design. They specialise in all types of HDB and Condo renovation, including kitchen interior design projects in Singapore. The results are functional living spaces that fit every homeowner's needs and personal style. Get inspired and build your dream home today!
---
Interesting Related Article: "The Main Aspects of Home Maintenance"