For many users, the importance of an excel document exceeds all other documents because of the data it contains. Some excel files contain electronic tables that are used to store commercial data, so losing these files can lead to unpredictable negative effects in businesses.
However, if your Excel document fails to open for some reason it can be fixed. This can be done using the Recovery Toolbox for Excel. It can be downloaded through this link https://excel.recoverytoolbox.com/.
Although this is not free software, it is the only effective method for recovering a corrupted excel file. If you are faced with *.xls, *.xlsxworkbooks corruption, we recommend using this software to fix the problem rather than waste your time searching for other solutions that will most likely not work.
Ways to Repair Excel Workouts
Here are a few ways to fix broken excel files, and should work for you if you gave them a try.
How to get access to an Excel file that fails to open?
Let's begin with the first option, which is repairing with a backup file. It is one of the most efficient methods of fixing the problem. You just have to make sure you do the following.
First, you may use a backup copy only if it's fresh; otherwise, the method won't work. Using old backups is pointless.
Second, and most importantly, there has to be a backup saved on your device.
Sometimes old copies also work, but it is rare. This will allow you to have some data extract left so you won't have to rewrite the entire file.
Note: Making of backup from time to time are very important for unpredictable situations. For example, if you face the issue of Excel file corruption, it would be better if you had a backup in advance. It is better late than never.
Even if you don't have a backup copy, the algorithms of Excel in Microsoft 365 can see the issue after the start and help to find a solution at once if it's possible.
The automatic recovery option starts as soon as the software detects the error, but you can't access the data of the file, you have to open the program (Excel), and follow the instruction:
Go to the Filesection of the menu;
Select the Openfunction;
You'll see the Browse Click on it;
Select the option of opening the workbook;
There will be an Openarrow next to the button (use it);
The key is Open and repair.
This solution works most times and it is also recommended. The developer of Microsoft 365 however did not think of any functional improvements for file recovery, so the chances of file recovery are not as high as we'd like them to be. Even newer updates of the software do not fix this problem.
A lot of users are waiting for a new release that will probably fix this issue, but nothing yet shows an improvement in the safety and functionality of Excel, so many users have turned to third-party resources to fix the problem themselves.
Even without the support of Microsoft, we can recover corrupted files.
What to do if Microsoft 365 defaulted recovery option doesn't work?
If this happens, you should turn to the Recovery Toolbox for Excel https://excel.recoverytoolbox.com/. It helps in most cases when other options fail.
In this method, you only pay when there is a successful recovery of the file. There is a trial version of the software that you can download for free; this allows you to recover your corrupted document within the shortest period.
The excel menu had a lot of features and it can be time-consuming to learn all the versions of the software. Internal features of Microsoft 365 may look the same as the previous versions except for the number of features that are changed. The company becomes more and more commercial.
Speaking about Recovery Toolbox for Excel, we should admit that it's quite easy.
If you need to recover the damaged Excel table, follow these steps:
Download the software from the web-resource (https://excel.recoverytoolbox.com/).
Install it on your device (PC or laptop).
To run the program, click on the shortcut on the desktop.
Select an Excel workbook.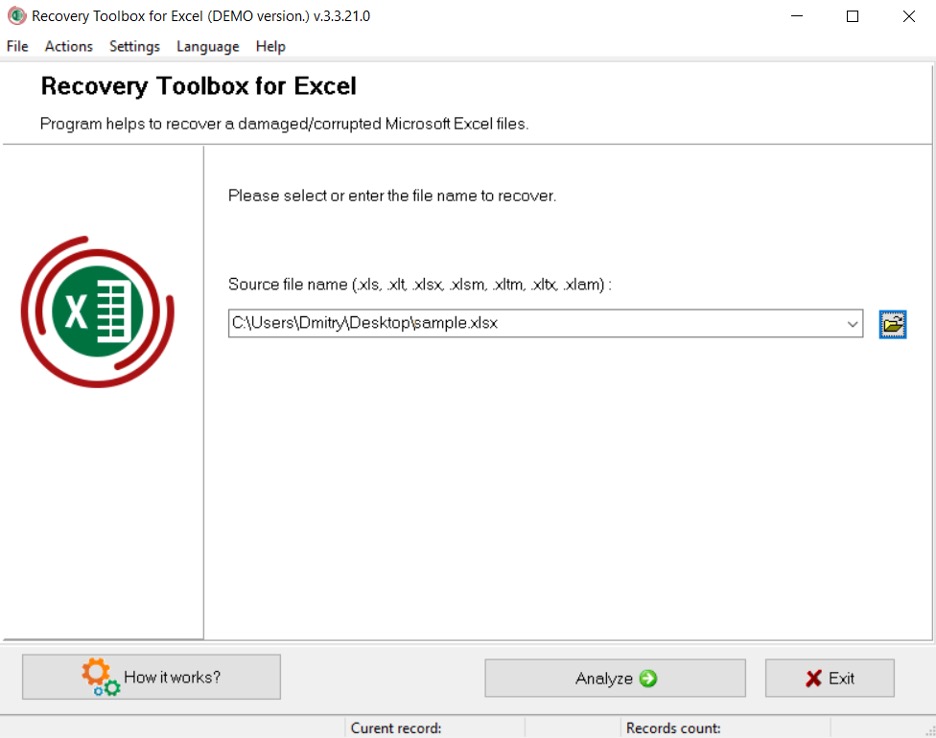 Begin analyzing a damaged file.
Evaluate the results.
Create a new Excel workbook, export the results in it.
Note! Complete registration procedure in Recovery Toolbox for Excel or you won't be able to export data into a new workbook.
Take into consideration that those recovery functions are evaluated with no charge and the life period of your software is unlimited. If however, you wish to repair a file for further use after and not just retrieval of information then purchase a license. This will allow you to work with your document.
There are other options that you can try when it comes to recovery but Recovery Toolbox for Excel is the option that works when other options fail.
After downloading the software it works in offline mode so you don't have to deal with any other web-links. All of your data will be processed directly to your P.C. It is a great advantage for those who care about confidentiality. Internet absence won't affect the result of file repair. Offline actions guarantee data safety and security.
Excel repair from any device
If you experience difficulties in downloading the software to your computer, you may turn to a special online service for Excel repair (https://excel.recoverytoolbox.com/online/). It works on any device with an Internet connection. The network is required for uploading files.
Workbooks can be uploaded from any device: PC, laptop, tablet, or even smartphone. It is convenient solution users do not want to download and install the software. There is no need to buy a license key for Recovery Toolbox.
After an incident with broken files, many users start to think about data protection, and even make backup copies sometimes. Such actions help to avoid further issues. If you do lose your files, you do not have to spend an excessive amount of money to get them back, just turn in the online program for Excel recovery.
Just follow these steps:
Go to the web-resource: https://excel.recoverytoolbox.com/online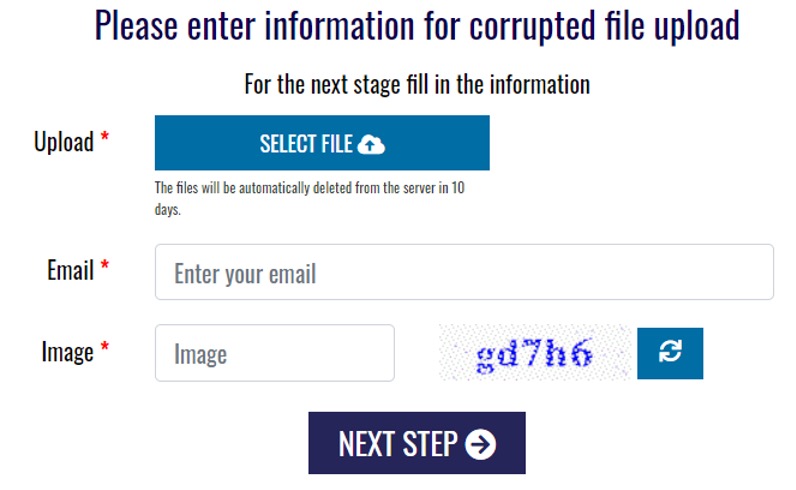 Select Excel file for uploading.
Enter a valid email address.
Proceed with CAPTCHA.
Pay for the repair procedure.
Enjoy repaired workbooks that can be opened in Microsoft 365.
The procedure is quite easy, so even a newbie will be able to recover a file. Moreover, this method is completely safe as all data is processed within the HTTPS server. All uploaded files are kept on the server database only for 30 days.
Besides, all the procedures are implemented inside; no other third-party resources take part in it. One should consider that there are no manual operations here. The service has fully automatized algorithms. No one is interested in your content so that you can be sure about confidentiality.
Conclusion
The new update of Microsoft 365 Excel is quite similar to the previous releases, so it is kind of pointless to update the software. Anyway, if you are working with Excel tables, be sure to create backups. It will prevent various unpredictable issues and data loss. It's always better to think in advance than to look for ways out when data is already damaged.
Keep in mind that no solution can guarantee a 100% positive result and in some cases, files won't be restored. There are many other options out there for excel recovery but is highly recommended by us ad you only pay for using it if there is a positive result. Service developers are not interested in making money for nothing.
The service can be useful even if it can provide partial recovery of a corrupted file. Something is better than nothing. It's the last option for Excel repair. If this service can't do it, any other solution won't do it.
If however, you choose to try other solutions, make sure that your file won't be broken during the process, and it is safe.
---
Interesting Related Article: "Microsoft is using Minecraft as a testing ground for AI research"