It is no doubt that MacBooks are designed to deliver excellence, and that is precisely what you get from M1 powered Mac. However, data use and data management on any operating system must be appropriately carried out to avoid losing data unexpectedly.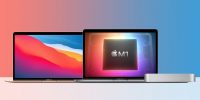 Though you may lose files from your M1-powered Mac several times, your data protection protocols should be well defined. And even when such unprecedented incidents occur, there should be options available to help you out of the embarrassing situation.
This article focuses on some of the methods to recover deleted files on Macbook, focusing on how to recover deleted files from a Macbook with an M1 chip.
Method 1: Use The Time Machine
Going back in time on Mac is made easier with the time machine from Apple. You will, however, need to have previously installed the time machine backup on your Mac. We, therefore, suggest that you create Time Machine backups regularly to make data recovery for Mac with this method all time possible.
If you have a Time Machine, you will restore all your file formats and even recover the entire system. Here's what to do."
Step 1: Restart your M1-powered Mac.
Step 2: Choose the option "Restore" from Time Machine.
Step 3: Select the disk with your backup software app.
Step 4: Choose the backup you would prefer to use and start the process.
Generally, similar to other methods, the Time machine restore sends back your files to their original locations by default. Choose a different location if you intend to send the files to a different location. Right-click the new location and choose "Restore to." The files can also be copied and pasted to the correct Drive to make it easier to locate them after data recovery.
Method 2: Using Data Recovery Software
Several professional data recovery software perfectly works with Mac and will help you retrieve lost files on Macbooks with M1 chips. Disk Drill developed by Cleverfiles is one such tool that will help you get back your files quickly.
To download the software, check the 10 best data recovery tools for Mac or go to the official site. You will need a few minutes to install the app. Have you installed the app on your Mac?
Here's what to do:
Step 1: Launch the app and choose the correct Drive from the list of devices in the software.
Step 2: Scan by clicking the "Scan" button and allow the software to automatically scan the Drive and search for all the files that had been deleted or lost.
Step 3: Once the scan is done, preview the results and locate the files you intend to restore among the several other files discovered by the search.
Step 4: Select the files and recover them to a different drive so that you can quickly get them and make them much safer.
Method 3: Restore From Backup or Cloud Storage
Backups are the other methods people use to secure data from accidental loss. If you have your files backed up either in the cloud or locally, you will not have to worry when the files disappear or are accidentally deleted from your M1-powered Mac.
You can create backups on Dropbox or Google Drive by signing up for personal accounts. Some of the best data recovery software, such as Disk Drill, also offers cloud backups you can use more conveniently on your Mac. You only need to install the software, choose the backup feature, and select the non-mountable image. Once you create this backup, you can restore files by clicking "Attach."
On the other have, some people store files in the iCloud to make them easily recoverable. This is also possible with your M1-powered Mac. If your backup is in the iCloud, follow the steps below to recover lost files.
Step 1: Log in to iCloud from any web browser.
Step 2: Tap the "Setting" icon and scroll down to the bottom of the page that appears.
Step 3: At the bottom left, go to "Advanced" and click on "Restore Files." Click the corresponding option under "Advanced" if you need to restore bookmarks, contacts, calendars, and reminders, click the corresponding option under "Advanced."
Step 4: Check off the boxes appearing on the left of the files you intend to restore. Also, you can simply "Select All" if you need to restore everything in the preview. Click "Restore" to recover them to the iCloud Drive.
Final Thought 
We strongly suggest that you backup your data on an M1-powered Mac with the Disk Drill's data backup feature or a Time Machine. However, if you lose data on your Mac before performing any backup, do not use the Mac and use one of the methods described to recover deleted files first.
---
Interesting Related Article: "Apple reportedly developing an LTE-capable Watch"