Millions of people use memory cards as an intuitive external storage tool. But the data on an SD card is always vulnerable to accidental deletion, virus attack, card format, and so on.
If you're faced with this situation and looking for a reliable method to recover deleted files from an SD card, then you're in for a treat. In this article, we will outline the simplest and most reliable solution to get back all your lost files from a memory card.
Want to know how to recover deleted files from SD card quickly and safely? Without any further ado, let's cut to the chase!

Part 1: Can I Recover Files Deleted from an SD Card?
SD cards are where we often store important files. However, there is no avoiding the fact that you may lose them inadvertently. For example, you may lose photos, videos or other files. Therefore, many users have asked, can I recover photos or other files deleted from the SD card? The answer is YES as long as you're using the right methods or tools. The procedure is similar to recording data from any device, using a third-party recovery program if no backup was made before file deletion.    
But before proceeding, you must follow some tips to increase the chances of data recovery:
Do not make any changes to the SD card on which you have lost data. Transferring any new files overwrites the old or deleted data and may result in permanent data loss.
Try to start the data recovery process as soon as possible. The quicker you start, the better your chances of getting your data back.
Use a reliable and user-trusted desktop program for data recovery. Many people go for free or unreliable tools that often delete the files permanently.
Avoid using online recovery tools as most of them infest your computer or external storage with the virus, resulting in further data loss.
That is, you need a professional data recovery program to recover files deleted from SD cards in their original glory.

Part 2: Recover Deleted Files from SD Card Using Tenorshare 4DDiG
Want a simple yet feature-rich program that can recover any type of lost data on your SD card in a jiffy? Look no further and install Tenorshare 4DDiG on your computer. Millions of users trust this software for its ability to retrieve the deleted data on any external SD card with simple steps.
The latest version of 4DDiG can recover data in more than 1000 formats from different external storage devices including SD cards, digital cameras, USB, and more. In addition, you can also get back the data lost from your computer's internal storage for any reason such as disk format, power outage, system crash, malware attack, etc.
Using the GPU technology, the program increases the data recovery speed to several times faster than normal software. Plus, data recovery with 4DDiG is as simple as it can get and even novices can get started without any prior technical knowledge.
Key Features of 4DDiG
Offers a click-through procedure to get back lost files on an SD card
Super-fast recovery speed
Uses advanced scanning algorithms to recover all types of data
Allows you to retrieve data from a computer's internal storage
Compatible with both Mac and Windows
To keep the ball rolling, check out the below steps for how to recover accidentally deleted files from an SD card:
Step 1. To begin, install and launch Tenorshare 4DDiG on your computer. Connect the SD card to it.
Step 2. Now, choose your SD card from the available disk options and click on Start.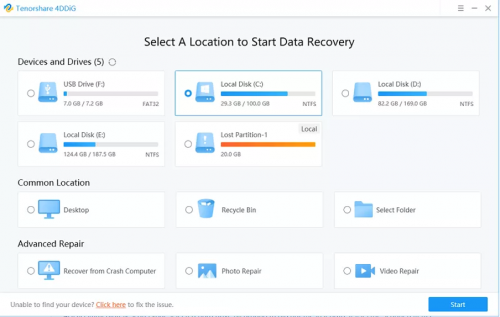 On this interface, click on "Scan All File Types" to let the program scan for all types of lost data. You also can choose the types you want to recover to start.
Step 3. Wait until 4DDiG completes the scanning process. You'll see all your lost files on the screen.
Step 4. Click on any document to Preview it. To download it on your PC, simply hit Recover and select a preferred location.
Part 3: How to avoid losing your SD card data?
Now that you know how to recover deleted files from my SD card, let us discuss some tips to prevent data loss in the first place.
Be careful while inserting the SD card or plugging it out from a computer.
Save it from water, dirt, or excessive heating to prevent physical damage
Make sure you have installed credible antivirus software on the computer before inserting your SD card.
It's important to delete the files from an SD card to minimize the risk of deleting important documents unintentionally.
Conclusion
The data stored on an SD card is often deleted or lost due to a variety of reasons. But now, you can easily recover deleted files from an SD card using Tenorshare 4DDiG.
This program uses advanced technology to perform a thorough scan of your external storage device or computer and recovers all the deleted files without compromising their original quality. Just choose a preferred premium plan of 4DDiG and make sure you never lost important files due to accidental deletion.
For any further queries regarding how to recover deleted files from SD cards, feel free to contact us.
Read more on Local Digital Business
---
Interesting Related Article: "SD Card vs. SSD: Is There Really a Difference?"