When it comes to selling online, dropshipping is a great solution to start your online business.  If you have read our dropshipping guide, you might have a better understanding of what dropshipping is, how does it work, and how our DSers can help you with your online dropshipping business. 
However, some people may still be confused about dropshipping. Thus, I will cover everything about dropshipping in the post, such as its definition, how to start, and pro-tips for dropshippers.
Let's start with what dropshipping is. ( If you are only here to search for how to start a dropshipping business, just skip to the second part).
What Is Dropshipping
Dropshipping is an easy-to-use business model.  When you are a dropshipper, you are an online store owner, without dealing with products stock.
You receive an order from your customers in your store. Then you place that order to your supplier of this product. The third-party (supplier) then helps you fulfill the order by delivering the product directly to your client. 
Under the dropshipping business model, you don't need to have a warehouse; instead, your suppliers will take care of it. Dropshipping allows you to focus on the most important things: getting orders for your products, making profits from the margin you created, and boosting sales.
 Everything about dropshipping can be performed on a laptop as long as you have Internet! Thus, millions of people are eager to start a dropshipping business. Operating a dropshipping online store has become a full-time occupation in 2021 and also the future!
How to Start a Dropshipping Business in 2022
The new year is around the corner. Many online entrepreneurs are looking for ways to start a dropshipping business in 2022. Thus, next, I will provide a step-by-step guide to start. Keep reading to get the steps.
1. Define your niche and products
The first step for your dropshipping business is to find a product to sell. The most important thing here is to keep in mind that focusing on niche products can make marketing strategies more effective. A definitely focused niche also can help your website rank high in topic-specific search results, and improve eventual buying intent. 
Defining your niche also helps you achieve an edge in the competitive e-commerce world by creating meaningful contacts with your customer audience base.
There are 7 ways you can try out to find your niche:
Your interests:

Your interests are something you are familiar with. Selling what you have already known might be easier for you. There might be other people who like them since you are interested in them.

Keyword research:

An alternative way to identify a niche is performing keyword research via Google Adwords and Trends. To check whether there is any search volume around the products you wish to sell or not. Then you might get the most – popular products at the moment. A higher search volume means higher demand for that product.
Bestsellers:

Check the list of

best-sellers

on AliExpress. These best-sellers may give you inspiration on what to sell.

Social media engagement:

This is the most straightforward way to get in touch with your target audiences. You can engage with your social media platforms, like Reddit,

Facebook

, and YouTube.
You should research the competitors of your products, then conduct a competitor analysis. The analysis will help you know what you will confront and what powerful marketing strategies are.
Finding a niche can be the most time-consuming work when starting your dropshipping business. However, defining it can give you a good start, which is vital for success with the online dropshipping business.
2. Find a Supplier
The next step is to find reliable suppliers for your online business. There are many options on the Internet, so it's difficult to get the most suitable one in a short period. But don't worry, our guide here will help you get the ball rolling.
There are 5 five ways you can start with:
Use the best dropshipping tool –

DSers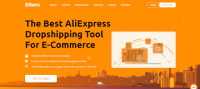 Contact manufacturer directly

Attend trade shows

Reach out through social media

Search on the Internet
What is my first choice? To use DSers. Why? DSers "Supplier Optimizer" helps you reach out better, cheaper and trustworthy suppliers in one click, allowing you to spend more time on scaling your business.  
3. Start your online store
After making clear what you will sell and have got suppliers for the products. You can move to the next stage – create your online store.
There are many platforms you can consider, like Shopify, WooCommerce, Wix, Etsy, and eBay. They all have their pros and cons. Here I recommend Shopify. The reasons are:
Customized themes

: Shopify will provide you with both free and paid themes enabling you to customize your own store.

Powerful integration:

There are plenty of useful tools on Shopify, such as DSers for dropshipping order management, MailChimp for

email marketing

, and Printful for your pint-on-demand business.

Free trial:

The 14-day free trial will benefit you a lot. You can test your business idea upfront to avoid making mistakes. Also, you can learn how to make your products attractive.4. 

Use a dropshipping tool
Despite finding suppliers, DSers is also a great tool for users and enables you to edit your products directly in DSers before putting them in your store.  Moreover, it allows you to place 100+ orders to AliExpress in seconds, which saves a lot of time for you.
Another thing that is worth mentioning is its affiliate program – Admitad, allowing dropshippers to get cashback through every sale they make to AliExpress. This will reduce the cost of starting an online dropshipping business. For more details about DSers features, learn here. 
4. Market your products
Now you have actually created and launched your dropshipping store, the last step is to market your products to get your first order. 
It's still crucial to your success. Advertising always takes customers to your products, so effective promoting ways will contribute to it. You can promote through email marketing, social media, affiliate marketing and so on. 
Tip: Always remember to choose different marketing strategies for different products since only the most suitable one can bring the most profits.
Bottom Line
There are only 5 simple steps to get started. However, hardworking is essential to any kind of business, so dropshipping is. After learning, you need to try your best to get the ball rolling and promote your dropshipping products.
When starting, you should always keep in mind: Only efforts can bring you something back. So just do it with all your energy. Good luck with your dropshipping business in 2022.
---
Interesting Related Article: "How To Automate Your E-Commerce Business With Dropshipping Software"