Current changes in tutoring
The internet was born in 1983 and since that time the pace of time has changed as well as the format of existing. If you as a tutor don't exist online –  it will be difficult for clients to learn about your service.
According to Global Newswire the private tutoring market in the U.S. is estimated at US$24.9 billion in the year 2021. China, the world's second largest economy, is forecast to reach a projected market size of US$56.5 Billion by the year 2026 trailing a CAGR of 10.8% over the analysis period. The growth in the Online segment is readjusted to a 11.5% CAGR for the next 7-year period.
At the consideration stage of the buyer's journey most people address Google. They will find and eventually book the first meeting with you only if the information about your lessons exists on the Internet.
The data above shows that now infoproducts are only competitive if they have online service.
Elevating and Expanding Your Tutoring Business
In the dynamic world of online tutoring, the journey begins with setting up your platform but the true test of success lies in your ability to adapt and grow. Your tutoring business shouldn't be static, rather, it should evolve alongside your students, providing increasing value as they advance in their learning. The key to expanding your tutoring business isn't merely adding more students but involves strategic growth, innovative marketing, and a deep understanding of your target market's shifting needs.
In this context, platforms like TutorCruncher can be invaluable allies. These tools streamline administrative tasks, automate routine activities, and provide data-driven insights, enabling you to refine your services and offer personalised learning experiences. With the right tools and strategies, expanding your tutoring business becomes an achievable, even exciting, challenge, ensuring your enterprise remains profitable and relevant in the fast-paced world of online education.
How to start a tutoring business online?
Step 1. Define your size. 
As a tutor you can create either a consultation marketplace or a tutoring website for an individual use. Let's have a look which option suits the best for which case.
Case 1. A tutoring company.
If you are a private teacher with an extended experience, and you have several teachers working as your subordinates, you probably have a website where all the teachers are listed for an information list. However, you use a streaming service like Zoom or Google Meet outside your website, which is inconvenient both for you and your students.
In this variant you need to think about building your own consultation marketplace. On this website all the tutors would be listed; the student would have his own account, where he will find the information about his personal schedule, homework, notes, chat with a teacher, etc. The platform would have an in-built streaming technology, so that both teacher and students would have everything in one place.
Case 2. A self-employed tutor who wants to scale up.
You have many students, but like in the first case the channels of interaction with your student are distorted. You have a messenger, meeting platform and homework storage on different platforms, which consumes your time and energy.
A tutoring website for individual use must be a perfect decision. You can build a personal brand there, start a blog about your tutoring challenges and insights. 
None of these types is more lucrative than the other. The key difference between marketplace and individual tutoring platform is that marketplace aims to offer a number of teachers, it functions as a unit in terms of promotion; whereas individual platform battles with both tutoring marketplaces and other tutors one-to-one. 
Step 2. Make a pre-development for an online consultation platform. 
Making the analysis before starting your own platform defines the further direction of your business. Before searching for particular website building solutions, answer the following questions:
Who is your target audience?
If you are a Spanish teacher, there is a little chance that a photographer would need your course. Not unless learning languages is his hobby and he wants to broaden his scope. It is more likely that you would have students who are linguaphiles, travelers, those who plan to move to Spain in the near future. 
If you know who you are going to work with, you will have a bigger demand for your service as well as income. 
Start from analyzing your current client audience. What are their interests? Why do they address the tutor to solve their problem?
The answers to these questions would help you build your  own, unique business offer that attracts more students.
How will it be monetized?
You can receive money not only for the lessons that you give. You can create an online course with a piece of automation, have a paid channel where you'd share exclusive content on learning your subject, and start a game that helps in studies. 
Think about what functions you want your website to have and write them down. An understanding of what you want to have on your website is a halfway done to launch your tutoring platform
How will people find out about your site ?
You need to think about promotion. You can hire an expert in PPC or target advertising or you can pick up a course and learn how to promote your website by yourself.
The  channels that might be helpful when advertising are social media, expert blogs with similar target audience as yours, Google Ads. A good analysis of your target audience will help you understand where the most of your students prefer to search for a tutor and consume the content.
Step 3. Choose a platform to launch your tutoring website
There are two ways to create your own tutoring platform: to create a website from scratch or use a ready-made solution like a software.
Building a website from scratch requires you to understand the process, be ready to study a lot of information and get on well with various services very fast. 
You can hire a digital agency and insert various functionalities in your website. Of course this will make up the price. The price for this solution starts from  $250,000 and takes about 2,500 hours.
Using a pre-built white label software is a faster option that doesn't limit the functionalities of your tutoring platform. Software is a pre-developed solution that is usually sharpened for a particular purpose. 
A good tutoring platform has all the basic functions like:
Lesson booking,

Video broadcasting,

One-to-one calls,

One-to-many calls,

Admin dashboard and the system of analytics,

Page for homework storage

Easy integration with the payment service
If you are looking for the right software solution – Scrile Meet is the software that builds tutoring and consultation marketplaces and individual platforms. It features all the basic functionalities listed above and allows customization of design, extra features development that you find useful and it provides a technical maintenance of the website soon after the launch. Compared to the first option, there is no difference in terms of functionality limitations.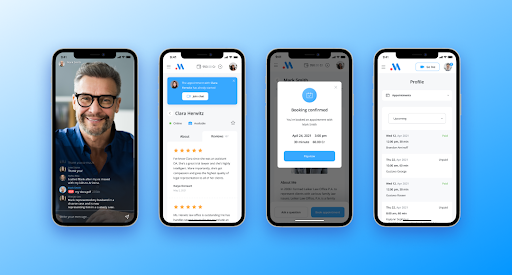 As for the price and time before the launch, the number of additional functionalities influences the price, that is why in some cases software solutions may cost the same as a full process development. In general, using software is cheaper than building everything from scratch. Most business owners who use the pre-built software for launching their own tutoring and consulting marketplace platforms add just 2-4 customization features to the basic functions and the total cost of their project varies from $5,000 to $10,000 depending on the complexity of features. Which means that you can save up at least $200,000 by using a pre-built software.   
You can launch your website right after the purchase, which is the main reason why you should prefer a pre-built solution to a full stage development.
Conclusion
Starting a tutoring platform online is the best way to scale up your business and win some of your offline competitors.
On the way to launching your own website, be consistent, define your size first, make a business analysis and then choose the best suitable solution to build your own tutoring platform. 
Building your website will help you to keep everything in one place and provide a better service for your students. 
---
You may be interested in: 8 Online Business Ideas for Savvy Entrepreneurs