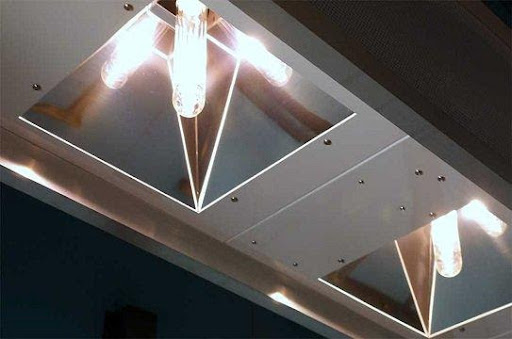 Industrial spaces are largely isolated and huge areas which are home to many day to day manufacturing processes. These spaces have walls extending above 40 feet and covering a massive area allocated for manual as well as industry based tasks which require labour and machinery. To accommodate such high-end processes the industry setup requires a powerful lighting layout. 
The traditional options include Halogen and incandescent lamps. In larger areas most preferable traditional options include HID and HPS lamps as they are much more powerful than usual categories. Despite being powerful these lamps are quite inefficient as the world is progressing and are quite costly in the long run which has a direct effect on the sustainability factor. It's quite simple to upgrade the lighting conditions in an industry and it can be done in simple steps. 
1. Plan a layout 
The first and foremost step in upgrading industrial spaces is to create a proper lighting layout over pre existing infrastructure. This can be easily done by hiring a lighting contractor as they can help in taking the necessary measurements for each floor and create a comprehensive plan. The needs in each zone of the industry differs due to their features and function hence it is important to consider those. 
A layout is planned in two simple steps: 
Taking the area of the space

Measuring the ceiling height 
This helps in calculating lux/ft for any large space which helps in determining the lumen requirement for each fixture and the height at which the fixture must be installed where it can create optimal brightness. The light must reach the floors and all corners of the room evenly and this layout is only achievable by the use of LED fixtures as they are quite customisable. 
2. Select LED light fixtures 
Selecting LED light fixtures gives the exact upgrade any modern day functional space requires as this technology is impactful for modern day activities and facilitates it in the best possible way. There are several benefits of installing or retrofitting old fixtures with LED light fixtures specific for industrial areas. To check the available fixtures for industries, visit this link. 
There is one main kind of fixture available for industrial spaces known as LED high bay future. This fixture is available in two major designs:
The linear fixture is 2-8 foot long with aluminium housing and polycarbonate or acrylic lens. The fixture is IP rated for safety against harsh elements in the industrial environment. Most high bays are IP65-IP67 rated. The linear high bay lights have mounting brackets at the back of the fixture which allow two different mounting options. 
Round high bay lights have a saucer like shape so they are popularly known as UFO high bay lights. These are smaller than linear high bay lights but are quite powerful and easily accessible in various spaces. The diameter of a round high bay extends around 15-20 inches max and they have a mounting hook present at the back of the fixture. A cord passes through the hook which allows suspension of the fixture at any elevation level from the ceiling. The lamp is covered with a glass lens which is highly resistant to scratches, breakage due to accident or excessive heat. 
Benefits of upgrading to LED light fixtures 
There are several benefits of upgrading to LEDs for industrial spaces as it provides: 
The brightness of LED is measured in lumens and it is comparatively brighter than traditional lamps which consume more power and produce lesser lumens. LEDs consume only a fraction of power and produce more light, these traditional lamps produce 90% heat and only 10% light which is highly inefficient and costly. 
LED light fixtures have a protective glass or polycarbonate lens which directs the light out of the fixture in a fixed beam angle. This is adjustable and it provides light at different elevation levels. The light is not dispersed in the surroundings, instead it hits the point of illumination. 
LEDs are quite low maintenance as most of these lights are produced from diodes which are installed as chips. The light is uniform and contained in the fixture which is resistant to damage. Regardless of the environmental conditions of any industrial space these fixtures stay functional and are very efficient in emergency situations. 
Environment friendly lighting 
The light from LED light fixtures is very ambient and environment friendly which is also customisable for efficiency and optimal visibility. These lights work on green lighting technology which has many benefits; it is glare free which reduces the complaint of headaches and migraines in people working under those lights and also does not produce or interact with harmful UV radiation. It is healthy and helps in reducing carbon footprint. 
These lights are highly sustainable which is directly effective to include a sustainable input for a long term setup. Most business owners benefit from this upgrade as the maintenance and replacement costs are highly reduced which allow the funds to be invested in other upgrades around the industry. 
---
You may be interested in: Best Tips for Decorating a Home Office