If you are a lover of old photographs, you will know how hard it can be to maintain them. The problem with old pictures is that they appear dull and blurry because they have been taken in low light conditions, or they were printed at a very small size. At times, the images might not be clear because of poor storage practices, or the photograph has been torn and has missing pieces. It is quite unfortunate to see an old family photo getting ruined from time to time. Even if you keep your photographs as digital copies on your PC, it's not uncommon for them to become corrupted or get deleted accidentally. That's why image upscalers are so important when it comes to saving our photo memories for future generations. They are designed to take your photos from ho-hum to WOW! There are plenty of image upscalers available right now, which may make you feel overwhelmed. This article will introduce you to one of the best image upscaler on the market today and guide you on how to use this image upscaler to increase the image resolution and improve the quality of your images without losing details step by step.
What is an Image Upscaler?
An image upscaler is a program that uses algorithms to increase the resolution of low-res images. It is particularly useful if you want to print your images at a larger size, such as photographs that are too small for standard-sized frames. While upscaling is a process by which an image is enlarged to increase its resolution. This can bring back the life in those old, blurry photos that were taken in low-quality. There are several ways that an image upscaler can work, but the most common method is through the use of interpolation. It is a process of creating new data points between existing data points, and this is what an image upscaler uses to create a new, larger image from a smaller one. However, not all image upscalers are created equal. Some offer better quality than others. Therefore, it is so important to find out the processing effect, and the pros and cons of an image upscaler before deciding to choose one. Among the kinds of image upscalers, AVC.AI is the one that excels in all aspects.
Best AI Image Upscaler – AVC.AI
AVC.AI, as a dedicated AI image upscaler that uses deep-learning-based super-resolution, can upscale or increase the resolution of any kind of image like landscape, wildlife, portrait, anime, wedding, night, macro, still life, or product, to 2x, 3x, or 4x for purpose of big-screen wallpapers, printing, advertisements, and more. No matter what size you are choosing to upscale, the output quality will never be downgraded. In addition to its excellent upscale features, AVC.AI can also automatically identify and correct various imperfections in your photos, for example, naturally bring B&W photos into colors, calibrate the color issue of photos, remove the background, fix the blurry photos by removing noise & grain and sharpening, remove undesirable skin components such as wrinkles and spots to make faces look much better with an AI-based super-resolution face enhancement algorithm, etc.
Benefits of Using AVC.AI to AI Upscale your Images
Easy To Use – One of the best things about AVC.AI is that it is effortless. It does not require as long a learning curve as learning some of those photo editors, you can follow the simple instructions to operate them whether you have previous experience with image enhancement or not since it has an extremely user-friendly interface.
Powerful features: AVC.AI comes packed with a wide range of powerful image-enhancing features that enable users to create professional-looking images with ease.
No need to download any programs: For those who don't like downloading too much software and making your desktop cluttered, AVC.AI is your best choice. As an online AI-based image upscaler, it enables users to upscale images without downloading any programs and plugins. All you need to do is navigate to AVC.AI with any browser and start to process your photos.
Wide range of customization options: AVC.AI offers a wide range of customization options, so users can tailor their images to their specific needs and preferences. Many image enhancers are feature-rich, but each feature can only be used individually, so if you want to process a single image by using multiple features, you will need to use different models for multiple processes. Unlike these image upscalers, AVC.AI allows the user to select multiple AI features at the same time as if creating a new workflow with different models to process the same image.
Free trial - Before purchasing credits, users can sign up for an account to get free credits for the trial. Despite its rich features and advantages, AVC.AI is very affordable. It offers a variety of credit packages to meet different needs, and can even directly customize the credits as you wish. Compared to the cost of hiring someone to retouch images, it is much more cost-effective to upscale images with AVC.AI by yourself.
How to Upscale Images to Increase the Image Size with AVC.AI
Step 1: Log in to Your Account
Visit AVC.AI with any browser such as Google Chrome, Firefox, Safari, etc. Click Login/Sign up to log in to an existing account or sign up for a new account. You will get 13 free credits in total for your first registration.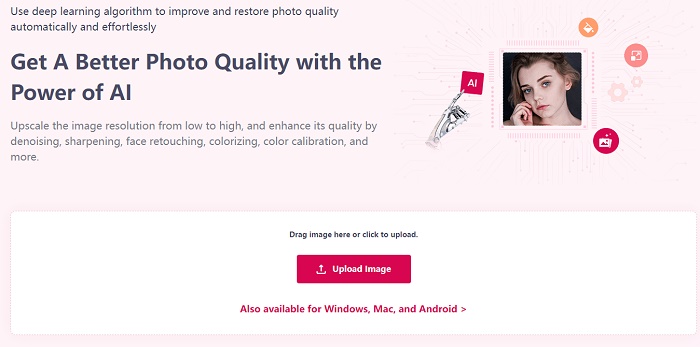 Step 2: Upload Photos
Hit on the Upload Image button to import images from your computer or drag and drop it into the program directly. AVC.AI supports batch processing. You can click Upload New Images to input more photos.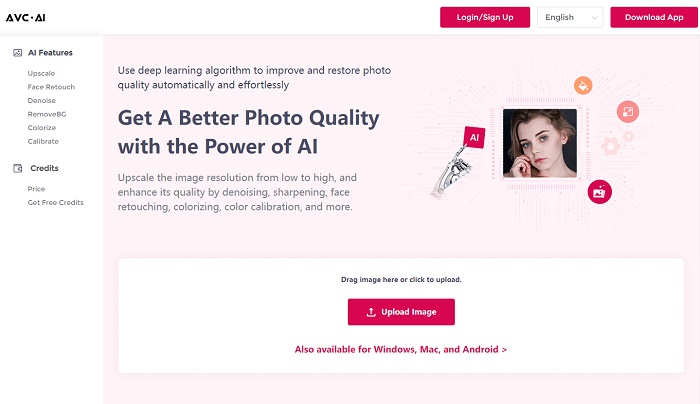 Step 3: Select the Upscale Model and Upscale the Image Size/Resolution
There are currently six models of AVC.AI, namely, Upscale, Denoise, Face Retouch, Remove Background, Colorize and Calibrate. Now you need to select the Upscale model. In this model, you can upscale the photo size as 200%, 300%, or 400%, or keep the original size as 100% by selecting different upscaling scales. Or you can also choose whether you want to check the Face Refinement on demand.
Once all the settings are set up, click on Start Processing to start to upscale the image size.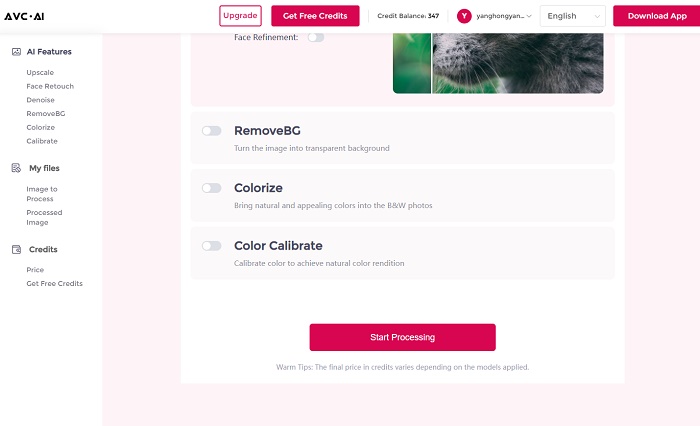 Step 4: Preview and Save the Image
When the processing is complete, switch to the Processed Image and click the Eye button to preview them. Simply drag the white line to preview the before and after comparison of the final result.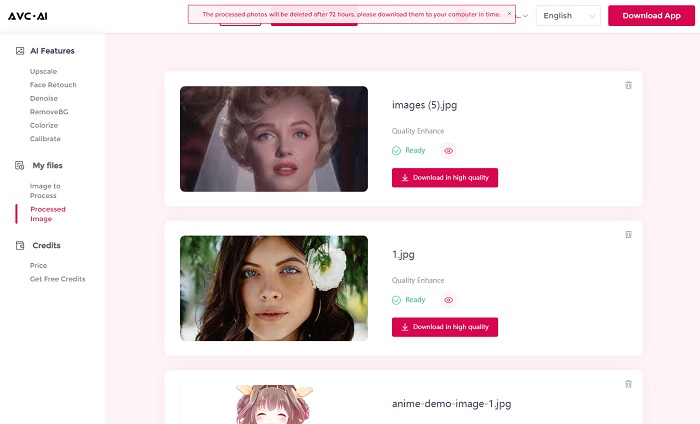 If you are satisfied with its effect, you can click Download Image to save it to your local. Remember to download it in time, since the processed photo will be deleted in 72 hours for your information privacy.
Final Words
The AI Image upscalers are extremely useful if you want to print large images or if you want to post high-quality images on social media. They can also be used to restore old photos that are too small so that you can print or display them. With the help of AVC.AI, you can easily upscale and enhance your low-res, small images without losing any details. Users can choose from a range of presets and custom processing models to optimize images for different needs. It does not require any downloads and does not need any additional software to operate. If you are overwhelmed by kinds of image upscalers, then AVC.AI, an excellent online AI upscaler, is a good choice for you.