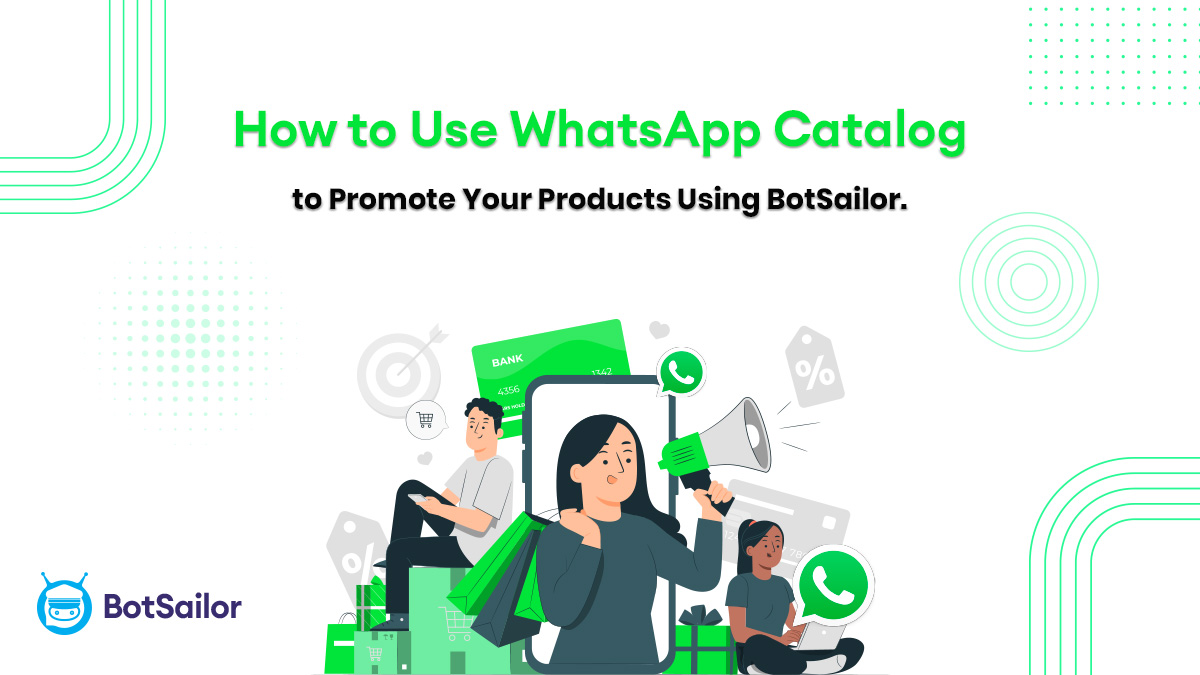 Hey there!
Are you looking for a way to boost your sales and reach new customers? Look no further than the WhatsApp Catalog! This free and easy-to-use tool allows you to create a digital catalog of your products and services that you can share with your customers directly on WhatsApp.
In 2023, the social market, also known as social e-commerce, is expected to reach a value of $1.4 trillion. With more than 2 billion users worldwide and an impressive open rate of approximately 97%, WhatsApp provides a social messaging platform that business owners can effectively utilize for sales, marketing, and customer care.
A highly popular feature of the free WhatsApp Business app is the WhatsApp Business Catalog. This catalog becomes an essential tool for enhancing sales and promoting products on WhatsApp. 
Interested in creating your WhatsApp catalog? Continue reading to get all the information you need.
Find out more about how to integrate WhatsApp with your online store. Discover how to use the BotSailor's WhatsApp Business Catalog to draft orders within a WhatsApp conversation.
BotSailor's WhatsApp Catalogue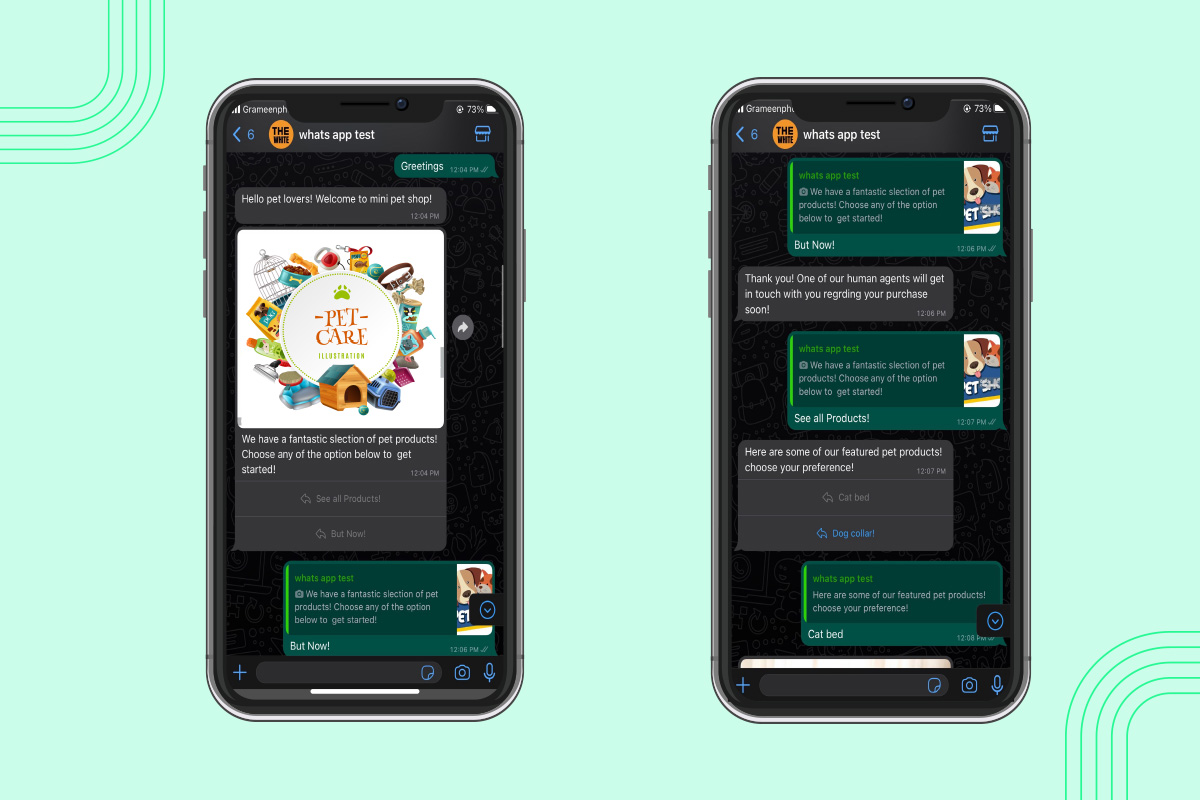 BotSailor is an AI-powered chatbot and marketing tool for WhatsApp and Telegram that lets you build and manage chatbots without knowing any code. It provides an easy-to-use visual flow builder for creating and automating client conversations.
The platform also offers live chat features for Telegram and WhatsApp, allowing users to take over conversations and chat with customers directly. The platform also provides analytics on chatbot performance, allowing businesses to monitor interactions and improve their services.
BotSailor's WhatsApp catalog feature allows you to showcase your products and services directly within WhatsApp. This can help you to increase customer engagement and drive sales.
BotSailor's WhatsApp catalog feature is useful for various businesses, including e-commerce, SaaS, restaurants, and travel agencies. It allows customers to browse and add products to their carts, securely checkout, and learn about features and benefits. SaaS businesses can promote their products and services, provide customer support, and collect feedback.
Read More: Streamlining Business with WhatsApp Catalog: The Ultimate Sales Tool
Benefits of using WhatsApp Catalogue
Revenue Growth: Revenue growth has been reported by 61% of organizations that use WhatsApp selling. Therefore, it's high time for companies to integrate WhatsApp Catalogue into their online store.
Higher Close Rates: When compared to businesses who do not use WhatsApp Catalogue, businesses who use it close 40–50% more new deals.
Impact of LinkedIn: According to LinkedIn research, 78% of organizations that use WhatsApp Business Catalogue do better than those that don't.
Sales Quota Achievement: According to LinkedIn research, companies that prioritize WhatsApp selling have a 51% higher chance of meeting their sales targets.
Greater Sales Possibilities: Compared to sales professionals who do not emphasize social selling, sales professionals with a good social selling index on LinkedIn have 45% more sales possibilities.
Big agreements without In-Person Meetings: According to a LinkedIn survey, 31% of sales representatives who used WhatsApp Business Catalogue were able to close agreements totaling more than $500,000 without having to meet with the customer in person even once.
How does the WhatsApp Business Catalog work?
Businesses may use the WhatsApp Business Catalog function to display their goods and services to prospective clients. It gives companies a place to post comprehensive details about their goods and services, such as the product code, price, description, website link, and name or title.
There are two ways to create a WhatsApp Business Catalog: you may use the WhatsApp Cloud API or the free business app. 
This article's main focus will be on the WhatsApp Cloud API. 
Read More: How to set up the WhatsApp Cloud API with BotSailor 
Creating a WhatsApp catalogue 
You might want to think about utilizing the WhatsApp Cloud API, if your company has more complicated requirements. With the help of the WhatsApp Cloud API, you can create a personalized catalog that includes cutting-edge functionalities like product searching, real-time inventory changes, and compatibility with your current online store.
Creating the Ecommerce Catalog from Facebook
To create a catalog for your business, visit business.facebook.com, select Commerce, click "Get Started", choose "Create a Catalog", select "Online" or "Local Products", and click "Next."
Uploading Products
Choose an upload method, select catalog details, and name your catalog. Choose manual upload or connect a partner platform like Shopify or BigCommerce.
Adding Products to Your Catalog
To access your catalog, click "View Catalog" and add products by clicking "Add Items". Manually enter product details, upload images, select a product category, and repeat.
Connecting the Catalog to WhatsApp
To integrate a catalog into your WhatsApp Manager, navigate to the "All Tools" menu, select "Catalog", choose your catalog, and click "Connect Catalogue".
Using the Catalog on WhatsApp with BotSailor
Connect your WhatsApp account to sync your BotSailor eCommerce catalog, manage products, and customize checkout settings. Users can add products, add them to their cart, and complete their purchase.
Tracking Performance
To optimize your catalog's performance, use the analytics dashboard in your BotSailor account. Monitor the 'Views' metric to gauge catalog reach, 'Clicks' to gauge product interest, and 'Conversions' to track conversions. These metrics can help identify products that need promotion or better descriptions. Regularly review and analyze these metrics to continuously improve your catalog and promotional strategies.
What industries can benefit from using a WhatsApp catalog?
Businesses in a variety of sectors may utilize WhatsApp catalogs to present their goods and services to prospective clients. Businesses in a variety of industries, including retail, fashion, cuisine, and hospitality, may produce eye-catching catalogs that include comprehensive details about their products. 
Customers are now able to peruse the collection, see pictures, read descriptions, and even make purchases straight from within the WhatsApp app. 
Furthermore, companies may effortlessly add new goods or promotions to their catalogs, informing and involving their consumers. Here are some examples:
E-commerce
To provide clients with a more customized purchasing experience, companies that offer goods online can employ a WhatsApp catalog. To obtain assistance selecting items, completing purchases, and monitoring shipments, customers may chat with the business.
Retail
WhatsApp catalogs are a great tool for businesses that offer tangible things to prospective clients, such as clothes, gadgets, and home goods. Consumers may quickly contact the company with queries or place an order, by perusing the catalog.
Healthcare
A WhatsApp catalog is a useful tool for doctors, dentists, and pharmacies to share information about their services with patients, as well as to help them make appointments and order prescription drugs.
Education
WhatsApp catalogs are a useful tool for educational institutions, including schools, colleges, and online courses, to disseminate information about their programs and facilitate student enrollment and exam registration.
Professional services
Companies that offer professional services, like marketing agencies, accounting firms, and law firms, can use a WhatsApp catalog to tell clients about what they offer and to get in touch with them to arrange a consultation or for more information.
Best Practices for Making WhatsApp Business Catalogue
When creating and sharing catalogs, it's essential to keep them simple, easy to navigate, and organized. Use short product descriptions and high-resolution visuals to make it easy for customers to find what they want. Use relevant keywords to make the catalog easy to find. 
Regularly update the catalog with product information and pricing. Utilize built-in WhatsApp features like product codes and prices for helpful information. 
Utilize customer feedback to make consistent tweaks and improve the catalog's overall user experience.
---
Interesting Related Article: "Ecommerce Techniques that Work to Increase Your Online Sales"