Vin Lash Extension Factory is where innovation and quality converge to redefine lash beauty. Embark on a journey that traces our evolution from local player to global leader, exploring our commitment to excellence and customer satisfaction.
The story behind Vin Lash Extensions Factory's foundation of quality
The foundation of Vin Lash Extension Factory is rooted in a passionate vision for delivering exceptional lash products to the world. Our journey began with a profound desire to revolutionize the realm of eyelash enhancements, driven by nearly a decade of industry expertise.​
Our founder's initial involvement primarily focused on serving wholesale customers, dedicated to meeting their unique needs within a traditional business model. This hands-on experience became the cornerstone of what would eventually blossom into a dynamic lash manufacturing venture.​
However, transitioning from this local business model to a global player was not without its share of challenges. The decision to establish a full-fledged manufacturing facility was bold. It required meticulous planning, securing the right equipment, and recruiting skilled artisans. The challenge was clear: to maintain impeccable quality while significantly scaling production.​
From sourcing the finest materials to handcrafting each lash extension, every step echoed our relentless dedication to crafting lash excellence. Navigating the complexities of maintaining impeccable quality at scale required foresight and continuous innovation. The challenges of establishing a manufacturing powerhouse were met with grace and resilience. The result was the birth of Vin Lash Extension Factory, setting new industry standards for lash quality.​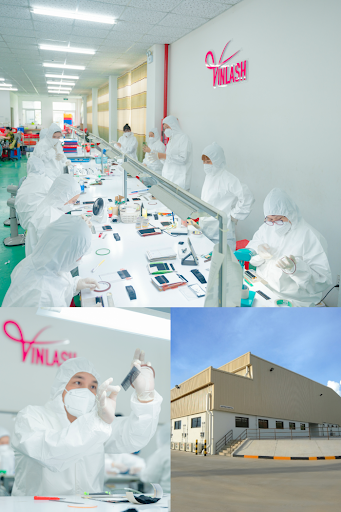 Today, Vin Lash Extension Factory is a testament to years of accumulated experience, unwavering customer-centric values, and an evolving vision that has propelled us forward. Our commitment to delivering quality lash products to the world remains at the heart of everything we do.
A glimpse into the manufacturing process at Vin Lash Extension Factory
At Vin Lash Extension Factory, our manufacturing process is a symphony of precision and quality. We take you behind the scenes to understand how we craft the perfect lash extensions.
Material selection: Our journey to exceptional lash extensions begins with material selection. Vin Lash exclusively sources Korea PBT f no ibers renowned for their exceptional softness, flexibility, and comfort.

PBT shaping: Artistry comes into play as our skilled artisans use tape to hold the PBT fibers in place. This meticulous process creates lash extensions of varying lengths and thicknesses, each designed to perfection.

Cutting: Precision is the key as the lashes are expertly cut down to size, ensuring that each lash is crafted to the desired length and shape.

Rolling: Our skilled artisans use rods of different sizes to expertly curl the lash extensions, crafting the perfect curls that characterize an alluring appearance.

Baking: The rolled lash rods undergo a transformative process as they are baked at an elevated temperature. This step ensures a lasting hold for the curl, ensuring that your lash extensions maintain elegance.

Installing: Our artisans continue their meticulous work by applying curled lashes to the background card, creating a harmonious presentation before placing it in the tray.

Quality control: Quality is non-negotiable. Each lash tray undergoes a thorough inspection to guarantee hygiene, precision, and consistency in curls, thicknesses, and lengths. We leave no room for compromise.

Packaging: Our commitment to excellence extends to the final step. After meticulous inspection, we carefully package and send you our finest high-finished quality lash extensions. Each package is a testament to our dedication to delivering perfection to our customers.
At Vin Lash Extension Factory, the manufacturing process is not just a series of steps; it's a journey of artistry, precision, and quality. We take immense pride in crafting lash extensions that elevate your beauty to new heights.
What Vin Lash Extension Factory does to navigate global lash excellence
In the world of eyelash extensions, excellence is not just a goal; it's an unwavering commitment. At Vin Lash Extension Factory, we have set new standards for lash quality and forged a path to cater to the diverse preferences of the global market. Our journey into global lash excellence is a testament to our dedication to delivering the finest lash qualities while providing unparalleled customization, private labeling services, and the ability to offer large quantities of lash extensions without compromising quality. Join us as we delve into the essence of what makes Vin Lash Extension Factory a global leader in the realm of lash beauty.
Vin Lash Extension Factory ensures the finest lash qualities
At Vin Lash Extension Factory, our foundation of quality is a story of particular dedication and uncompromising commitment. Our journey is one of crafting lash extensions that stand as a testament to excellence, from the selection of premium materials to the handcrafted precision that defines every strand.
Premium material selection: We exclusively source premium Korean PBT fibers, recognized for their exceptional durability, lightweight nature, and natural appearance. This foundation ensures that every lash extension is crafted from the finest starting point.

Skilled artisanship: Our skilled artisans painstakingly handcraft every strand with precision and expertise. Their keen attention to detail, honed over years of experience, guarantees that every extension is a work of art, exuding elegance and charm.

Rigorous inspections: Each lash extension undergoes a series of meticulous tests and inspections. From evaluating length and curl consistency to examining adhesive bonds, our process leaves no aspect unchecked. This attention to detail ensures that every extension lives up to our standards.

Non-negotiable standard: Any lash extension that falls short of our exacting standards is rejected. This uncompromising stance ensures that only the best of the best make their way into the hands of our clients. Our commitment to quality knows no exceptions.

Impeccable end results: The culmination of our meticulous process is lash extensions that boast uniformity, durability, and an unparalleled flawless appearance. Each extension embodies the care, craftsmanship, and precision that Vin Lash Extension Factory is synonymous with.
At Vin Lash, we are dedicated to excellence and maintain a meticulous quality control process. Each lash extension leaving our factory bears the hallmark of our commitment to delivering products that exceed expectations. Our clients and partners can trust in our embodiment of quality, craftsmanship, and pursuit of beauty.
Vin Lash Extension Factory tailors lash extensions to global preferences
Vin Lash Extension Factory's journey to global prominence goes beyond expansion; it's about understanding and meeting the diverse preferences of lash enthusiasts worldwide. Our commitment to customization and innovation has led to a range of lash extensions that cater to a myriad of styles and demands:
Classic Eyelash Extensions: Our Classic Eyelash Extensions offer a versatile range of styles, each catering to unique preferences. From the timeless elegance of Traditional Classic Extensions to the captivating allure of Camellia Extensions, we ensure there's a lash for every style inclination. Our Sleek Flat Extensions and innovative Easy Fan Extensions streamline the application process, enhancing efficiency without compromising quality.

Premade Fan Extensions: Our Premade Fan Extensions offer a game-changing solution for those seeking convenience and artistry. With various options, including wide, narrow, super narrow, long-stem, short-stem, and even captivating Camellia variations, we provide lash artists with tools to create stunning volume lash sets that resonate with clients seeking sophistication and flair.

Colored Lash Extensions: Embracing creativity, our Colored Lash Extensions allow lash artists to explore a world of vibrant expressions. We enable artists to craft unique looks, from Singularly-Colored Lashes to Dual-Toned and Blended Mix-Colored Lashes. Dazzling Diamond Lashes and Sparkling Glitter Lashes add a touch of glamour, ensuring lash brands can cater to clients seeking distinctive and eye-catching enhancements.
Vin Lash Extension Factory's dedication to customization empowers lash artists and brands to tap into a diverse market. By offering a spectrum of lash extensions, we enable brands to stand out and connect with a broader clientele. As personalization and uniqueness drive the beauty industry, our range of eyelash extensions ensures that every lash brand can offer unparalleled lash experiences to clients worldwide.
Our customization and private labeling service stands out from the rest
Vin Lash Extension Factory is among the leading private-label lash suppliers. We offer extensive customization options that empower your lash brand to shine in the competitive market. As one of the private label lash suppliers, we understand the importance of tailoring lash specifications and packaging design to your brand's uniqueness and excellence. With us, you have the flexibility to create a product that truly represents your vision as private label lash suppliers committed to your success.
Product customization: Our customization prowess extends to every aspect of your lash products. Specify lash specifications, including length, curl, thickness, and style, ensuring your lash products cater perfectly to your customers' diverse demands. Choose from a wide selection of high-quality lash materials, from synthetic to mink, silk, or faux mink.

Design collaboration: Collaborating closely with our experienced design team, you can create custom artwork, logos, and graphics that authentically embody your brand identity, ensuring your products make a lasting visual impression.

Versatile packaging: Choose from an extensive array of packaging formats designed to elevate your lash products. Select from lash boxes, magnetic boxes, clear lash boxes, and slide-out boxes to present your offerings professionally and memorably.

Varied packaging choices: We offer diverse packaging options that align seamlessly with your brand's identity. Select from packaging formats like lash boxes, magnetic boxes, clear lash boxes, and slide-out boxes to house your lash products securely and elegantly. Choose from various shapes, including rectangular, round, diamond, and square, to match your brand's aesthetics. Pick materials that suit your vision, such as cardboard for eco-friendly appeal, sleek plastic for a modern look, coated paper for a polished finish, or acrylic for a touch of sophistication. Elevate your packaging with desired finishing options, whether you prefer the understated elegance of matte and glossy, the tactile delight of embossing and debossing, the eye-catching sheen of spot UV coating, or the mesmerizing allure of holographic accents.
When you choose Vin Lash Extension Factory for private-label excellence, you gain a partner committed to offering customization expertise, using high-quality materials, providing creative design solutions, offering cost-effective factory-direct pricing, maintaining rigorous quality control processes, and ensuring certification assurance. Your lash brand will stand out, offering unique, high-quality products tailored to your vision.
Ability to offer large amounts of lash extensions without compromising on quality
At Vin Lash Extension Factory, our commitment to excellence extends beyond crafting exquisite lash extensions; it encompasses our ability to meet substantial demand without sacrificing quality. This unique synergy of quantity and quality is a testament to our dedication to lash excellence.
State-of-the-art manufacturing facility: Our journey into large-scale production began with establishing a state-of-the-art manufacturing facility. Located in La Duong-La Noi, Duong Noi Ward, Ha Dong District, Ha Noi, our 2000 square meter modern facilities serve as the beating heart of our operations. This expansive space empowers us to create lash extensions in significant quantities while maintaining the meticulous craftsmanship we're known for.

Strategic bulk manufacturing: We've harnessed the power of bulk manufacturing to offer lash extensions at accessible prices. Our efficient production processes are optimized for precision and speed, allowing us to tap into economies of scale. This advantage translates into more affordable prices for our clients while upholding the exceptional quality that defines our brand.

Impeccable quality control: Our commitment to quality doesn't waver, even as quantities increase. Our stringent quality control process ensures that every lash extension meets the exacting standards we've set. Rigorous testing and inspection are conducted for each batch, guaranteeing that our lash extensions maintain their superior quality, whether in small or large quantities.
At Vin Lash Extension Factory, our ability to provide substantial quantities of lash extensions is underpinned by our unwavering dedication to maintaining the highest standards. By seamlessly combining quantity and quality, we empower lash brands to cater to diverse audiences, meeting demand while delivering excellence in every lash extension.
How to order directly from Vin Lash Extension Factory and our shipping policy
In the pursuit of the perfect lash, convenience plays a pivotal role. At Vin Lash Extension Factory, we've meticulously designed our ordering process to be effortless, ensuring you can easily access our premium lash products. But our commitment to your satisfaction doesn't end with the order; it extends to our shipping and delivery policy, which guarantees a hassle-free experience. Discover how simple it is to order directly from Vin Lash Extension Factory and the seamless journey your lashes embark on to reach you.
The ordering process of Vin Lash Extension Factory is simple
Navigating the ordering process at Vin Lash Extension Factory is a straightforward and hassle-free experience, designed with convenience in mind.
Begin your journey by visiting our user-friendly website

https://vinlash.com

, where you can explore our extensive range of lash extensions and related products.

Select the lash extensions that align with your brand's vision and style. Choose from our diverse options, each crafted to meet unique preferences and demands.

Provide specific details about the products you've selected, including the length, color, and style. Our user-friendly interface ensures accurate communication of your requirements.

Contact us through WhatsApp at +84 898 462 990 to share the product names and details. Our English-speaking sales specialists are ready to assist you with any inquiries.

Once we receive your information, we'll confirm your order and provide you with an invoice detailing your purchase. Double-check the types, descriptions, and quantities of items you've selected.

For large quantity orders, a deposit of 50% is required. Small-quantity orders are exempt from this deposit. This ensures a smooth production process for your lash extensions.

Upon receiving your deposit, we initiate the production process. Our skilled artisans meticulously crafted each lash extension, reflecting our commitment to quality.

After production, we conduct a video call to ensure that your lash extensions meet your expectations in terms of quantity and quality.

Once your order is confirmed, we prepare it for shipping. We ensure that every lash extension is carefully wrapped to safeguard its quality during transit.
Navigating the ordering process at Vin Lash Extension Factory is designed to be seamless, efficient, and customer-centric, allowing you to access our high-quality lash extensions easily.
The effortless shipping and delivery policy of Vin Lash Extension Factory
At Vin Lash Extension Factory, we prioritize your convenience by offering a shipping and delivery policy that ensures a seamless and reliable experience.
Express delivery excellence: For most orders, we provide the option of express delivery powered by renowned global carriers such as DHL, FedEx, UPS, and AGENT. This choice guarantees swift and efficient shipping so that you can receive your lash extensions promptly.

Bulk orders made easy: For bulk orders, we offer an alternative solution through sea shipping. This method is ideal for those who prioritize cost-effectiveness, allowing the transportation of larger lash product volumes at an economical rate.

Transparency in estimated shipping times: We believe in transparency and clarity. When you order lash extensions from us, you can expect a preparation time of 4 days before your products are ready to be shipped. Private label orders, on the other hand, require approximately 2 weeks for crafting and preparation.

Delivery timeframes: Delivery times can vary based on location and other factors. Generally, orders take between 2 to 12 days to reach you after they've been shipped.

Your satisfaction matters: Once your order is shipped, you will receive a tracking number, enabling you to monitor the progress of your package. If, by chance, you've entered an incorrect shipping address, we are here to assist you in resolving the issue.

Customer service support: Should you encounter any issues or concerns regarding the delivery of your order, our dedicated customer service team is ready to assist you. Whether you need tracking updates or help with a missing order, we are committed to ensuring your satisfaction.
At Vin Lash Extension Factory, our shipping and delivery policy is designed to provide you with the best convenience, ensuring that your lash extensions arrive on time and in perfect condition. Your satisfaction is our priority, and we aim to make your shopping experience seamless from start to finish.