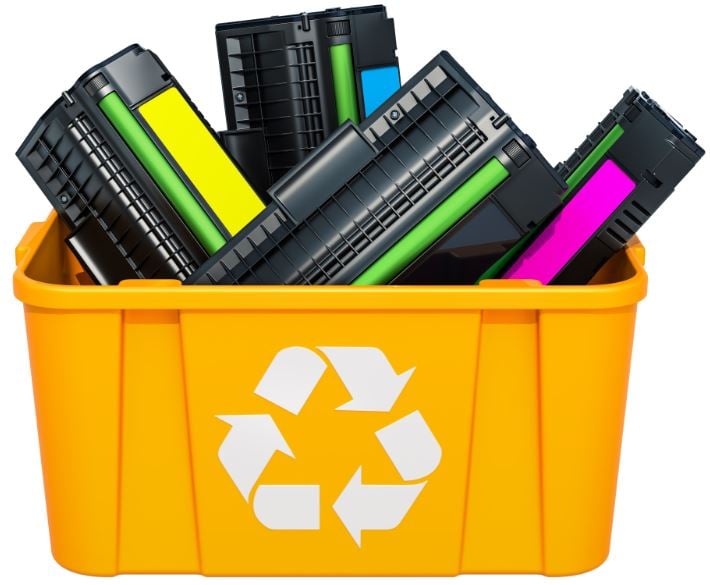 In the last two decades, HP has shifted major focus into producing printer cartridges that are committed to recycling and sustainability. HP inkjet cartridges and laser supplies are now recycled, thus reducing environmental impact and reducing the amount of damage caused to the environment. Here at Cartridges Direct, we advocate HP Planet Partners and are committed to working together to play our part in the reduction of technology waste. We highly advocate the turning of used products and devices into future printing solutions. Our goal is to educate the public on how they can play their part in environmentalism just by recycling their used printer cartridges and laser supplies.
A look into HP Planet Partners
HP Planet Partners is a service dedicated to collecting used inkjet printer cartridges and laser supplies from any printing brand, HP or others, and recycling them into future printing solutions. HP Planet Partners was created out of a shared desire to reduce the amount of single-use printing supplies by reusing supplies as many times as possible. Both individuals and businesses can now drop off their used cartridges and laser supplies at dedicated drop off zones, where supplies will then be collected and reused.
Aside from Cartridges Direct, other major brands such as Canon are getting involved in the global shift towards a more sustainable world of technology. The recycling program offered by HP Planet Partners which was started in 2010 is now responsible for a monumental 90 million kilograms of recycled plastic all around the world. This massive stride in sustainability has greatly reduced the amount of plastic that ends up in landfills or in oceans where plastics cause a great amount of damage and destruction to wildlife.
HP's Dedication to Sustainability
HP Planet Partners is just one facet of a multi-faceted chain that strives to conduct businesses in the most eco-friendly and sustainable ways possible. HP is also involved in stocking responsibly sourced paper, whilst still offering customers high-quality paper that promoted the fair treatment of forests. Energy efficient printers are another major focus that serves both customers and the environment, allowing business to be conducted as per usual without the need to use unnecessary amounts of energy. Those who purchase products such as a HP officejet pro 6830 ink jet printer today will also notice the shift towards less packaging material, a move which reduces unnecessary waste.
Support All Around the Globe
HP Planet Partners is a scheme that has spread all around the globe, and even to areas such as Haiti. After the mass devastation of the 2010 earthquakes in the region, enormous amounts of plastic bottles were left sitting in piles across the country. These were a result of the mass amount of bottles that were shipped to volunteers all across the country who were working hard to rebuild infrastructure in Haiti. Due to a poor trash collecting system, many of these bottles were left undisposed of and in need of recycling or removal.
A combined initiative between HP, First Mile Coalition and Thread Internernation ensured that these bottles were used to create printer cartridges. Additionally, the initiation spurred a not for profit that created an incredible number of jobs for locals in Haiti. The not for profit continues to, up till this day, tackle recycling and provide jobs for Haiti locals.
---
Cartridges Direct greatly support HP's endeavours towards a more sustainable route of technology. Aside from endorsing HP Planet Partners, we also welcome uses cartridges on site. So, what are you waiting for? Head to your local Cartridges Direct and do your part to save the environment by dropping off your used cartridges and laser supplies today.