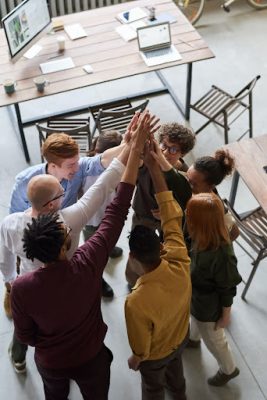 Given the constant development of the IT industry in today's world, more and more startapers are facing the first serious issues at the beginning of how to get the first customers and what to do with a company staff. It is explained with the statement that it doesn't matter what a perfect idea or IT product you have, if you can't sell it and collaborate with others to improve your outcomes, you will fail. That's why the human factor is vital here. Let's consider it in more detail. 
Potential Clients
The "golden rule" of beginning any business: before you start something, you must have at least 3 people who agree to buy your product before you create it. Speaking of potential clients, it is important to cover as many social groups as possible. For this, you would need a residential proxy to connect to any web sources and reach your audience. Try out the https://soax.com/indonesia-proxy platform, and you will be satisfied with the service quality.
To find potential customers, there are several options:
Freelance platforms (Upwork, Freelancer, Guru, etc.) If you are a developer, this is the best option for you, because you can find the first customers for your future company.
Networking (friends, acquaintances, co-workers, former clients of the company where you worked, etc.)
Creating a site, "boosting" it via SEO, reaching the top of key queries on Google, and getting traffic to the website of your IT company. As a rule, it is cheaper and faster to find a specialist with good experience in building SEO strategies for the appropriate markets, because it takes more than one year to understand all the nuances of SEO and get to the first page of Google.
Social media. If you want to find really adequate and solvent customers for software development services, then one option is LinkedIn (a social network designed to expand business contacts). Here, as a rule, entrepreneurs make the necessary contacts.
A great decision would be to apply 2-3 of the strategies mentioned above at the same time. It would have a better effect and cover more potential clients.
Company Staff
Everything is relatively simple here. At the initial stage, you can act as "staff" of your company (most IT companies have started their activities), or immediately hire one or more employees by placing ads on free resources.
There is also an option to start your own IT company without any developers: you can use the previously mentioned freelance exchanges to find contractors. But, in this case, there is a great risk of hiring an unskilled developer and losing both the client and the money because the exchange guarantees a refund to the client if the work is not done or performed poorly.
The Takeaway
Even if you've hired the world's best developers, bought the most powerful machines, and rented an office downtown, your business may not last for months if you didn't pay attention to your target audience. Likewise, try to find the most suitable business solution when projecting your staff strategy. It would be freelance platforms, outsourcers, or official employment. 
In the article, we reviewed the role of human factors in starting an IT company. Starting from the employee number and finishing with the SEO instruments' influence on the target audience, you need to analyze all the aspects. Only in this case you will succeed.
---
Interesting Related Article: "What do IT Consulting Companies Offer?"