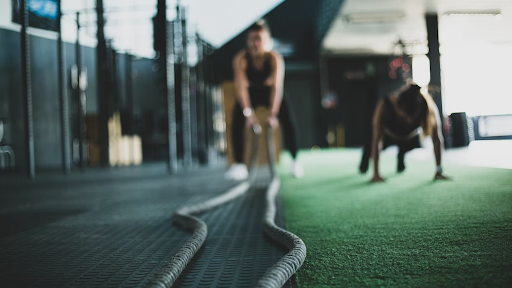 If you are thinking about the possibility of launching a sports mobile app for getting a new revenue source for your business, today could be just an appropriate time to do it. The interest in such products is continuously growing from the side of potential users which can be a good sign. That's why you should do your best not to miss this chance to offer a product that will be able to cope with the set tasks and meet the needs of your target audience.
A mobile app project can be viewed as a good investment given the fact that the app market revenue is actively growing these years. It is expected that by 2027, it will reach the mark of over $641 billion while in 2022, it was around $420 billion.
With the development of advanced technologies, apps are enriched with more and more innovative features that are aimed at facilitating various complex processes for users, helping them to reduce their expenses and save time that is typically associated with the set tasks. For example, sports software developers can create solutions for increasing the efficiency of training processes, improving fan experiences, and making the interaction between athletes and coaches, or fitness lovers and instructors significantly more convenient.
If you still haven't decided on the exact type of sports app that you want to build, we hope that this article will provide you with a fresh portion of inspiration.
Application for tracking sports news
It is quite obvious that sports fans want to stay tuned with all the latest news related to their favorite team or some particular sports. But it is not always possible to make sure that you won't miss anything important if you do not have an appropriate tool for that. Yes, you can monitor various news platforms, or follow the social media accounts of athletes and teams. But when you have a convenient app that accumulates all the latest updates, there is no need to monitor a lot of resources simultaneously.
A good application of this kind should provide access to huge volumes of information related to sports activities and updates from teams, their stats, match results, etc.
It will be very sensible if you allow users to customize their news feeds with the help of filters as well as to set notifications according to their own preferences.
Ticket selling apps
Some years ago when a person wanted to buy a ticket for visiting a sports event the only way to do it was to go to a ticket office. It could take some time and, moreover, ticket offices have limited working hours. As a result, it could become a rather challenging task. Now, to book a ticket and even pay for it, you do not need to leave your house. It is enough to take your smartphone and open the relevant app.
Though such apps already exist, you can think about the points that will make your product completely unique. But also it is important not to forget about such basic things as filter-based event search, reliable payment gateway, and security.
Apps for sports teams
While the two above-mentioned options are targeted at sports lovers, apps that belong to this group will help coaches and athletes to efficiently organize their communication and streamline a lot of processes within a team.
Thanks to a rich range of tools and technologies that are available today, you can create a sports app that will become a comprehensive platform and will help coaches and managers better organize the lives of their teams. You can build an app that will be intended for one team only or you can offer a practically universal solution that will be easily customized based on the individual needs of teams. As a result, you will be able to reach a rather wide target audience with your software product.
IoT-powered application for training
It can be a separate app or you can take this functionality to enrich your team management solution. Such applications should be connected to special wearable devices that athletes will have on their bodies during training sessions, matches, and games. Based on the specificity and exact functionality of wearable devices, they can measure various vital parameters or/and the exact location of each player on the field at any moment of the game. The data related to athletes' health is of crucial importance for planning the training process and taking decisions on their readiness to take part in games and matches. Moreover, based on this information, coaches can adjust training processes in accordance with players' state. As for location data, it is useful for better game strategy development.
These were only a couple of dozens of ideas for excellent sports apps that can help to transform the industry. As we've written at the beginning of this article, given the ongoing growth of the sports app market, today is a quite successful time for launching your product. But the key thing is to make sure that it will perfectly address the needs of your target audience.