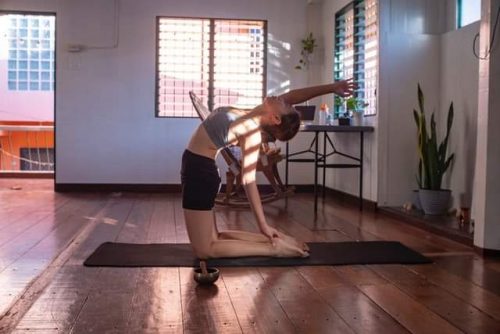 If there is something good that came out of the Coronavirus pandemic, these would be lessons. The importance of at-home fitness is one of these major lessons, which actually brings more than meets the eye. Most importantly, fitness bears a wholesome, healthy personality, from physical, emotional, mental to spiritual being.
Supplementarily, at-home fitness saves you from having to go outdoors for a gym workout. In any case, as we have witnessed, during a pandemic, a lockdown will leave you with only your home to access.
Let's get into the details of the interesting at-home fitness facts:
At-Home Fitness Requirements
At-home fitness is self-explanatory, workouts that you carry out at the comfort of your home. Amazingly, you don't necessarily need gym equipment to maintain fitness at home.
With a workout fitness app such as Peloton at home fitness, Zones for Training, Daily Workouts Fitness Trainer, you can manage gymless workouts, among numerous others. All you will probably need is a workout mat, and you are ready for an awesome fitness session.
The sessions are also inexpensive, and in some instances, free. Take an instance of Peloton: the digital app costs only 12.99 dollars and free for the first three months. Even with Peloton, you don't need peloton subscription to start out your fitness journey.
Nevertheless, workouts with equipment are far more effective. Luckily for you, there are so many options for at-home workout equipment, and also at a pocket-friendly cost. These include exercise bikes, treadmills, full gym, among others.
If you use a paid subscription, dedication to the program comes automatically. I mean, who wants their hard-earned money to go to waste? However, you get a plus with this, as more commitment bears better results.
Importance of At-Home Fitness During a Pandemic
Cutting the chase, let's get into the benefits that you reap from at-home fitness during a pandemic.
1. Stress-Relief
Regardless of your condition during the pandemic, we are all affected emotionally. Companies close down, and others retrench masses of employees. Demand for business services and products go down.
When the pandemic forces a lockdown, it is easy to get stress when you have to stay indoors for an indefinite duration. Worse still, if you live alone, you feel as if you might go crazy.
But all this is a shadow compared to what you experience when you are affected directly by the pandemic. If it is a disease and you lost someone or were infected, the stress doubles. If it was a hurricane and lost a home and probably family members, no one will understand your pain.
In this case, at-home fitness will come in handy. When you are deeply engrossed in yoga and meditation or have to strain your muscles in the gym, you tend to take all your stress on the workout. If you are sad or angry, you stretch yourself to the limits, and this works to relieve you of the pain.
Have you ever engaged in a workout where you stretched beyond your capabilities? The end always means a new beginning, as you have to eat to heal your tissues, then relax. Sleeping patterns improve unbelievably, working to lower your stress levels.
2. Physical Fitness
When you are locked at home, the next thing that you do is forget the gym. Your precious gym time is spent on movies, watching sports, sleeping, and idling around the house. The worst part is that you get hungrier, eating more than the regular meals.
By the time you realize, you have increased your weight unbelievably. Most notably is how tired one feels despite doing close to nothing for a whole day long.
Then, you will need a home fitness schedule. I would recommend a paid subscription, opening opportunities to explore different workout plans from all over the world. Other than having tight schedules that you want to follow, your body gets consistent physical fitness.
Besides, you will have something else to do besides eating and sitting all day. Therefore, you will be active and flexible despite the pandemic.
3. An Opportunity to Interact
If you are all alone in the house, a workout plan that allows you to interact with others is a great option. Peloton is the most competitive in this sector if you have a Peloton bike or treadmill.
The interaction, competition, and challenges give you a reason to smile and do more with yourself.
Moreover, Peloton grants you a chance to have your metrics on a Leaderboard, where you compete with others in the session. You see how you fare and feel better or are encouraged to do better.
4. Managing and Preventing Chronic Diseases
If the pandemic gets you with a chronic disease, the impact is bound to be dire if you don't take charge. You are supposed to stay stress-free, watch your diet, and still be active, regardless of the external conditions.
So, having a home workout schedule will help you keep the illness under check, as your body remains active and stress-free.
Moreover, working out prevents the possibilities of these diseases, including diabetes, stroke, high blood pressure, and heart attack. Your blood circulates faster and evenly all over the body keeping your heart healthy and safe.
Besides, the heart is also prone to a heart attack from excessive fats building around it. Fitness programs prevent this, keeping you safe. Then there is respiratory health, which workouts boost to a large extent.
5. An Opportunity to Workout
At-home workouts are highly convenient for everyone. Whether or not you are going out, at least you will always have time at home. Therefore, committing to work out at home will always work.
You will further get all the above benefits without struggling or breaking possible curfew rules.
Final Thoughts
We cannot exhaust the importance of at-home fitness during a pandemic plan because they exceed the gym workout benefits. Today, you have the opportunity to get an instructor online, getting the same gym feeling.
The fitness programs will relieve you of the challenges that come with a pandemic, keeping your strength, mood, and morale boosted regardless of the situation.
---
Interesting Related Article: "Your Detailed At-Home Fitness Guide"