Buying a house is likely to be the biggest investment in the lives of many people. They are choosing a place where they are probably going to live for the rest of their lives, therefore, it is important that they put all their effort into making this decision wisely, especially if they are first-time buyers.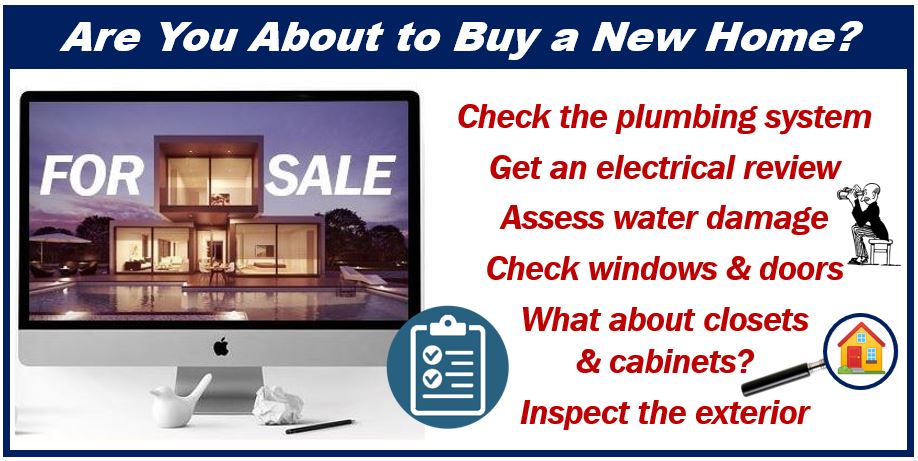 It might feel like too much of a task but as soon as you start searching for a home, make a list of the important checks that you need to carry out in every prospective house. It will take ages before you land the home of your dreams but all the effort will be worth it if you are comfortable and satisfied in your new home.
Even after getting the mortgage approved, taking care of all the expenses, and researching the location thoroughly, there are still a lot of things that need to be done. Prospective homeowners should always consider getting a professional inspection done so that they are sure that the house is in a perfect working condition when they decide to move in.
Here is a list of the important checks that cannot be missed when you are purchasing a house or an apartment:
Get an Electrical Review
You can carry out the basic inspection tasks by yourself too. Try out all the appliances in the house to ensure that they are working fine, including everything in the kitchen and the laundry room. Since faulty electrical outlets are a common issue, one should check each of them just to ensure that they are already working fine. You can even toss a few clothes in the dryer just to test the drying process.
However, there are certain detailed inspections that cannot be done by anyone but a professional. Hire a technician to carry out the HVAC inspection because if you neglect the air conditioner, you might have to face problems during the summer season. Also, get the electric furnace checked or call the gas company if it is a gas furnace. Checking all these things beforehand will save you from the hefty repair costs.
The Plumbing System
It is obvious that one would want to be sure that there's no issue with the water system in the bathrooms, kitchen, and laundry area. One must check all the sinks, toilets, and showers to see if they are draining properly. Also, keep a keen ear for possible noises in the pipes. Loud banging indicates that a pipe is at risk for bursting any time soon.
A leaky faucet itself is a very irritating issue but flooding from a burst pipe or sewer clogging due to blockage can cause major damage to the draining system. If the home has a basement, you should definitely get it examined by a plumber because basement floods can significantly damage the house. The plumber can even guide you to take the right flood insurance as well.
Assess the Water Damage
Even if the current plumbing system is working perfectly fine, one should still check for possible water damage that might have been caused due to previous issues. The signs include dark spots, cracked paint, or bulging. The moisture inside the walls may not be visible but it can lead to the formation of mildew and other hazards and cause long-term damages to the house.
Be vigilant of foul smells from the plumbing system because they are a clear indicator that a septic system repair is required. If the source of the problem isn't obvious, you may need to hire a water damage expert who can find out the root cause and provide you with the best solution. A house that has been affected by mold will keep giving you troubles as long as you live there so make sure that you carry out a thorough inspection before making the purchase.
Windows and Doors
When it comes to windows and doors, you should be checking for air leaks as they are likely to put a strain on your heating system during the winter months. You can simply check for them by seeing the light emerging from the doors. If there's more light, there is space that needs to be sealed. Check for cracks around the windows.
To be safe, carry out the smoke test by holding a lit incense near the potential openings. If the smoke is drawn inside, then you'll know that there's airflow. All this should be done before you move in because by the time winter rolls in, it will be too late to take care of all these issues. While you're making rounds, open and close every door, window, and shutter to be sure that they won't cause any issue in the future.
Check Cabinets and Closets
It may seem to be tedious but you should thoroughly check each cabinet and closet of the house. First of all, this gives you an idea of the space and to check if the house has enough storage area to keep your belongings. Moreover, such a thorough examination will let you know about the possible issues within the house.
You can check the possible presence of termites or rats by going through all the cabinets and cupboards. Also, you can assess the condition of the wood, presence of mold or moisture, or any other problem that may cause damage to your belongings. Such inspection takes time and an eye for attention to detail, so better hire an expert.
Pay Attention to the Exterior
It is not just the inside of the house that is important; one should also be very careful in examining the exterior when intending to buy a house. Make sure that the roofs are thoroughly inspected because even the smallest of shingles can cause huge problems during heavy rains. Also, inspect the signs of damage like rotting wood, cracks, or peeling because they indicate that there might be a problem with the foundation of the house.
The problems related to the foundation of the house are grave. Fixing them is not only costly but these issues can give rise to a number of other problems in the house. It is better to hire an inspector to examine the foundation so that you are sure that an expert eye has done the deed. Even the slightest problem in the foundation should make you leave the house and look for another one.
The Bottom Line
Moving to a new house is always exciting but if you're faced with serious electric or plumbing problems, then it will kill all the excitement. Whether you're looking for houses in Charles Cove Davenport or anywhere else, you should never compromise on detailed inspection. This will give you an entire picture of every aspect of the house and save you from possible repair issues in the future.
It will take some time and you might even find it expensive but the money which you spend now will save you from heaps of maintenance cost if you buy the house and find that there is something terribly wrong with it. Be careful and vigilant and try not to act hastily because buying a new home is indeed a very emotional and one of the biggest decisions in anyone's life.
---
Interesting related article: "What is a mortgage?"