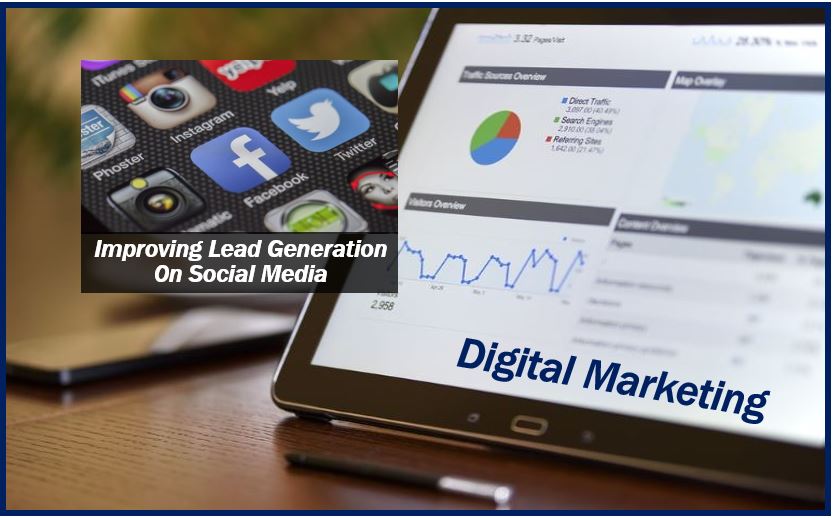 Generating leads on social media is a crucial part of the overall digital marketing strategy of an online business. However, with every other company using social media as their primary lead generation platform, it has become a tough job to do so successfully.
Following are a few techniques that you can use to generate leads on social media successfully-
#1. Offer Gated Content
Simply stating, Gated Content is something that requires visitors to provide some prior information before gaining access to the content.
Gated content includes your most valuable creations, and it is a sin to give it away without any specific return.
Let me share a secret that can help you kill your gated content promotion on social media.
First and foremost: Always make sure that you provide a highly personalized summary of your content along with the link on social media. By personalized I mean, provide specific information that can create maximum value for your target audience, and in turn encourage them to sign up with you, in the hope of more useful content in the future.
Keep in mind: Click baits are a big no in this case. Giving a flashy summary of your content and immediately following it up with a signup request, and it would be the last time you will be seeing your customer.
#2. Host a contest
It's an ideal option for increasing your product reach and target customer engagement.
However, if not handled right, it doesn't take much time for social media contests to turn into complete disasters.
The customer engagement factor needs to be at the core of this strategy, and you have to make sure that your potential leads are provided with firsthand experience of using your product or service.
It is this experience that will act as an incentive for your leads to solicit your offerings in the future, and land them successfully on your website.
Other than this, you also need to make sure that the prize you are offering is something that exclusively provides value to your target audience and no one else.
Think of offering a highly generic prize, something like a Smartphone or Smartwatch, and you will see truckloads of customers signing up for your contest, majority of whom don't even know that your product exists.
#3. Leverage Hashtags
Everyone uses Hashtags these days, expecting them to earn leads for their business magically.
What most people don't realize is that there is a stark difference in just using hashtags and using hashtags in a way that can earn you some valuable leads.
Here are a few tips to amp-up your hashtag game-
Create a hashtag of your own – This is where you can show your creativity and can contribute towards your product Branding.  Other than communicating your brand personality, making custom hashtags do the crucial task of separating you from your competitors.
Creating subtle and humorous hashtags works better off than simple ones.
What also works is if you can create a hashtag that is in association with a popular event or trend that is going on these days. It is highly likely that your target audience is following the hashtags that are associated with these events/trends.
Research the most popular hashtags of your topic – Its simple, just go to Google and research a little bit about the hashtags that are trending nowadays, in your product/service category.
Want to go a little bit further? You can use "hashtagify" a search engine that can provide you with valuable analytical data as to which hashtags are best suited for your operations.
Stop giving unnecessary hashtags – It's a humble request! Stop stuffing your social media posts with 15-20 hashtags that are either irrelevant or barely used. You are doing nothing but inviting unnecessary leads to your website, in this manner.
#4. Use Live streams
Are you doing enough live streams to promote your offerings on social media? If not, you just might be missing out on a large chunk of potential customers. Here is a compelling reason as to why live streaming should occupy a significant part of the lead generation strategy.
"Video creates more engagement than written content." To be specific, the level of customer engagement is three times more.
Holding weekly Q/A session is the most common live stream methodology available.
However, if your aim is to create some quality and customer focussed engagement, you can always include some Experiential Marketing techniques to promote your offering through live stream.
This mainly includes making your customer experience your product's value offering in real life through live stream videos.
Another useful trick is to provide random people on the streets with a good experience of your offerings. The unexpected reactions from the crowds can also make your live streams go trending over social media.
Now comes the lead hunting part. Instead of looking out for people who type Emojis or one-word appreciations on the comments sections, look out for those who are giving their time to write a few sentences in your comments section as an observation to your live stream, and Eureka!! You have found some quality leads.
#5. Engaging with followers
How often have you replied to a comment on your official pages or your post? Have you ever thanked a user for using your brand's hashtag? Well if it's not that frequently, you are failing to leverage the potential of social media to the fullest.
It can't be stressed enough, how important it is to have regular interactions with your customers and know about their ideas and preferences.
The more you interact with customers, the more they will develop a relationship of trust, and you will successfully be able to keep your quality leads.
There you go; a few techniques that can enhance your social media lead generation. Now that you have strengthened your arsenal, it's time to get those customers!
Author Bio:
Hi There, I am Shaun Williams, a content writer with Goodfirms, a research platform for Software development and Digital marketing companies, among many others. I enjoy communicating ideas and knowledge creatively and also ensure that the readers never suffer from boredom while reading my posts.