Sending letters, postcards, brochures, catalogues, presents, and other mail pieces to your customers, both current and prospective, is called direct mail marketing. Its greater open and response rates can be attributed to the added personalization it gives to your campaign. It is a standard procedure for all firms, including B2B and B2C.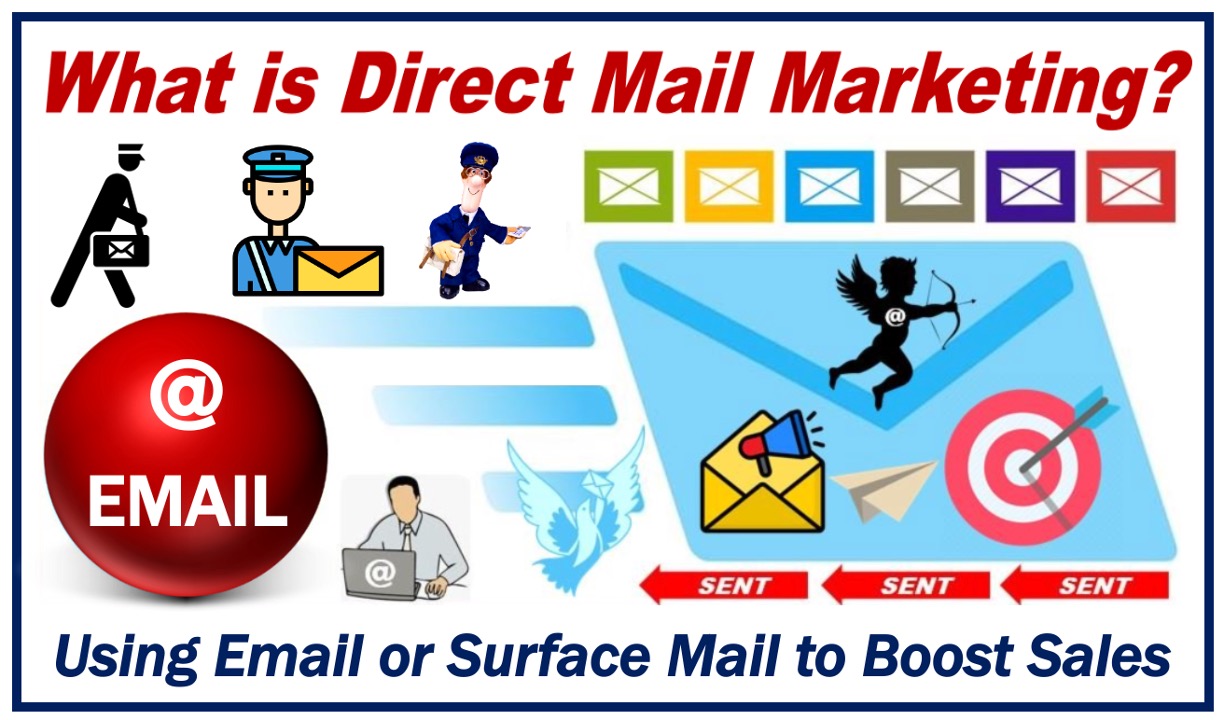 A typical direct mail marketing campaign includes a unique design to stand out from other mail, interesting and personalised writing to catch readers, a simple and clear call to action to encourage frequent responses from consumers, and a tracking mechanism to assess the success of your efforts.
How Does It Work?
Direct mail marketing may appear to be a straightforward process, but the true battle starts when you want to start a fruitful direct mail campaign.
To set up direct  mail marketing campaigns that provide the best outcomes possible, you must adhere to a few crucial measures. Here are the most crucial factors to take into account if you want your direct mail campaigns to be a total success.
Keep Your Mailing List Highly Targeted
How focused your mailing list is will be the first and most important factor in determining the effectiveness of your marketing efforts. We apologise; you are waiting for your train at the incorrect platform if you are making irrelevant offers to uninterested parties in the hopes of receiving better results.
While adding potential customers to your email list, you should undertake in-depth market research and establish your consumer profile. However, company owners sometimes lead busy lives and already have a lot on their plates. For this reason, at PostGrid, we provide our customers with a highly tailored mailing list based on the demographic information of their audience. It vastly improves their chances of receiving a response.
The largest error that most firms commit is concentrating on their own goods or services rather than the deal they are offering potential customers.
Focus on the processes you need to take to create a sale rather than just the sales if you want great outcomes.
For this specific purpose, PostGrid provides tracking options to its customers. We don't just provide them comprehensive information about their mail pieces; we also give them comprehensive analytical evaluations on the effectiveness of their campaigns. Additionally, we update their connected CRMs or tools with every direct mail campaign that is launched.
It assists them in identifying the preferences of their clients and in researching the ads and material that are producing results. They can therefore stop running terrible marketing efforts and provide their customers appropriate offers.
Bring a Little Creativity to Your Campaigns
No matter what people say, looks count. In order for your direct mail to simply captivate your consumers, you should constantly aim to make it more innovative. The subsequent material should also be powerful and impactful. Think of using a competent copywriter. You may anticipate a higher response rate the better your copy and CTA are.
How to Conduct a Direct Mail Marketing Campaign
When preparing to launch a direct mail campaign, take into account the following factors:
Make a mailing list of your customers
A design check of the inventory should be decided.
Adapt and Improve based on results
Keep up with the latest trends
4 Ways to Improve Your Direct Mail Marketing
Direct mail marketing may be improved in four key ways:
Enhance your attribute with digital behavioural data
Data security: purify your lists
Locate and use a flexible platform
Determine unknown site visitors
 How to Improve Campaigns with the Flexibility of Direct Mail Marketing
With the adaptability of direct mail marketing, we enhance campaigns. You won't obtain decent results by just combining some text and photos. For improved outcomes, you'll need to put in the work and test out various tactics and techniques. Here are some useful tactics you may use to improve the response rate of your upcoming direct mail marketing campaign.
Psychological research has shown that people enjoy receiving presents. As a result, we suggest sending some personalised presents, such as a calendar, t-shirt, coffee mug, or others. Additionally, don't forget to state that on the box, perhaps with the phrase "free present inside."
Your clients and potential clients will be happy to get your mail piece if done this manner. Consequently, it will raise your open rate. Additionally, you may anticipate a higher response rate if the language inside the mailer is strong and the deal you are giving is enticing.
Prospects may now easily discard the email you sent by throwing it in the trash. However, if you include coupons in your mail piece, they are more likely to be saved.
For instance, if you recently launched a restaurant and decided to promote your brand using direct mail, most consumers would likely only glance at it without bothering to keep it for the address or anything else.
On the other hand, customers are more likely to keep your mail piece if you opt to include a coupon with it that offers complimentary dessert after your dinner if you present it.
How did We evaluate the Best Direct Mail Companies?
The most effective direct mail service should be distinguished by its accessibility, design options, range of goods, and in-house mailing capabilities. The minimum number ordered must be fewer than 500 in order to keep the service reasonably priced.
In addition to meeting our requirements, the direct mail providers listed on this page allow you to customise the designs and most of them even offer templates to get you started. The following criteria helped us choose which direct mail business to suggest:
Affordability
Product selection
Personalization capabilities
Product quality and usability
Services for printing and mailing
Easy of use
Large orders
Speedy turnaround
---
Interesting related article: