The housing market has been a bit unpredictable, especially over the last year since the COVID-19 global pandemic. With housing prices on the rise along with an influx of demand, it's no wonder people are wondering how they can keep up with the competition.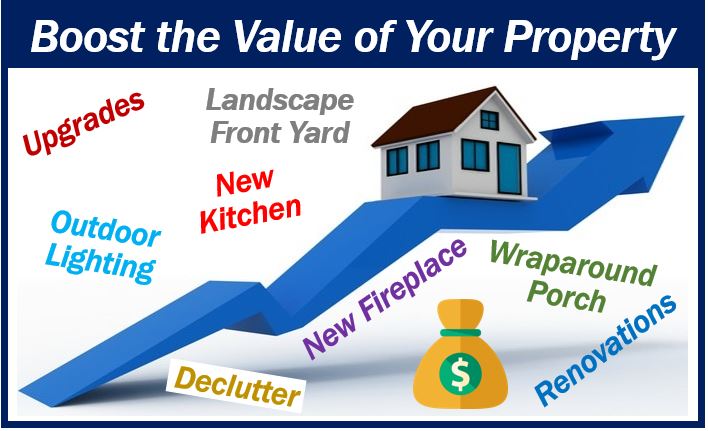 Whether you are looking to sell now or in the distant future, there are a number of ways to increase the value of your home starting today. Here are three tips to get you started:
Upgrades And Renovations
Increasing the value of your home means you'll want to add some form of investment prior to the resale. Investing in quality upgrades and renovations to both the interior and exterior of the house can cost quite a bit upfront but have an immense payoff.
These renovations can include adding beautiful new fireplaces for a cozy feeling in the house or replacing your dishwasher and refrigerator with brand new stainless steel appliances. You can also renovate the exterior with a newly landscaped front yard or by adding a wraparound porch to the front of your home.
Each of these can all make a huge difference in the resale value of your home.
Consider All Of Your Furniture
Plain and simple, a house that is more attractive will ultimately have a higher resale value. While yes, this may sound similar to the upgrades and renovations, but it actually can apply to the very basic attractions of your house as well.
Think about staging with proper furniture and decluttering the home when you are ready to do an open house. You can also look into good lighting for both inside and out. All of the little things can add up to improving the overall resale, especially if you're considering including some of these items in the resale as well. Bet you didn't think of that either!
That's right; if you are looking to move but don't have the desire or ability to move your furniture, you can see if the potential owner would like to purchase any of the items. The sale of the furniture can be lumped into the overall price of the resale of the house. In turn, you are also saving money on any future moving costs.
Create a More Efficient and Sustainable Home
When making a large initial investment, people are looking for ways to be able to cut costs on their monthly expenses. Creating a more efficient and sustainable home will not only look more enticing and innovative to the potential future homeowners but will also make them feel like they are contributing to the world by leaving a smaller carbon footprint behind.
There are simple and affordable ways to be able to turn your home into a smart house. Things like electric thermostats with timers, adding security systems in and out of the house, investing in LED energy-efficient lighting, or upgrading to double-pane windows can be huge incentives for homebuyers which can dramatically increase the demand for your home in the market.
This is because a lot of the time when someone is looking to buy a home, they don't necessarily want to make the extra investment in any additional upgrades to the home. What a lot of homebuyers don't know is that there is actually a type of loan called energy-efficient mortgages (EEMs). These mortgages allow borrowers the ability to take on additional debt to cover not only the purchase of the home but also includes money to make upgrades that are energy-efficient.
EEMs are really an incredible option because they offer very low mortgage rates. As the seller of your home, you want to alleviate the purchaser from having to make the least amount upgrades as possible.
Overall, when trying to resell your home, the number one thing you will want to understand is that to increase its value, you'll have to make some type of initial investment. The good news is your investment will pay off in the long run. Set yourself up with a plan and consider your budget.
Who knows – you may be turning more of a profit than you might even realize, especially in today's market.
---
Interesting related article: "What is Flipping?"