The word property comes from the Latin phrase 'properietate,' meaning a thing owned, and the French equivalent 'proprius,' meaning a thing owned. The concepts of ownership and property are deeply intertwined.
There can be no ownership without property and no property without ownership. Therefore, the concept of the property occupies an important place in human life as it would be impossible to live without it. Property acquisition occurs in four ways, and there are various theories about the origin of the property.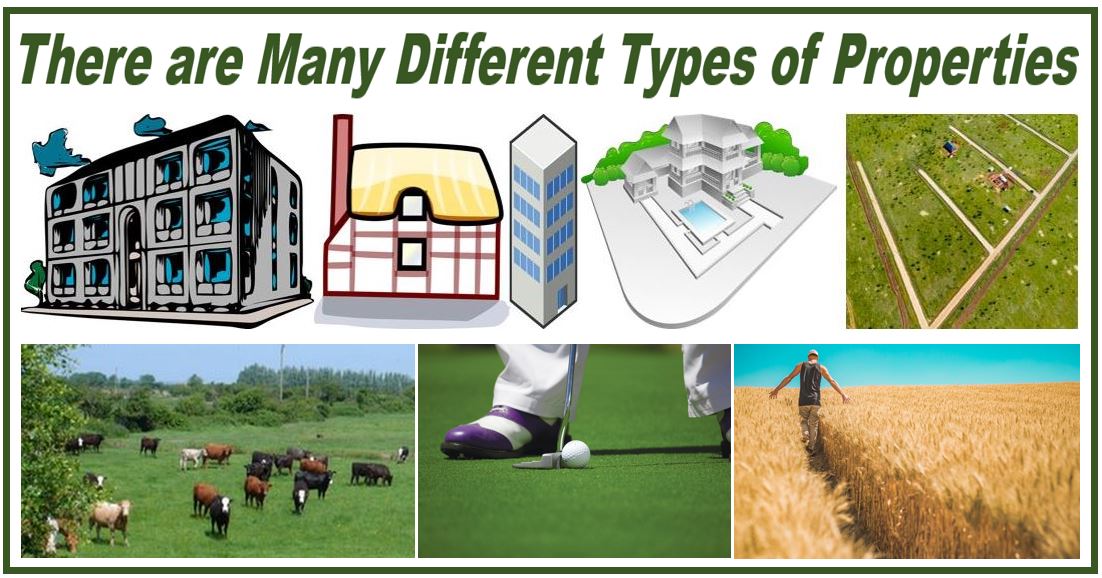 Are you curious about what real estate, real property, and land are all about?                                     
Property investment goes far beyond owning a house and a plot of land. The concept may be legally defined in more than one way, but the concept cannot be defined in more than one way. The term real in real estate comes from the term reality, which refers to the land and everything permanently attached to it for centuries. Consequently, real estate investors must be up-to-date on the legal terms associated with real property, real estate, and land.
How Is Real Property defined? 
A real property can have benefits and interests in its ownership and be synonymous with real estate. Similarly, real property can be defined as the owner's right associated with the property.
How Do You Define Land?
Land generally consists of the earth's surface, down to the earth's core, and upward infinitely. There is no distinction between land and water since land includes everything attached to it. It provides surface rights, air rights, subsurface rights, namely trees and water, and every other natural resource.
What Is Real Estate?
Traditionally, real estate has been defined as land containing all the elements created by human activity. Some examples of real estate property are houses, barns, farms, ranches, etc. it may also include mineral deposits, crops, and immovable property.
Kind of properties
A property can be either corporeal or incorporeal. Corporeal property can be classified into movable and immovable properties, as well as tangible and intangible properties. Incorporeal property is of two kinds- rights available in respect of one's own property or ownership over someone else's property and a claim by a party that is not the owner.
Types of properties
It is important to understand the variety of real estate types and how they can benefit investors in terms of many unique and different perspectives. As an example, the investor with a focus on residential properties may opt to invest in multi-family homes in the residential category. On the other hand, a real estate investor can specialize in office properties in commercial properties. They can also invest in ranches, factories, stores, office space, etc. There are many types of real property from which to build an investment portfolio.
A Few Types Of Real Properties Are Mentioned Below:
---
1. Residential Property
In addition to real estate, the market common homes for sale falls into residential real estate. This category refers specifically to multi-family housing and single-family homes in urban-suburban and rural areas. In the residential category, people are driven to become homeowners, thus purchasing real estate. Most people believe that homeownership is an asset that provides financial stability as well as a long-term investment. Residential property includes:
Each cooperative shareholder has the right to occupy a single dwelling unit. They occupy these units by entering into a shareholder agreement. Cooperatives are a unique type of homeownership in that when you buy a home. You become a shareholder in the company that owns it. Pooling cooperative members lower the cost of services and maintenance for their members.
Condominiums are similar to apartment buildings, except for their ownership. An apartment building is owned by a single business or owner, while condominiums can be owned individually.
A single-family house can be detached or attached like a townhouse. Single-family houses are perhaps the most common And commonly used housing type for real estate.
---
2. Industrial Property
For many investors, the industrial sector is under-exposed and under-invested when it comes to real estate investment. This is because it includes buildings such as warehouses, power plants, and factories. Investors, however, should not overlook industrial real estate when considering their investments.
In the factory, goods are manufactured in a complex, systematic manner by means of buildings, machinery, and equipment that enable goods to be made in a systematic and difficult way. During the industrial revolution, factories were started when small workshops could not keep up with demand and supply.
Electricity is generated by power plants, power stations, or even power lines. As we push for greener and greener energy, we have now created some investment opportunities that are fascinating and potentially groundbreaking.
---
3. Commercial Property
Real estate that contains business activity, such as office spaces, shopping centers, malls, stores, and entertainment facilities, will also be considered commercial property. Hotel and motel properties, as well as parking lots, may also be regarded as commercial property. Investors can invest in agricultural property, sell it, and lease it. They can also invest in the agriculture business itself, such as buying a farm or ranch that produces beef cattle and letting the farmers and ranchers handle the daily operations.
Investors often invest in shopping malls/centers REITs. Shopping centers are mostly real estate that deals with retail.
Office environments are designed to support the daily activities of their occupants. Workspaces are typically used for reading, writing, and computer work.
---
4. Agricultural Property
Agriculture includes growing crops, raising livestock as well as plants, trees, orchards, etc. These types of investments can be beneficial to investors who want a diverse portfolio that includes real estate's advantages.
Timberland is the land that has forests suitable for timber production. An investor can invest in timberland through ETFs and real estate investments trusts containing timberland.
Ranches are similar to farms, but they differ in that farm's foods and other crops. Whereas ranches have livestock to gaze, such as cattle, sheep, etc.
---
Interesting related article: