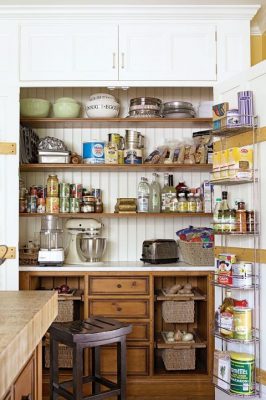 A few rules about pantry organization can make the dream pantries that you see on home decor blogs or magazines achievable. An organized pantry is a game changer – whether you have an entire kitchen or small corner at disposal, allocating a spot to the baking ingredients, canned goods, and kitchen appliance is crucial. When everything is in place, packing snacks for school or cooking weeknight dinners can be as straightforward as opening the pantry. So, without further ado, let us begin the tricks for you to steal these ingenious tricks for an aesthetically pleasing kitchen! The article sheds light on some of the inspiring ideas to get your shelves in order.
Eight pantry ideas to make your kitchen twice as big
There are few basic rules about pantry organization that no one will tell you but can make your kitchen twice as big. Using bins, baskets, grouping like with like, and putting dry goods in a separate container are some of the things you may already know, but here are tips you should always consider when planning and executing a seamless and well-organized pantry.
1. Some foods aren't good neighbours
Many people stock up different vegetables together like onions and potatoes – if you do the same, be sure they do not mingle! You can store onion and garlic together but not put potatoes in the same container as it hastens the spoiling. Strong smelling items like cumin and curry powder should not be put along with flour because the odour of these potent smelling ingredients is more likely to be absorbed by the flour. The same rule applies to the bread; better keep it in a bread container.
2. Plan for more oversized food items
Do you have a large variety of cereals on hand or intend to keep the pet's kibble stored in the pantry? For this, you need ample space to accommodate all these items!  Whether you are building from scratch or redesigning the old pantry, ensure there are at least two shelves in the new pantry to fit those oversized items conveniently.
3. Play with floating shelves
Whether the pantry is out in the open or closed off in a separate or spare room, taking advantage of the vertical space by scattering the baskets of seasonal items high and low, create beautiful aesthetics. Also, bringing in the classic vibe and installing wooden wall shelves will go a long way in putting the frequently used ingredients on display. Open shelving is a clever organizational trick you can have for organized and clean storage without spending a fortune.
4. Baking supplies should be in your reach
Flour, sugar, pasta, brown sugar or some other frequently used items should be on the middle shelf for easy access; you better keep them on shelves, not drawers; above them, place dried fruits or anything you need often. Get the washi tape to label these jars – washi tape come in cute tiny designs and are great when it comes to labelling the pots, or bins in your kitchen.
5. Decanting has nothing to do with pleasing aesthetics
There is no denying that we admire the pantries lined up shelf after shelf of complementary jars, creating a consistent look! Without being dubious, they are satisfying to look at! And it is also understandable when people rush to decant their dry goods into some pots for better aesthetics. But you can relate the decanting just with the pleasing appearance – the real reason to decant deserves more of your attention! Different studies suggest you can end up battling a severe infestation of flour beetles when you don't consider decanting.
6. Add inspiring wallpapers and play with glitzy accessories
Hundreds of sites sell some fantastic and artistic wallpapers for the kitchen without breaking your bank. You can jazz up the pantry space by adding some of the inspiring wallpapers. There is also one benefit that anyone will hardly tell you! Having a beautiful wallpaper helps keep you motivated to keep things in an orderly manner so that your pretty wallpaper remains visible. It is always good to go beyond the functional elements and to have fun with the pantry decor; apart from inspiring wallpapers, you can use the fancy light fixture to give your place a cheerful look.
7. Integrate custom cabinetry
Create custom cabinetry if you are lucky enough to afford it – a custom unit with sufficient space for large appliances as well as small cooking supplies will make the overall pantry feel and look more personalized.  
Make sure to add large-sized drawers that you can use for stowing away blenders, mixers, or any large-sized item. In contrast to this, if you have a limited budget, choose inexpensive storage options like turning a hanging rack into a snack station, buying cheap floating shelves, repurposing the bins, baskets you already have in your home.
8. Make use of the door
Enough storage space sometimes does not suffice for the kitchen – and this is when you jump into the internet to search for foolproof storage ideas. Have you ever thought that the inside of the pantry door is a fantastic opportunity for storage space? You can do anything with it, from installing a shallow spice rack to adding a nook to slide – all this to keep the seasonings within your view.
Wrapping up
You can take a moment to admire the results after you have done organizing the pantry. But know that it will not stay like this forever; the fundamental rule to keeping an organized pantry is to check the items frequently whether they are expired or not – better toss the old ingredients, take care of the dust and those minor spills. One more thing, if you have small kids at home, be sure to store healthy snacks on shelves. When they ask you for anything, you can ask them to check for the pantry themselves – a time-saving alternative than having to go to the pantry by yourself. Also, keep the sugary or less nutritious snacks on the shelves that are not in your kid's reach. 
---
Interesting Related Article: "Kitchen Layouts for Classic Designs"