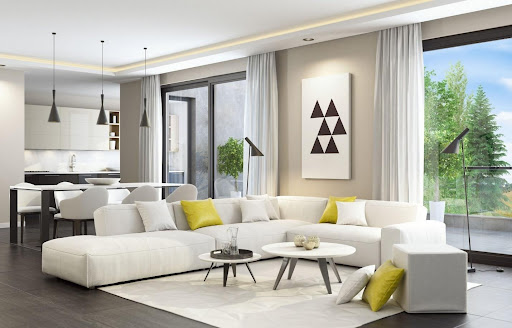 Looking to revive your living room? It is all about making clever choices in terms of buying furniture for your living room revamp. From contemporary to mid-century classic schemes, there are a myriad of ways to accentuate the living room that mimics your style. We understand that the design decisions can feel overwhelming. In this blog, we have curated for you amazing 10 living room furniture designs that will help you create a living room that is inviting and relaxing. 
1. Low-Profile Sofas
The visual impact of a low-profile sofa with other living room furniture helps make the ceilings look much higher, enhancing the sense of space.
2. Sofas with Airy Legs
Sofas or living room chairs that are raised off of the ground bring a sense of light and space. Sofa with airy legs add the sense of expansiveness to small spaces, all while complimenting the sofa with their eclectic styles including tapered legs, carved bun feet, sleek metal legs, and more. 
3. Sectional Sofas
Many people prefer adding smaller furniture pieces to their living room in order to make it look bigger. However, multiple small pieces might lead to a cluttered space. Instead, a generously proportioned statement piece like a sectional or L-shaped sofa would eliminate the need for extra seating, leading to a clean, inviting living room.
4. Recliners
Get yourself a generously cushioned reclining sofa to uplift the cozy character of your living room. Available in manual and power mechanisms, reclining sofas are packed with top-notch functionalities that invite you to experience its indulgent lounging. From curling up with your book, and watching a movie, to having a power nap; a recliner is a lasting luxury for all generations.
5. Coffee Tables
When decking out your living room, focus on bringing contrast by using a mix of textures or finishes of coffee tables, or having a table with modern coffee table legs in order to keep the space visually interesting. Available in extensive choices including designer veneer coffee tables, solid wood coffee tables, marble coffee tables, glass coffee tables, and more, you can pick the one that fits and feels right at your home.
6. Side Tables
Side table is a versatile piece of furniture that is available in an array of styles, shapes, patterns, and finishes to choose from. A side table with storage helps to make your living space feel functional and trendy.
7. TV Units and Media Consoles
TVs play a vital role in the living room entertaining moments, making TV units or media consoles a living room quintessential. TV units with a combination of open and closed storage help you keep your media essentials organized and within reach.
8. Benches
Versatility is one of the important factor while making the best of your space. Benches are considered to be one of the most versatile type of seating which can be placed in multiple places at your home. From the entryway, living room, and dining room to the bedroom, benches serve you as extra seating without compromising on aesthetics.
9. Ottomans
Ottoman is a statement piece of furniture that showcases modern sensibilities. This versatile piece of furniture serves you as a footrest, extra seating, stylish accent table, and a coffee table.
10. Study Tables
Designed keeping the modern Indian lifestyle in mind, study tables are becoming part of living rooms, giving you a dedicated workspace that is aesthetic and functional.
Elevate your living room with these furniture designs that will help you create a space you would love being in.
---
You may be interested in: Which Sofa is the Best – Leather or Fabric?