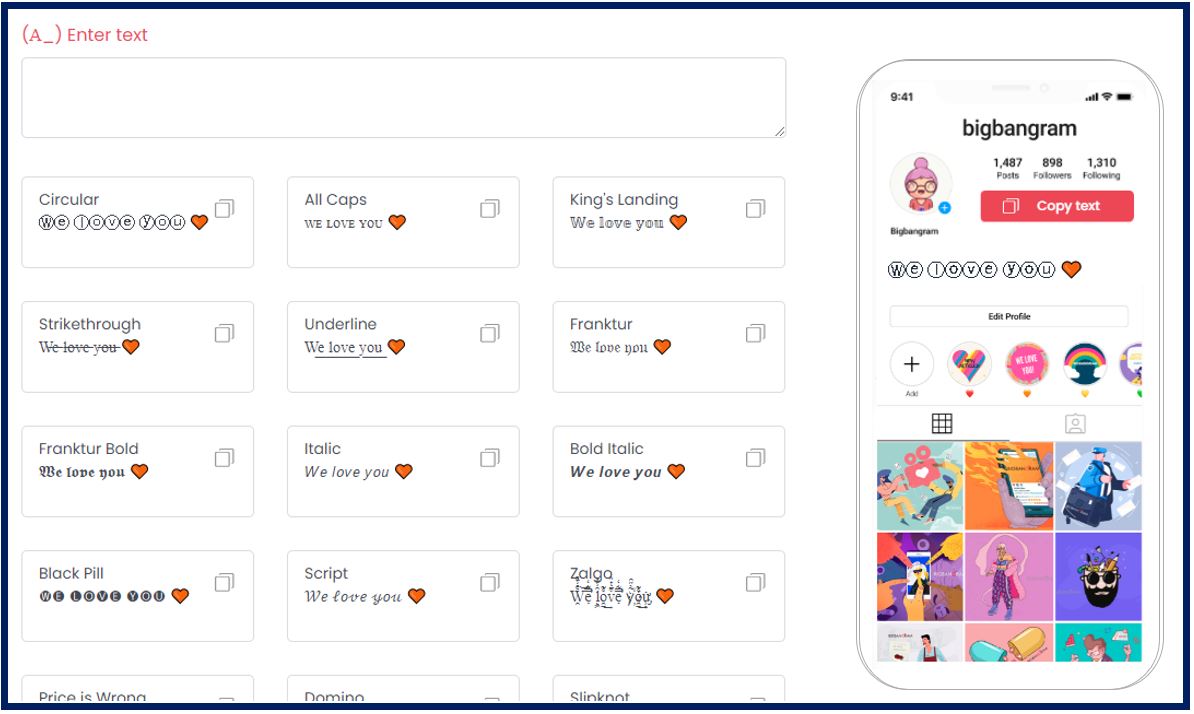 Have you seen all those catchy posts with bold, italic, or medieval fonts? Do you agree that such captions with remarkable characters grasp more attention when scrolling posts? The good news is you can get them without any downloads, registrations, and hacking the app's code.
There is a special service where you can take Instagram fonts and insert them in various fields of your copy. Do you want to customize your profile and have a font correlated with your brand voice? Keep on reading this article. Firstly, you will learn several ideas on how to utilize special fonts and secondly, I'll describe the step-by-step process.
Creative suggestions on applying Instagram fonts
Based on the latest social media trends, millions of users prefer an alternative font to an inbuilt. Bloggers write their lengthy text headings in bold letters or highlight specific thoughts to make a copy more readable. Instagram shops emphasize prices or contest rules with custom fonts. Thus, highlighted texts gather more views and attention from their target audience.
Note: stick to a particular font style and don't overuse them in your profile.
If you are still doubting, look at these multiple use cases for unusual typefaces.
1. Master your name section
When you see stories of Instagrammers, your profile name appears among viewers. Why not make it more eye-grabbing? Your name, underlined with a particular font, may encourage IGers to check on your account.
2. Master the description
Lines of your bio are one of the main elements that encourage Instagrammers to click on Follow. Apart from being precise and valuable, a description may stand out via letters. There's no need to apply characters for every word, but it's good to point out essential facts.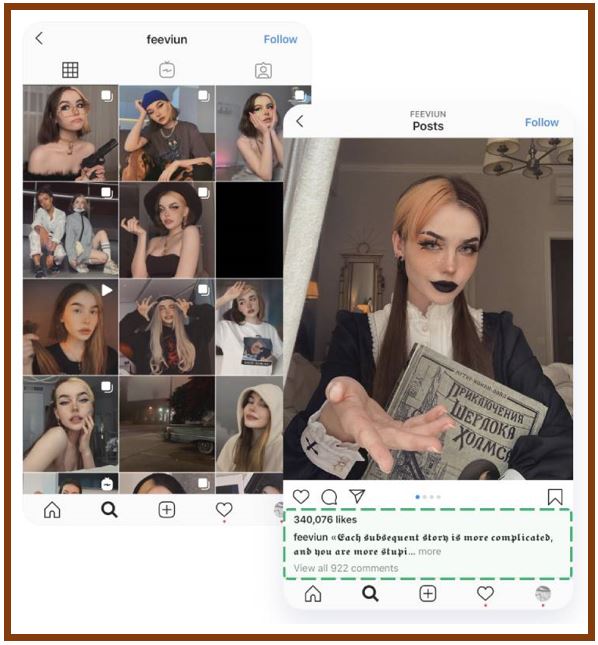 3. Point out caption titles
If you are an influencer and your captions must be very descriptive, don't miss a chance to mark them with a different font. When users scroll the feed, they only see the first three lines of your copy, so you need to grab their attention, so they choose Read more. By the way, detailed texts under photos are one of the main trends for 2021.
4 Create outstanding comments
Many users leave comments on larger accounts where their target audience spends time. It's a good technique to streamline users to your profile; some of them are likely to start following you. To create a more eye-popping comment, you can also apply fonts – they enhance the chances more users will notice it.
5. Use for IGTV descriptions
When looking for Instagram TV clips, many users pay attention to a cover image and, of course, on a title. It's been popular to capitalize characters, but now you know – you can use a more catchy font than the default one.
6. Make stories unique
Instagram offers a relatively limited set of fonts in the app to use for texts in stories. If you feel they don't correlate with your aesthetics, you can copy and paste a font you like from a generator. Moreover, a new font will encourage your followers to ask the DM how did you get this style, and the increased activity will make your story more discoverable.
Finally, you get myriads of variants for how you can use free and fancy letters to stimulate the activity on your account and provide more diverse content. It's time to figure out how this tool works.
A simple way to get fonts for your account
Bigbangram is one of the services with hundreds of fonts for social media, like Instagram and even Discord. It works based on copy & paste and allows users to preview the variants and pick the most suitable.
What you need to do to change the default font:
Go to the tool
Input a text you want to generate
Click on variants and determine you like most of all
Copy to the clipboard
Paste the transformed piece of text where you need
What is significant, your caption or bio shouldn't lose its readability. Make sure the visitors of your profile will understand what you want to say.
The wrap-up
Picking a unique font for your page is a proven technique to encourage activities on your Insta. Being spotted in this community is no longer a straightforward task, so boost your creativity. When you choose fonts as your tool, keep in mind that good taste and relevance should be your friends. Make sure that the font you choose correlates with your audience's expectations. For example, for an iPhone case store, pick a minimalistic design. Thus, fonts will help you to be more outstanding yet clear.
---
Interesting related article: "What is Social Media?"