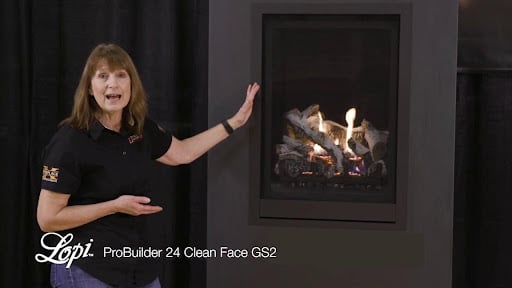 Just when you thought that fireplace design had hit its limit, there's a new face in the world of gas fireplaces, and it is a gamechanger. So pay close attention, you don't want to miss this.
Introducing the Lopi ProBuilder 24™ Clean Face GS2.
About The Series
The ProBuilder Premium Series of fireplaces is an enhanced range of heaters designed to take advantage of all the features included in the Premium Range. With these appliances, Lopi aims to avail you of devices that embody the definition of value for money. This adage is supported by the fact that, with a ProBuilder Series fireplace, you spend less on fuel while getting more heat output.
This product line contains numerous devices, and now, here is one more to challenge your ideas of what a fireplace could be.
About The Device
The Lopi ProBuilder™ 24 Clean Face GS2 is a gas fireplace that has explored designs beyond the boundaries of the traditional fireplace appearance. The most significant feature of this model version is its orientation. It is set in 'portrait format'. The result of this shift is a strikingly tall, narrow mien that opens up a world of possibilities.
Beyond the exciting exterior, the inner workings of this fireplace have also received a significant technological boost. It is fitted with both GreenSmart™ 2 technology and Ember Glo™ lighting features. In addition, you may opt to enhance its features using fireback lines in one of two styles: brick and black glass.
What is GreenSmart™ 2 Technology?
This term refers to an advanced burner system that allows a fireplace's components, technology and controls to work together using innovative links that drive your heater's operation. This technology is geared towards giving you a simpler yet greener and more elegant method of warming your home. 
The GreenSmart™ 2 system features a remote control with remote blower operation, thermostat mode, pilot and door controls, as well as accent lighting and comfort control. It is meant to give you a portable yet all-encompassing means of operating the fireplace. So everything is truly at your fingertips.
GreenSmart™ 2 facilitates the use of the fireplace in two modes: Thermostat and manual. The manual mode lets you make control adjustments as needed or select between the 'On" Thermostat and "Smart" Thermostat Mode. The latter automatically modulates the flame's intensity to maintain the temperature you have set. This feature is an improvement over previous device iterations, which would turn the fireplace off and on to keep to the desired heat levels. Consequently, the device has a more even heat output while utilising less fuel.
Placement
The narrower width of this portrait format fireplace increases the number of potential placement options available for you to choose from. So you can now position it wherever you feel best, including places like hallways, bedrooms, between windows, on dividing walls or in the kitchen. The possibilities are almost limitless.
Other Specifications
The Lopi ProBuilder™ 24 GS2 has more to offer than good looks and smart controls. Each fireplace has Ember Glo accent lighting as standard. This feature creates a glow at the fire's base, whose realistic effect provides a delightful ambience. In addition, the model has an impressive 65sqm heating capacity which is facilitated by twin fans. Finally, the fireplace uses a natural draft system of venting, which allows you to go with a zero clearance installation if need be.
The Lopi ProBuilder™24 GS2 fireplace is a testament to the manufacturer's determination to innovate and remain at the leading edge of heating trends in Australia today. It will be available for sale soon, so stay tuned for more information.
---
You may be interested in: A Step-by-Step Guide to Winterizing Your Rental Property