Economic slowdown in the past few years, combined with the current pandemic has got people rethinking their work opportunities. With unemployment rising every month, many are moving towards starting their own businesses, especially in sectors that will not see recession any time soon: such as health care or home care.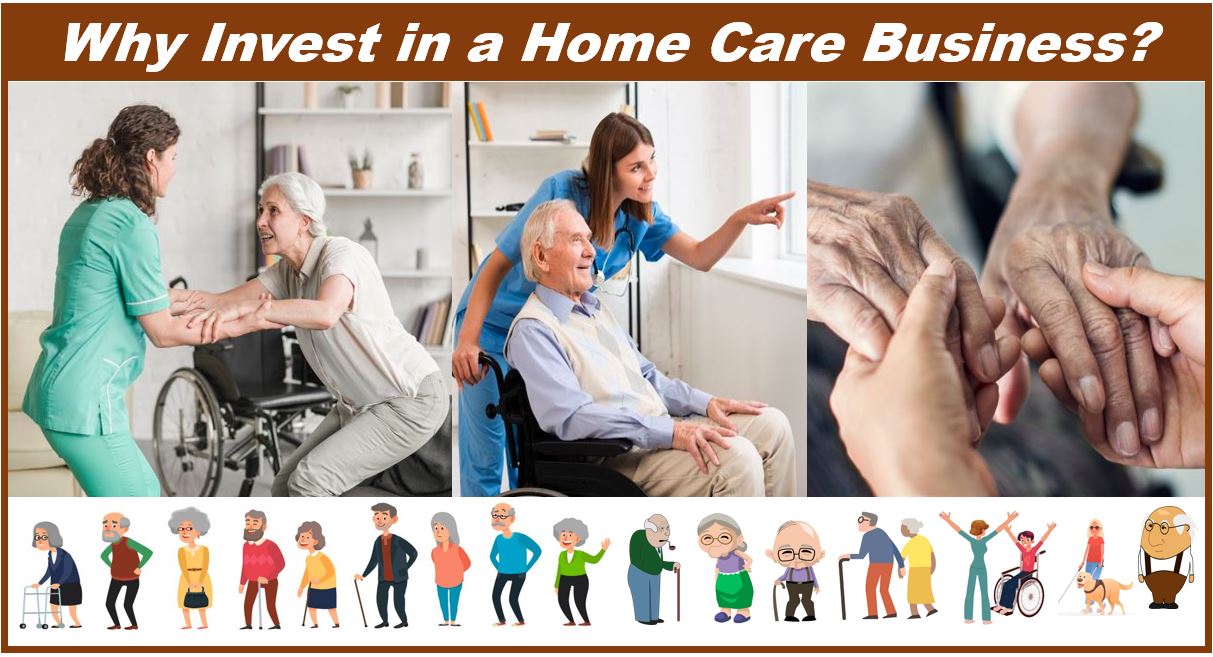 Based on population statistics of the country, there is a large pool of senior citizens in the US and the numbers will keep rising. Caring for the aged is not just noble work but can also provide you with steady business opportunities. What you need the most, to start a home care business, is the will to help families and commitment to giving the aging population a better life.
If you are looking to work in an industry with heart, home care is a salient investment for you. Here are 10 reasons explaining why it is a good idea and how you can start a home care business yourself.
1. Working in the home care industry is rewarding
If you feel like giving back to the society in some way, you will find that working in the home care industry is truly a fulfilling experience. Whether you work with families, senior citizens or other care givers, you will be able to make a difference in their lives. Home care does not only include medical care.
There are many senior citizens who may not have any immediate medical needs but do need to feel valued and useful, to keep loneliness and depression at bay. Home care believes in making the senior years of one's life joyful, healthy, and memorable, by helping people engage in hobbies, learn new activities or even reconnect with friends and colleagues.
2. Home care has high demand and it will continue to rise
The country already has a big chunk of aging population, and with baby boomers reaching the age of 60 or 70 in a few years, this number is only going to rise. With such a big senior citizen group, the need for home care and health care for the aged is going to be in high demand. Start a home care business to ensure that you can help this aged community.
3. Home care is recession resilient and an essential service
Many industries have taken a huge hit in the recent economic slowdown. The pandemic and lockdown restrictions have made many people prefer home care to visiting hospitals or other crowded places. More and more seniors prefer to live at home or with their children now, and need someone to take care of them when family members may be occupied. Home care professionals are required and this need will only grow with time. Home care, especially since the beginning of this year, is more of an essential service than before.
4. It gives you the opportunity to be closer to the community
If you are a 'people person', this is the right domain for you to work in. Not only will you be giving back to the society and gaining satisfaction from it, but you will also be closer to the community in which you are working. Your interpersonal interactions will be high and helping people will offer a lot of social benefits amongst your peers and the families you work with. Also, when you invest in a home care business, you will be giving employment opportunities to other people who could benefit from it, especially during and after the lockdown period.
5. Having a health care background is not obligatory
Senior care has more to do with helping the aged and making their lives comfortable. While having a health care background is surely an added advantage while working in this industry, it is not mandatory to have one in order to start a home care business.
As long as you have all the required permits and licenses to operate your business in the region, you are good to go. The Department of Health and Human Services are two agencies that will guide you towards getting the necessary licenses. The type of license will depend on whether you plan to offer non-medical care, medical care or both.
You need to be prepared to wait for the approvals too, so include that in your business timeline. If you feel that setting up an entire business from scratch is too much work for you to handle, you can also choose to invest in a franchise of an existing home care business.
6. It is a great option for those who love being around people
The objective of businesses is mostly profit. But the home care industry combines profit and purpose. By helping families take care of their loved ones, you get a chance to be around people and help them feel good and comfortable about their old age. This is not a solo job. You will be interacting with and working alongside other healthcare professionals, nurses, family members and friends. Anyone who loves people can do well here.
7. Home care is not a desk job
Many people are not comfortable with sitting behind a desk all day. In the home care business, you will have ample opportunities to go out and be around people; at home, in health care facilities or at various events. You get to choose how involved you want to be and balance your time between hands-on work and management.
8. The home care industry is huge and growing
Home care is an industry in the US worth more than $90 billion. Statistics show that the number of people above the age of 65 will double in the next 30 years and around 21% of the total population of the country will encompass senior citizens. This aged group will certainly require long-term care.
In 2000, more than 12 million Americans used home care facilities or skilled nursing services. This number is expected to rise to 27 million by 2050. A 2018 Industry Market Research Report states that the senior care industry revenue in the US is expected to grow at an annual rate of 3.3%. Your new home care business can utilize these numbers to help many families and get good returns on your investment.
9. You can meet more people who share your ambitions and objectives
Your success depends on your perception towards old age and life after a certain point. You will pass on your positive outlook and energy onto the families and senior citizens that you work with. If you believe in helping old people live an independent, dignified and happy life; your clientele will be happy too.
Your outlook must resonate with the people you hire as well, so that they are as ambitious and purpose-driven as you. Together, you will create a healthy and joyful environment for people to work in and share the satisfaction of serving the community.
10. Home care is preferred over assisted living and hospitals
Aging comes with its share of health issues, loneliness and dependability. In such situations, senior citizens as well as their families prefer to have their loved ones close by rather than living in a hospital or in assisted senior care facilities. These are not only expensive but often insurance policies do not cover the costs. For certain people, these places can feel really gloomy, depressing, isolated, and scary as well.
Additionally, if parents or grand parents are living in assisted facilities that are in a different area or region, it may not be convenient for family members to meet them often or ensure that all their needs are taken care of properly.
Living life in the comfort of their own homes, according to their schedule and around family members would help many old people spend their days peacefully.
Your home care business can provide families this peace and give senior citizens a chance to freely indulge in their hobbies, reconnect with friends, and be among loved ones.
Home care will see a paradigm shift when we all are on the other side of this pandemic. People realize already, that home care is safe and the best choice for most families. As senior citizens and their relatives shift their focus to home care, you will see exponential growth for your business as well. And by providing senior care, where and when it is required the most, you will be giving back to the community in a big way.
Senior care must be based on the concept of keeping old people happy by helping them do what they like; or by giving them opportunities to complete unfulfilled desires from their prime. This will give them a purpose and sense of accomplishment.
In the past few years, we have witnessed a growth in longevity, advancement in medication, new treatment options and acceptance of home care by medical professionals. All this allows for growth of the senior care industry. If this is the need of the hour, an investment in the home care industry is the perfect way to fulfill the demand and make some profits as well.
---
Interesting related article: "Are you a good candidate for starting a nursing home?"