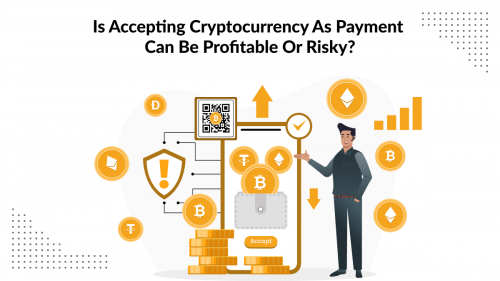 Paying with cryptocurrency for any services, or product is not a new thing anymore, with time especially this year cryptocurrency has made this way common people, and businesses.
However, cryptocurrency markets are notoriously unpredictable, and the price you pay now may not be the amount you spend tomorrow.
Furthermore, many firms experimenting with cryptocurrency payments only take Bitcoin, which is one of the most volatile cryptocurrencies. Still, El Salvador became the first country in September 2021 to adopt Bitcoin as legal tender.
The announcement marks a new milestone in cryptocurrency's mainstream adoption. Small company owners should be aware of the growing popularity of cryptocurrencies.
According to some research, it has been said that about 20% of US people are using cryptocurrency as payment methods for their purchase, and business conduct.
So, now that cryptocurrency has caught lots of eyes, the question arises, is it possible to conduct business transactions in cryptocurrency, and more important question is it going to be profitable to business, or is it just short-term hype which is way too risky than we think.
Let's figure out what is the potential of using cryptocurrency as a payment method.
Why Accept Cryptocurrency As Payment.
Security is one of the important factors which should be considered when anyone is thinking of accepting or paying in cryptocurrency. This is due to the fact that cryptocurrencies do not require third-party verification.
When a consumer uses cryptocurrencies to pay, their information is not held at a centralized place, where most data breaches take place.
Secondly, the blockchain general ledger is used to authenticate and record every transaction, making identity theft extremely difficult, mostly impossible.
No chargeback is the second factor that makes the best approach towards business conduct, but it can also hurt their business because there is a 100% possibility that consumers will demand a refund. But still, we cannot neglect the fact that this can benefit from any fund activity.
A low fee structure is something every single people, and business wants, in order to decrease the transaction fee, and increase profit value. Also, it helps to gather a global audience because it completely removes any international transaction fee.
The last but still most important part of using cryptocurrency as payment as even an investment asset is that there's still no actual regulation related to its use which saves individuals and businesses from tax, unlike any fiat currency.
What Are The Risks Attached To Cryptocurrency?
When it comes to cryptocurrency the first risk that comes to mind is price volatility, which can ruin the business overnight and can also damage the future prospect of conducting business transactions in cryptocurrency.
The second risk of using cryptocurrency is the government and its regulation. While there is still no regulation in place for cryptocurrency, it is causing concern among businesses and individuals who are concerned about what will happen if they start accepting cryptocurrency as payment and the government suddenly announces something against its use. If this happens, it will have a negative impact on the cryptocurrency price.
The third risk, picking a suitable cryptocurrency in connection to the business. For example, if you are a product-based firm willing to take cryptocurrency payment, the first and most essential thing is to get the right product pricing and safeguard your money from any form of volatility. And it can become a problem if you choose the wrong cryptocurrency.
Now we have seen all the best, and worst parts of cryptocurrency as payment, and knowing these factors there are still a lot of businesses accepting payment in cryptocurrency.
So, if you are considering taking cryptocurrency as payment on your website, there are several crypto payment gateways accessible on the market that can be used by both individuals and businesses.
Best Cryptocurrency Payment Gateway.
As with any traditional payment gateway, cryptocurrency payment gateway works the same; the only difference is the fee structure.
The top 5 cryptocurrency payment gateway which can be used for processing payment on your website or application are:
Coinbase
Coinbase, one of the most famous crypto payment processors, is a preferred way for Bitcoin business transactions. The Coinbase software for retailers may be downloaded and used to receive fast bitcoin payments. Coinbase is one of the payment gateways that provide great protection against price fluctuation due to its quick crypto-to-fiat payment conversion. And its fee is about 0.5%.
CoinPayment
CoinPayments gateway supports a wide range of coins. The number of cryptocurrencies supported exceeds 1200. Not only does the gateway accept payments in various currencies, but it also offers crypto-to-fiat conversion services for each of them. CoinPayments integrates with nearly all popular e-commerce platforms, and its fee structure is also about 0.5% over the transaction.
CoinRemitter
CoinRemitter is a trustworthy cryptocurrency payment gateway that lets you accept major cryptocurrencies. The service accepts 8 different coins and has a coin swapping option. Users can use CoinRemitter's plugins which are available for the most well-known platforms, they can also generate invoices, their fee structure is lowest in comparison to other gateways. It also supports the Tether coin which is one of the stable cryptocurrencies which can protect your fund from any kind of volatility.
NowPayments
NowPayments is a well-known name in the crypto payments industry. It is well-known for providing non-custodial, low-fee, and simple-to-implement gateway solutions. The gateway enables businesses to accept 100+ cryptocurrencies by providing a simple API and ready-to-use crypto plugins. And its fee Structure is about 1% over the transaction.
Bitpay
Bitpay, one of the world's most enduring crypto payment gateways, entered the market in 2011. You can start taking online payments and transactions by using the Bitpay application, with fees beginning at 1%. Bitpay also supports Bitpay Debit Cards for easy crypto-to-fiat transfers. The Bitpay gateway includes open-source eCommerce plugins among its many capabilities.
Final Remark
Whatever your conclusion is about cryptocurrency, and taking into account all of the aspects, both benefits and risks associated with it, the cryptocurrency industry will only increase over time, with widespread adoption as a form of payment all over the world bringing benefits to many companies. However, choosing the best cryptocurrency for your business and payment gateway will always be more crucial than any other consideration.
---
Interesting Related Article: "What future holds for cryptocurrency?"