Imagine a service tailored to those keen on diving into the trading universe without the luxury of numerous hours of learning via trial and error. This is what Mindful Trader, under the astute guidance of its founder Eric Ferguson, promises. Read more on this review.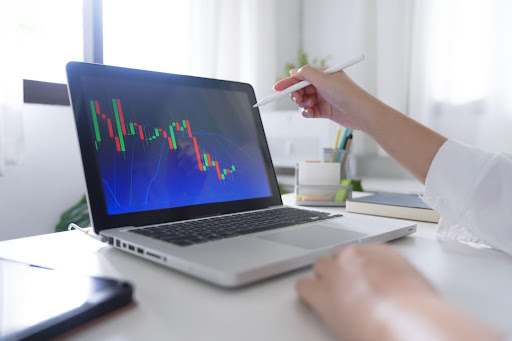 He's delved deep, analyzing two decades of stock trends to devise his strategies. While Mindful Trader is a boon for novices, seasoned traders will find value in the consistent alerts that hint at potential lucrative avenues. Here's what you'd be signing up for with Mindful Trader:
An introduction to swing trading.

Learning more about options and futures trading.

Exploring the quick-paced domain of short-term stock trading.
But it's more than just alerts. The service equips you with insights, refining your trading strategies. And with Mindful Trader, Eric Ferguson ensures you're not left in the dark. Educational videos are at your fingertips, paving the way for more informed stock trading.
How Does Mindful Trader Operate?
At its core, Mindful Trader is about trades rooted in data, typically spanning between three to seven days.
But is it just about swing trades? No, Ferguson's platform is also an oasis for recommendations and insights on futures and options.
The operational objective of the program is transparent: dispatching trade alerts. Each alert you receive, be it via text or email, deciphers Eric's trade decision – the specific stock ticker he's chosen, the price he's settled for, and his determinations for profit targets and stop losses.
To put it simply, Mindful Trader equips you to mirror trades swiftly. For traders, the path becomes straightforward: acquire and retain a few stocks weekly and stand a solid chance at reaping profitable swing trades backed by a statistical advantage.
Backtested Trading Strategies
Have you ever considered the hours needed to scrutinize the market, drawing upon historical data? Ferguson undertakes this complex task, ensuring you receive timely alerts without being tethered to your screen. 
This aspect resonates with those pressed for time looking for a more laid-back stance toward investing, especially when day trading isn't feasible. 
Strategies of Mindful Trader
Eric Ferguson isn't just a name. He possesses a remarkable arsenal of insightful trading techniques. Here's how he tailors them for Mindful Trader's subscribers:
Diverse Portfolio 
Mindful Trader encompasses stocks and options across various sectors. The aim? A risk equilibrium that shields investments amid market turbulences.
Historical Rigor
Eric doesn't merely devise a technique. He gauges it against data from the past 20 years, ensuring the strategies are malleable enough to weather market shifts.
Resilient Robustness
The strategies at Mindful Trader are rooted in strength. Their effectiveness isn't bound by specific market situations, promising consistent gains.
Simulated Scenarios
Ferguson employs Monte Carlo simulations. The benefit? He discerns possible flaws in each tactic and then mitigates those using this data, preparing for a gamut of scenarios.
Distinct Strategies
Mindful Trader emphasizes uniqueness. Rigorous statistical evaluations ensure strategy diversity, minimizing the chances of simultaneous setbacks.
Cross-Period Testing
Beyond just backtesting, Eric's methodologies undergo checks across varied timeframes. This holistic validation ensures adaptability and avoids over-specialization.
Ongoing Surveillance
Performance metrics of each strategy are consistently watched, assuring they adhere to anticipated outcomes.
Transparent Outcomes
Mindful Trader emphasizes clarity, accounting for all associated transaction costs and prospective trade price shifts. This transparency ensures you're never caught off-guard.
The foundation of Mindful Trader lies in its detailed analysis and a profound grasp of market nuances.
Mindful Trader's Trade Alerts
When you talk about the bedrock of the Mindful Trader service, the trade alerts undoubtedly emerge as the nucleus.
They're created to propel your trading endeavors, helping you sculpt a robust portfolio and, in turn, amplify profits. Here's a breakdown of what to expect:
Frequency and Timing
Trade alerts grace your devices one to three times daily, typically between 6:30 a.m. and 3 p.m. Pacific timeframe. This flow is commendably copious, stacking up well against many of its day-trading counterparts.
Delivery and Details
Whether via phone notifications or emails, every alert is comprehensive. It delineates the stock ticker, the acquisition price by Ferguson, and designated points for profit realization and stop loss.
Additional Safeguards
It's not just about diving in. Mindful Trader also gives cues on when to pull back, especially if the stock doesn't pace toward the projected target. These guidelines protect your investment capital.
Swing Trader's Paradise
The charm of Mindful Trader is predominantly its meticulous alerts. Subscribers gain crisp details about Ferguson's chosen stocks coupled with the rationale behind each decision. Whether you shadow his steps or assimilate the insights for independent decisions, the value is unequivocal.
Defined Boundaries with Stop-Loss
Each trade alert brings clarity to stop-loss thresholds. For instance, if MSFT's valuation retreats to $205, the system autonomously wraps up the trade, mitigating prospective dips.
Is Mindful Trader Worth It?
When you dive into the realm of investments, the array of choices can be daunting. However, Mindful Trader emerges as a standout option, particularly for those keen on swing trading, options, and futures. Why, you ask?
Firstly, the brain behind the operations, Eric Ferguson, isn't just a passive entity. He's consistently active, ensuring his subscribers remain informed. This proactive approach is evident in his regular updates, enlightening videos, and insightful blogs. 
Even if you haven't yet taken the membership plunge, there's an open invitation to join his email list. This gesture provides a glimpse into the performance of his stock trade alerts, offering potential subscribers a taste of what they can expect.
Additionally, what sets Mindful Trader apart is its user-friendly approach. The platform demystifies the complexities of stock trading. From providing precise stock tickers to outlining clear steps, it simplifies the process to such an extent that even a novice can execute a swing trade within minutes.
Conclusion: Is Mindful Trader the Best Options Trading Alert Service
To sum it up, if you're scouting for a service that combines top-notch analysis with timely trade alerts, all rooted in data-backed decisions, Mindful Trader should undoubtedly be on your consideration list. 
It offers not just a service but an experience that equips you with the tools and knowledge to navigate the often-turbulent waters of the stock market. Click here to sign up for an account. 
---
Interesting Related Article: "Manual or Automated Trading?"