The J.M. Smucker Company is a multinational American manufacturer of beverages, fruit spreads, peanut butter, ice cream toppings, and other food products. It is headquartered in Orrville, Ohio.
The company was founded in 1897 by J.M. Smucker. At first he pressed cider and sold apple butter at the back of his back of a horse-drawn wagon. The company was incorporated in 1921. 
The Smucker's® brand name quickly became a national icon and symbol of high-quality fruit products.
The J.M. Smucker Company brand portfolio includes: Smucker's, Jif, Folgers, Pillsbury, Eagle Brand, Dunkin' Donuts, Cafe Bustelo, R.W. Knudsen, Adams, Crisco, Crosse & Blackwell, Dickinson's, Hungry Jack, Kava, Knott's, Life is good, Magnolia, Martha White, Medaglia D'Oro, Millstone, Natural Brew, None Such, PET, Pilon, Santa Cruz Organic, truRoots, WhiteLily, Carnation, Golden Temple, Double Fruit, Five Roses, Robin Hood, and Bick's.
The company is publicly listed on the New York Stock Exchange under the stock symbol 'SJM'.
The J.M. Smucker Company – Company Overview
President: Vincent C. Byrd
CEO: R. Douglas Cowan

 

Industry: Food processing
Type: Public company
Listed on the New York Stock Exchange (NYSE)
NYSE stock symbol: SJM
Founded: 1897
Founder: 

J.M. Smucker

Net sales: $

5.897 billion USD (2013)

Net income: 

$544.2 million USD (2013)

Earnings per share: 

$5.00 USD (2013)

Company head office: 

1 Strawberry Lane, 

Orrville, Ohio, USA

Employees: 5,000 (2013)
Website: http://www.jmsmucker.com/

Investor relations number: 

330-684-3440
The J.M. Smucker Company – Financial Results
Operating data (in $ millions)

2013

2012

Net sales
$5,897.7
$5,525.8
Cost of products sold
$3,858.6
$3,637.4
Gross profit
$2,027.6
$1,845.2
Selling, distribution, and administrative expenses
$973.9
$892.7
Operating income
$910.4
$778.3
Income before income taxes
$817.3
$701.2
Net income
$544.2
$459.7
Balance sheet data (in $ millions)
Total assets
$9,031.8
$9,115.2
Total liabilities
$3,883.0
$3,951.8
Total stockholders' equity
$5,148.8
$5,163.4
Common share data (in $)
Basic earnings per share
$5.00
$4.06
Diluted earnings per share
$5.00
$4.06
Cash flow data (in $ millions)
Net cash provided by operating activities
$855.8
$730.9
Net cash used for investing activities
$(185.6)
$(1,035.9)
Net cash (used for) provided by financing activities
$(641.0)
$219.6
Cash and cash equivalents at end of year
$256.4
$229.7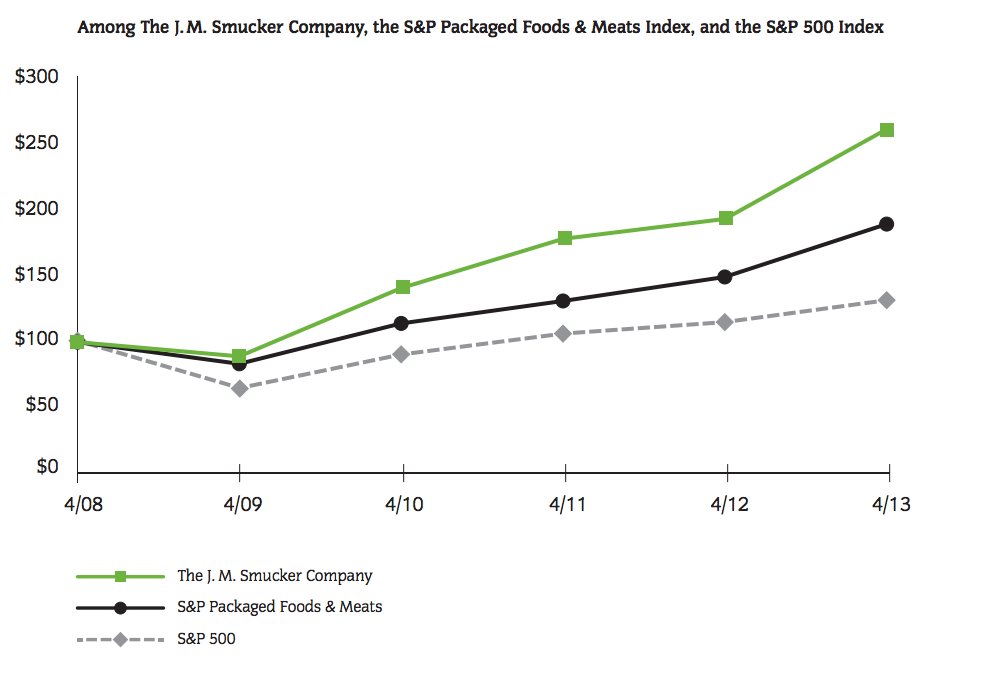 Source: "The J.M. Smucker Company Annual Report 2013"
The J.M. Smucker Company – Live Stock Market Data
---