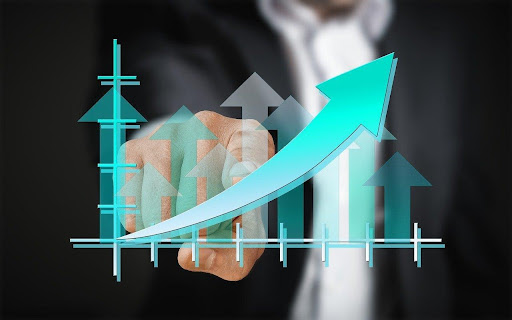 As Jason Hughes gears up for the 11th anniversary of his San Diego–based company, Hughes Marino, the tenant representation expert maintains his mantra of "onward."
With numerous award-winning offices throughout the United States — Seattle, Denver, Orange County, Los Angeles, San Francisco, East Bay, New York, and headquarters in San Diego — Jason Hughes' firm is a thriving empire in the commercial property brokerage realm. His offices continue to stand out for their impeccable attention to detail. Its San Diego office — elevated with a chef's kitchen, a living room and lounge area, a gym, and a billiards room — undoubtedly helped land the firm the No. 1 spot for the Best Small Workplace in the Nation by Fortune magazine.
"We are optimistic that 2022 will be a very positive year for our clients and our team," Jason Hughes says. "We anticipate that business leaders will feel more confident in making office, industrial, and lab space commitments. We're eager to help them with their future growth and continue to help them make great real estate decisions." 
All Eyes on San Diego's Biotech Boom
In the past two years, Jason Hughes says he and his company have helped a tremendous amount of life science companies find space to grow and thrive. He says the company has handled strategic negotiating, lease restructuring, commercial property outsourcing, and found creative solutions to convert offices to life science-friendly spaces. He adds that the heavy-lift is what makes Hughes Marino a top tenant representation industry leader in San Diego and across the U.S. for biotech firms.
"The life science industry has exploded in San Diego over the last five years," Jason Hughes says. "San Diego has always been one of the top areas in the country for biotech, and continues to be a growing hub for the sector, offering incredible location amenities and access to the tight-knit life science community."
Internally, Hughes Marino mirrored the biotech boom. Hughes says the firm grew during the pandemic, a rarity for the commercial real estate sector during that time. Jason Hughes launched a Denver office; he celebrated the grand opening in January 2021 and is now planning to expand again. "We have plans to open multiple offices throughout the nation," he says. "We're currently in discussions for groups in five different cities."
From its award-winning culture to the development of its core values, Jason Hughes has invested his all into his enterprise over the past 11 years. The accomplished CEO has been recognized by The Irvine Company more than 10 times as Broker of the Year. San Diego Business Journal awarded him Most Honored CEO multiple times and San Diego Daily Transcript recognized him as one of the Top 100 Business Professionals.
Jason Hughes Focuses on a Mindset of Gratitude
"Success is not an entitlement. You need to earn it every day," he explains. "This is something I live by."
That statement is something he picked up from one of his heroes, former Starbucks CEO Howard Schultz. He routinely reminds his team to take nothing for granted and to keep working toward success and brings on a variety of business and life coaches to speak to the team about building good habits, hard work, and, most importantly, positivity and gratitude.
"We are the hardest workers in the room," Jason Hughes says. That very statement is so ingrained in the operation's corporate culture it even adorns company T-shirts and quote cards shared within their offices. "Earn it Every Day" is proudly displayed on a neon sign in their Orange County office. Resilience is another standard of everyday life at this workplace.
Whether his team members have relay races or "crafternoon" activities to build camaraderie, Jason Hughes is adamant about building a brand that clients want to work with and his team is proud to work for.
He hopes to leave behind a legacy that will continue to thrive.
"My dream is to be a national company that our team members all have an ownership interest in," he says. "I'm most proud of how we've helped change lives for our teammates — and I want to continue that course."
Jason Hughes Leverages Motivational Speakers for Success
​​As for what the next decade holds, the focus is on growth and continuous improvement, according to Jason Hughes. The perseverant business leader has been known to bring top business coaches and motivational speakers to his San Diego offices to amp up his team. Some of the speakers have included rapper-turned-entrepreneur Jesse Itzler, former Kansas City Royals baseball player Mike Robbins, and business coach Joe Calloway, who worked for Coca-Cola and American Express. Hughes has also been known to devour inspirational tomes such as Atomic Habits by James Clear. The book discusses how tiny changes can have a major impact on results and how there's always a better way to accomplish something.
Over the past 11 years, Jason Hughes says his business has evolved exponentially. "While we've certainly made mistakes, we've learned from them, and become better as a result," Jason Hughes says. "Our capital commitment to technology, systems, marketing, management, and our professional service expertise deliverables has been substantial. I truly believe our team delivers the best results to our clients possible. They're all amazing professionals and it's a privilege to work with them."
---
You may be interested in: Is Blockchain Lending for Everyone? Jason Colodne and Colbeck Capital Weigh In