Small-to-medium sized businesses (SMB) are positioned to make huge strides in their industry with digital integration and modern tools. Directly helping SMBs to streamline their processes and optimize customer experiences is the Dallas-based SaaS company that went public just last year, Thryv. The company's flagship platform is a fully scaled CRM software application that enables small businesses to manage their customer experiences. By providing an intuitive end-to-end platform to modernize operations, Thryv ultimately positions SMBs for growth.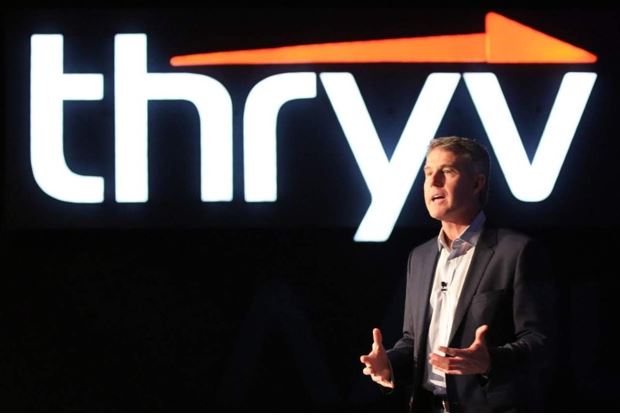 Thryv's CEO and President, Joe Walsh, recently spoke at the CJS Annual New Ideas Conference to provide expert insights on his company and the small business landscape, and to discuss what it is that's bringing cloud services to the forefront of business.
Walsh started by walking attendees through the history of Thryv, the company's purpose, and where he envisions the company is headed. Thryv has an interesting backstory. What started as a marketing business, turned into a SaaS company. Walsh identified the unique opportunity in front of Thryv – to pursue SMB marketing with a niche audience poised to act. His insight led to the pivoting of Thryv to target those small business owners and help them consider digital long before it was mainstream.
Joe Walsh recognized early on that small businesses would likely be using the cloud every day. He believed, one day, business owners would be:
Looking for real-time updates
Managing calendars
Updating social media
Communicating with customers
At first, Walsh recalled how his vision for the future was foreign to most in the small business space—only a few SMBs were willing to test the waters. Over time, the belief grew, and people started to see what the CRM (customer relationship management) software was able to offer their smaller companies.
People identified with the vision and now everyone is willing to make that jump, he said at the conference. It didn't take long for the Thryv SaaS crowd to grow. The company continued to update the software to meet the changing needs and demands of their customers.
Walsh said the pandemic only increased the need for small businesses to embrace the cloud and go digital. He says the Thryv customers were able to experience COVID-19 benefits, including:
Contactless payments and delivery
Upgrading protocols
Connecting with customers virtually
Keeping remote workers in the loop
The Thryv tools are specifically created to make it easier for the SMB to operate.
Thryv can also help manage business details, automating updates to your listings in over 60 places across the web. This is extremely important when something like COVID causes day-by-day changes to hours, policies, offerings and more.
Finally, ThryvPaySM is the internal payment tool that offers lower fees, real-time confirmations and faster payments. According to Walsh, it is the most frequently used payment tool on the Thryv platform because of the benefits it offers the companies using it.
Walsh says Thryv has built out a whole client experience and that is why the SaaS company has been so successful.
"Mom and pop small businesses didn't even know what cloud was," he says. He recommended early on that Thryv use their assets (thousands of SMB clients) to pivot towards working with small businesses as their primary target audience. He wanted to hone in on the needs and pains of the small business owner because they were the crowd that was largely ignored at the time.
What started as a marketing service has now branched into the SaaS that Thryv is well-known for today. While both aspects of the company are thriving (pun intended), the company says it is the SaaS side that brings freedom to their clients in the form of the cloud.
"There is just a lot of pull forward of technology that has happened," Walsh explained at the New Ideas Conference. "And a lot more openness to embracing technology."
About Joe Walsh
Joe Walsh is Thryv's Chief Executive Officer and President. He joined the company in 2014 and has helped to implement numerous strategies and changes to support growth and development. He is perhaps best known for his time at Yellowbook, where he was CEO and president. There, he grew the company from $38 million in revenue as a small public directory publisher to over $2 billion in revenue. He also was the CEO and chairman of Walsh Partners – a company which focused on advisory and investment services.
About CJS Securities, Inc.
CJS Securities works to find quality small- and mid-cap companies that are not efficiently priced in the market. By choosing the companies that are not traditionally chosen for stocks, clients are offered unique opportunities for companies that are overlooked because of a lack of research coverage or material change in the business.
About Thryv Holdings, Inc.
The company owns the easy-to-use Thryv® end-to-end customer experience software built for small business that helps over 40,000 SaaS clients with the daily demands of running a business. With Thryv, they can get the job, manage the job and get credit. Thryv's award-winning platform provides modernized business functions, allowing small-to-medium-sized businesses (SMB) to reach more customers, stay organized, get paid faster and generate reviews. These include building a digital customer database, automated marketing through email and text, updating business listings across the internet, scheduling online appointments, sending notifications and reminders, managing ratings and reviews, generating estimates and invoices and processing payments.
Thryv supports franchise operators and multi-location business owners with Hub by Thryv™, a software console that enables business managers to oversee their operations using the Thryv software.
Thryv also connects local businesses to consumer services through our search, display and social media management products, our print directories featuring The Real Yellow Pages® tagline, and our local search portals, which operate under the DexKnows.com®, Superpages.com® and Yellowpages.com URLs and reach some 35 million monthly visitors.
Thryv delivers business services to more than 400,000 SMBs globally that enable them to compete and win in today's economy.