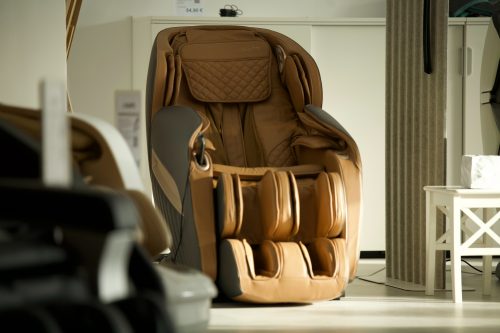 In Japan, the first massage chair was invented. Japan is also home to a number of well-known massage chair companies. Because of its great durability, numerous contemporary features, and capacity to suit a wide range of household demands, Japanese massage chairs are popular in Vietnam and many other nations across the world. They also have a serious after-sales policy for consumers.
If you want to get the most bang for your buck, getting the correct massage chair is critical. However, with the enormous number of alternatives that the internet throws your way on a single search, finding the appropriate chair for a massage at home becomes challenging.
History of Massage Chairs
Japanese people like massage, and their grandparents and parents teach their children how to do it from an early age. After WWII, in the midst of economic hardship and scarcity of supplies, an amateur engineer developed the world's first massage chair out of scrap vehicle components. a bicycle, a tennis ball, and a few other discarded stuff
Despite the fact that they are handcrafted, these chairs have swiftly gained popularity in Japanese public baths. This original, wooden, and fairly simple massage chair is being used in many places in Japan today.
Engineers have transformed the manual massage chair into a miracle after almost 70 years of invention and development, owing to the use of great Japanese mechanical and technical accomplishments.
Many sophisticated techniques are used in today's massage chairs, flawlessly imitating the massage process of the human hand.
Classification of Japanese Massage Chairs
Japanese massage chairs are exported to other nations, where they are custom-made to meet the demands of local consumers and weather circumstances.
In addition, several units have joint partnerships with Japan to make massage chairs based on Japanese lines and technology in order to save money.
At general, Japanese massage chairs are found in high-end establishments with a high average price. This product is appropriate for households with limited financial resources. It not only helps you relax, but it also contains medicinal characteristics that can help you avoid and treat a variety of bone and joint ailments. Apart from that, a massage chair may be used as a decorative item in the home, particularly in a wealthy setting.
Features of Japanese Massage Chairs
Roller System
Silicone is frequently used instead of plastic in Japanese massage chairs to provide a smooth, human-like sensation. The roller has a movable metal arm to enhance the massage function and can be fitted with up to 6-8 wheels.
The roller system, which is equipped with dual sensors, can simultaneously scan the whole body along the vertical and natural curvature of the spine, providing precision massage with the appropriate force for each individual user. Massage rollers are commonly used to press along the soles of the feet in popular massage chairs, while calf massage rollers are frequently used in Japanese massage chairs to promote shiatsu reflexology.
Chair massagers are available with one of three roller arrays: two, three, or four rollers. More roller arrays imply a better massage, which means a greater fee.
A chair massager with fixed rollers or adjustable rollers is also available. Fixed rollers, as their name implies, are fixed by the manufacturer and cannot be moved according to your pressure points. Adjustable rollers, on the other hand, may line with your pressure points and massage the appropriate areas.
You may purchase a 3D body scanning scanner that scans your body for roller adjustment, identifies pressure areas, and adjusts the rollers as needed. You might also acquire a manual roller adjustment machine with a remote that requires you to adjust the rollers yourself.
Body Airbag
In places where the massage roller cannot reach, the massage chair is fitted with an airbag mechanism to support the massage roller in a position where the massage roller cannot reach. Traditional airbags can be increased to three levels, whereas Japanese massage chairs' airbags can be expanded to 5-7 levels, and even 11 levels.
Infrared Heating
The majority of massage chairs come with a heating system for the waist. A heating device in the calves of Japanese massage chairs helps widen vessel walls, improve blood circulation, and improve therapeutic massage capabilities.
Zero Gravity Feature
The machine's zero-gravity function allows you to elevate your knees over your heart. This action puts more weight on your body, allowing the roller massagers to press deeper into your skin.
Therapeutic devices have a zero-gravity function built in. You may wish to consider a chair with this function if you have persistent back pain or other medical difficulties.
---
Interesting Related Article: "What do all these features on massage chairs do for me?"