Keyless locks are taking over the key and lock manufacturing world. Now, people tend to have more digitalized systems than traditional analog ones.
However, one thing which I have observed is the availability and ratio of skilled locksmiths in today's world. In rural areas and many developing countries, people amazingly rely on conventional locks, and locksmiths are not currently considering any kind of modernization.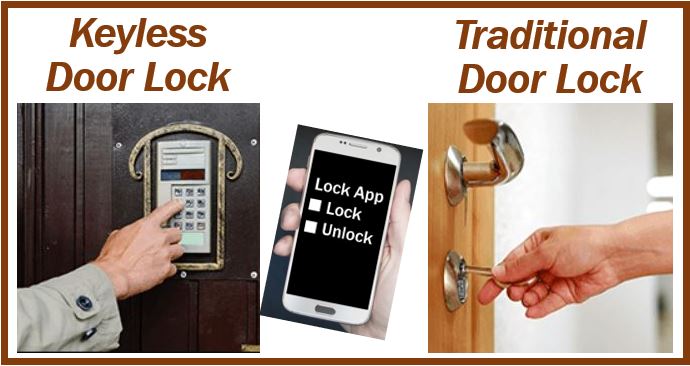 There are many locksmiths available who can service your keyless door locks, such as https://www.charleslocksmithorlando.com/.
Keyless locks are as good as any smart security camera. In fact, many security cameras form part of a keyless system.
You probably wonder whether keyless locks are a bit confusing at first, especially if you are not tech savvy. If you have any experience using your smartphone as a TV remote or switching devices on and off, controlling your new lock will be easy. As you will see further down this page, even technophobes soon learn how to use the new smart locks. According to Locksmith Leicester, there are also ways of opening locks in destructive ways too.
Let's look at some reasons why keyless locks have gained so much market share over the past few years:
Great for Landlords 
If you are a landlord and cannot physically meet a new tenant, you can simply tell them how to unlock their front door.
You can change the codes for the locks on the doors of the properties you rent out. This is useful, especially when an old tenant leaves and a new one arrives.
With traditional key locks, the only option is to change them, which is both time-consuming and expensive.
Most landlords, especially in the advanced economies, are rapidly switching to keyless locks.
Cost Effective in the Longer Run 
Most of us would expect these digital locks to be much more expensive than their analog counterparts. True, they are dearer, but only marginally. In the long run, however, they work out cheaper because you can change their security codes rather than having to replace them. 
No Keys, No Lost Keys 
If you are the type of person who loses things like umbrellas and keys, you will be pleased that modern locks have embraced the digital age.
No more having to rummage around in your pockets or throughout your home looking for those keys. All you need to remember is the code. 
Historically, burglars have searched for a spare key under the front door mat or somewhere in the bushes. Thanks to modern technology, you will no longer have to worry about keeping or where to hide a spare.
Easy Selling and Installing 
Unlike conventional locks, modern digital ones are easy to install. If you install it yourself, it should not take you more than about five minutes. Installation instructions are straightforward, even for technophobes.
Ever since the advent of the Internet near the end of the last century, how we work, study, communicate, manage our finances, and shop has changed significantly. Purchasing your new keyless lock online in such websites as Amazon is easy. 
24/7 Access 
In buildings and apartments, managers know whenever someone opens a lock. If something illegal occurs in the building, such as a burglary or physical attack, this data can be useful as evidence for the police.
Knowing when people came in and out or attempted to enter is also useful for your own home, especially if you have teenagers who have to be in by a certain time. Even when you are not in, you will know when they got home.
Many companies let the customer control the locks through online apps (applications). Your locks can also be controlled through Google Voice or Alexa, which is great for some seniors and individuals who cannot get to the front door.
Buildings and vehicles
Keyless locks today are used for entering buildings and vehicles. With these locks, no physical contact is necessary.
The technology has been around for nearly forty years. In 1980, the Ford Thunderbird, for example, had a Keyless Entry System, which the company later called SecuriCode. Virtually all cars today have remote keys.
The main disadvantage of not having a physical key that you place into the lock is if there is a powercut, i.e., the electricity supply is cut. If the system does not use a battery, or the battery is flat, it will stay unlocked or locked until power has been restored.
We hope you are now better informed about the advantages that keyless locks offer, from both a business and personal perspective. If you are considering purchasing one, make sure it is from a reputable company. Good luck!