KFC Canada is accepting bitcoin as a payment method for online orders of its "Bitcoin Bucket," a new item on the franchise's menu that can only be bought with the cryptocurrency via the bitcoin payment service provider Bitpay.
Bitcoin is a type of cryptocurrency, the first totally decentralized digital-payment system in the world.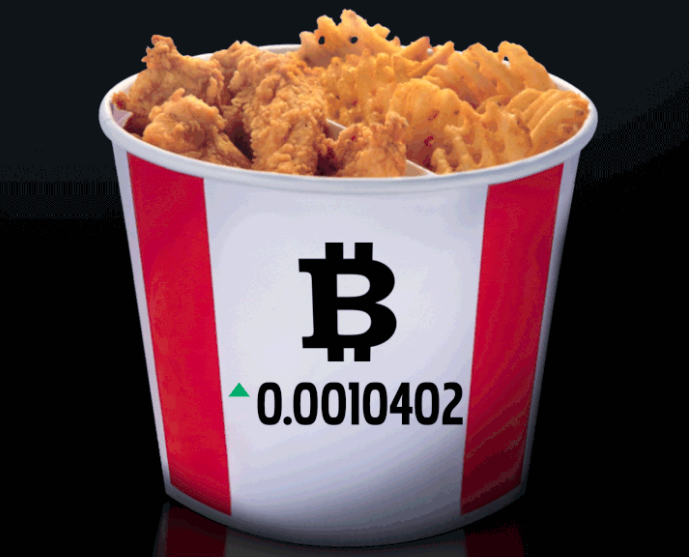 KFC Canada's official Facebook page uploaded a post which said:
"KFC Canada presents The Bitcoin Bucket. Sure, we don't know exactly what Bitcoins are, or how they work, but that shouldn't come between you and some finger lickin' good chicken."
The company in the comments section of its main Facebook post announcing the new feature: "Experts say Bitcoin is in a bubble. Put them in a bucket instead"
KFC Canada's website for the "Bitcoin Bucket" says:
"Welcome to 2018, Canada.
"Despite the ups and downs of Bitcoin, the Colonel's Original Recipe is as good as always. So, trade your Bitcoins for buckets and invest in something finger lickin' good.
"Includes 10 Original Recipe Tenders, Waffle Fries, Med Side, Med Gravy and 2 Dips.
"For a limited time, orders will be fulfilled within Canadian delivery zones.
"We can only accept purchases within Canada. Apologies, rest of the world."
---
The move is promising to those in support of the cryptocurrency as it suggests big-chains might be warming to the idea of accepting the digital currency as a payment method for certain products/menu items.
However, there are a few downsides to adopting this method of payment in the long run. Bitcoin transaction fees are quite steep, ultimately making it a more expensive method of payment (especially in a domestic market).
Motherboard's Jordan Pearson wrote that whilst KFC's decision to adopt Bitcoin as a payment method "might seem surprising", the company "has been looking for ways to flip buzzy tech into a viral hit recently", such as training employees with a virtual reality game. KFC has also been tweeting cryptocurrency memes over the past month or so.
As noted by The Cointelegraph, this is not the first time that a major player in the food industry has adopted the cryptocurrency. Last June the the German food delivery company Lieferando adopted Bitcoin as a method of payment for orders.
Video – Bitcoin is a Cryptocurrency
You have probably heard the terms Bitcoin and Cryptocurrency. But, do you know what they are and how they function? Watch this video of ours and find out.