Although many prefer the heat of summer, the cold, short winter days are inevitable. With the festive period on the horizon, it will likely be a while before temperatures reach levels where layering of clothes is no longer needed. However, aptly battling the winter weather is something that shouldn't be overlooked, particularly for those working outside. So, let's take a look at why waterproof winter jackets, for example, are must-have essentials throughout the colder months.
Avoiding Numerous Health Risks
According to a report by Project Britain, England's average winter temperature sits at 4.4 degrees Celsius. Following the decline in warmth, wearing additional layers of clothing is central to minimising the chances of developing a cold-related health problem. To combat frostbite and hypothermia, having a thick outer layer – in the form of a work winter jacket – enhances protection to your chest, thus aiding in keeping core temperatures at a normal level. Because of the health risks, work-orientated companies, such as engelbertstrauss, have flourished in providing workers with appropriate attire. Active since 1948, the German-based organisation manufactures a range of products through its cutting-edge technology that caters to trades professionals.
What Is a Work Jacket?
While there is too much choice on the market to definitively determine the best winter work jacket, it's essential to distinguish the difference between a men's work jacket and a standard piece of outer attire. New technologies such as windbreaking knit garments are emerging. Such items can provide better cold-weather protection than a standard hoodie, say, without being a restrictive heavy-duty coat. With features like quilted insides, they can still be categorised as work jackets because they ensure greater warmth.
What Is the Best Winter Work Jacket?
As it's important to stay warm, engelbert strauss developed their three-in-one functional e.s.vision coat to be an ideal work winter jacket. As this men's winter work jacket includes a dryplexx-membrane, it's breathable, waterproof, and windproof, which will benefit those who work outdoors in unpredictable forecasts. In establishing itself as a waterproof winter work jacket, the three-in-one design features a removable and storable hood that maximises both convenience and practicality.
Pivotal for Visibility 
Aside from protection against the cold weather during the festive period, a winter work jacket can also ensure worker safety, especially for those working around moving vehicles. This is evident by the volume of high-visibility jackets that are now available on the market. While the added external layer provides heightened protection from internal temperature-related health risks, a waterproof winter work jacket that integrates high-vis technology also creates a safe working environment.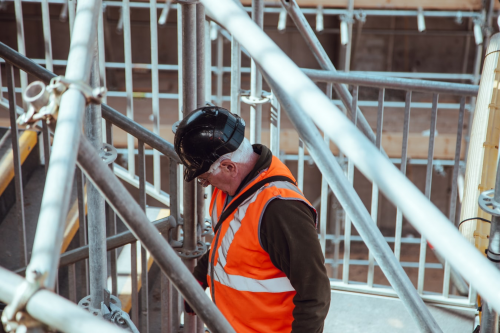 In addition to reduced temperatures, less daylight means that workers will spend more of their days working in darkness. This is why high-vis gear is of utmost importance. ANSI compliant attire guarantees less chance of an accident occurring in foggy or snowy conditions.  Moreover, visibility-friendly helmets are also becoming increasingly common, and these aid in minimising the loss of heat through the head.
Invest in Your Health and Safety
Ultimately, the cold weather of the winter months can be unforgiving without the right protection. As such, investing in a high-quality winter work jacket should be a priority for those in a trade profession. In the blink of an eye, the summer will be upon us again, but, in the meantime, self-care shouldn't be overlooked.
---
Interesting Related Article: "Small Changes for Big Work Site Safety Improvements"