Lease accounting requires accuracy and efficiency. 
If you don't automate vital lease accounting tasks, you'll be stuck doing tedious and long-winded tasks and leave your work susceptible to mistakes and inaccuracies — both of which can lead to non-compliance with strict accounting standards and hefty penalties.  
Fortunately, there are reliable tools to help you be more productive with leasing accounting.
Read on to learn about the top five leading lease accounting software for 2022 to help you assess which solution best addresses your unique business needs and budget.
1. Trullion
Trullion is a leading lease accounting Software-as-a-Service (SaaS) that optimizes your ASC 842, IFRS 16, and GASB 87 compliance processes. 
The software uses Artificial Intelligence (AI) to automate your lease accounting workflows, allowing for efficient and accurate report accounting.  
Trullion's key features include:
AI-powered contract extraction

. The software uses Machine Learning (ML) and Optical Character Recognition (OCR) to read and analyze your lease accounting contracts and other documents.





Then, it extracts relevant information from your uploaded PDF or Excel files and displays critical data points, such as the agreement's start and end dates. 
Image source: trullion.com.
360° audit reporting

. Trullion provides full visibility into your lease accounting agreements and other information. It offers audit reporting features to automate critical parts of your IFRS 16, GASB 87, and ASC 842 compliance. 

Visual and bulk modifications

. Trullion's automation and smart features allow you to upload and modify volumes of records in a few clicks.  
Trullion provides a user-friendly enterprise-level lease accounting software that gives you complete control over your data and lets you extract information from source documents quickly. 
This allows you to seamlessly link everything to your audit trail, streamlining your compliance process and lease accounting workflows. 
2. Visual Lease
Visual Lease is a lease accounting and management solution designed to simplify your IFRS 16, GASB 87, and  ASC 842 compliance. 
The software offers robust features, including:
A comprehensive audit trail that gives you full transparency into every change and input for easy tracing and tracking.

A central space for your sub-ledger across all lease scenarios and asset types. This includes subleases, master leases, and embedded leases. 

Automated calculation features to capture necessary data points for journal entries, saving you time on generating accurate calculations.

Recurring and one-time integrations with popular Enterprise Resource Systems (ERPs), including accounts payable, accounts receivable, and general ledger modules.
You can also configure your ad-hoc reports or choose from the software's library of standard reports. 
Plus, you can automate preparing your timely disclosure reports across all your lease portfolio.
Image source: softwareadvice.com.
The software's seamless reporting feature lets you view the data you want quickly, saving you time and effort in preparing and generating accurate lease accounting reports. 
3. CoStar Real Estate Manager
CoStar Real Estate Manager is a cloud-based Commercial Real Estate (CRE) platform designed for retail and corporate tenants.
The software combines a management platform, market data features, and research analytics in one place. 
After entering the lease details into the system, the software highlights the critical data components required to support your lease accounting calculations. 
Image source: costarmanager.com. 
CoStar Real Estate Manager's features allow you to generate disclosure reports quickly and easily. 
You can eliminate time-consuming lease accounting tasks, such as doing manual calculations in Excel. 
This helps simplify your processes, allowing you to generate comprehensive ad hoc, standard, or custom reports in a few clicks.
The software also provides these features:
Easy and intuitive lease accounting interface, in-house implementation services, and automated reporting. 

Equipment, real estate, and other leased assets IFRS 16 and ASC 842 compliance guidance.

Enterprise level security with data encryption and annual SSAE 16 SOC 1 and SOC 2 audits.

Robust procedures and controls for financial reporting to help you meet Sarbanes-Oxley requirements. 

An affordable lease accounting software and offers unlimited system users with no expensive upgrades. 
CoStar also provides easy integration with top accounting and reconciliation and ERP systems, streamlining your financial reporting and associated processes. 
4. LeaseQuery
LeasQuery is a cloud-based software that takes away the complexities of lease accounting through a user-friendly, CPA-approved solution. 
The software's tools take you through any facilities and lease compliance with IFRS 16, GASB 87, and ASC 842 seamlessly. 
LeaseQuery's core features include: 
Agreed Upon Procedures (AUP) engagement that covers specific LeaseQuery calculations, including journal entries and lease amortization tables generated by the software.

A robust reporting suite that includes around 100 ways to analyze leases, rent commitment, geography, and cost center (among others).

Out-of-the-box consolidated compliance and disclosure reports.

Built-in controls to ensure data integrity, helping you spot errors before they happen and avoid potential material misstatements. This feature also includes lease change and audit trail reporting, duplicate prevention, and data entry validation.  

A central repository that allows your team to quickly and easily access and retrieve documents, lease abstracts, and journal entries.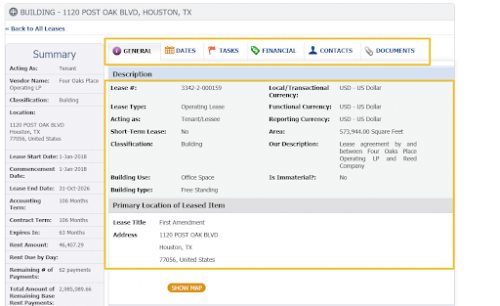 Image source: g2.com.
LeaseQuery equips you with accounting intelligence, operational tools, data integrity features, and quick report generation to optimize your lease accounting workflows.  
5. AMTdirect
AMTdirect (part of the MRI software) is a cloud-based lease administration and compliance software that centralizes your lease portfolio management.

The software's lease accounting solution facilitates accurate information flows between finance and property and allows effective collaboration on all lease accounting data. 
Image source: g2.com.
It also streamlines equipment lease management and compliance with FASB ASC 842, IASB IFRS 16, and GASB 87 guidelines.
Some of the benefits of using AMTdirect is that it helps you:
Search lease data easily to manage critical dates seamlessly

Handle all lease types and classifications from a single platform

Calculate your financial disclosure and amortization schedules quickly for your journal entries

Manage your distribution and scheduling efficiently

Simplify your accounts payable and accounts receivable processes

Deal with your Common Area Maintenance (CAM) reconciliation via the Operating Expense Manager tool
AMTdirect streamlines your lease accounting, compliance, and information flows, helping you ensure accuracy and work more efficiently. 
Ready to choose the best-fitting lease accounting software?
A reliable lease accounting software that best fits your needs can supercharge your workflows, compliance, and related processes.
You can work more efficiently, keep your data accurate, and simplify your audit process. This can help you make more strategic and better financial and accounting decisions. 
Weigh the pros and cons of each lease accounting solution, including the price and whether it can meet your needs in the long run. 
---
Interesting Related Article: "Tools to Help You Be More Productive with Leasing Accounting"