During these challenging and unprecedented times, the importance of having adequate life insurance has never been so significant.
Contrary to some reports, the Coronavirus to date has not had much of an impact on your ability to secure life cover or the price of the monthly premium.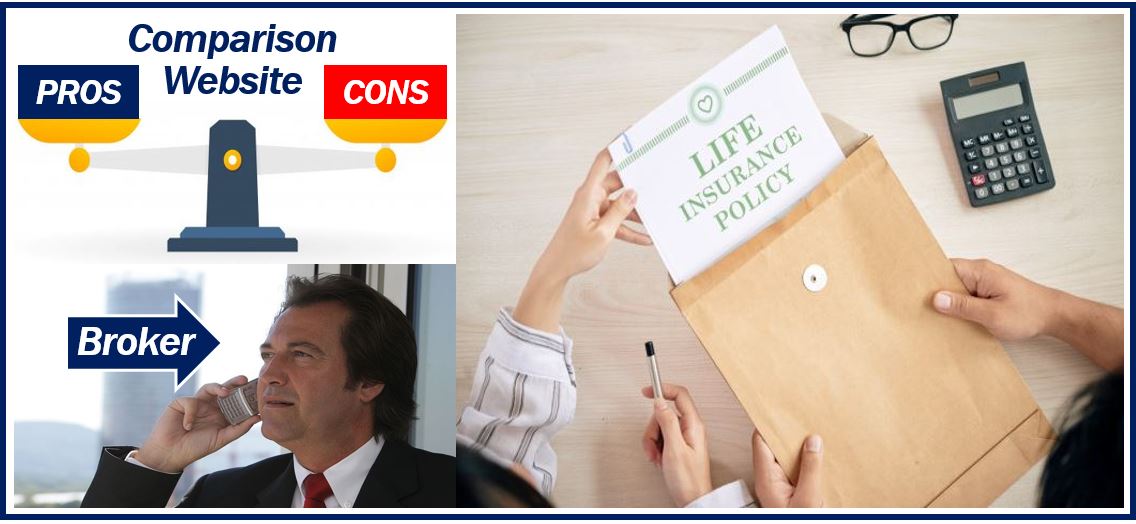 But what is the best way of securing the most suitable and cost-effective policy?
In this article we explore the merits of using a broker vs a comparison website, helping you decide which method would work best for you.
Comparison websites
There are a range of credible comparison websites available, which allow you to compare quotes and secure a policy online.
These sites provide a very convenient platform where you can compare multiple insurer quotes within a single interface.
When you find the most suitable and cost-effective policy you will click through to the chosen insurer's website to complete your transaction.
There is usually no fee to pay, as the comparison website will earn a commission from the insurer for the sale.
The main benefit is that these websites are accessible 24/7 and are not restricted to traditional work hours, like a broker. So, during our busy lives this offers more flexibility for consumers.
If you know the policy type and cover amount you require, comparison websites can be a really good option.
You can purchase your policy without having to speck to a single person. However, if you require some guidance and support, a broker is usually more suitable.
This is because you can utilise the experience and knowledge of the broker, using them to unpick the jargon or explain the advantages and disadvantages of different policies.
Pros:
Convenience, compare quotes 24/7
Usually no fee to pay
May offer a free welcome gift, (often an Amazon gift card)
No need to talk to anyone, (if you don't want to)
Cons:
Often compares a smaller panel of insurers
No personal support or guidance provided
Won't help you write your policy in trust, (avoiding 40% inheritance tax)
If you are classified as impaired, you will not get the additional support required
Life insurance brokers
The main advantage of using the services of an FCA regulated broker is that you can utilise their industry knowledge and expertise.
Life insurance brokers actually come in 2 forms; advised and non-advised.
An advised brokerage will use their skills to actually advise you on what they think best meets your requirements. Whereas, a non-advised brokerage will use the details you have provided, such as age, smoking status, cover amount and provide a range of options for you to choose yourself.
Generally speaking, a broker will compare a wider panel of insurers than a comparison website; providing a greater range of quotes to compare.
There are many different types of policy available, level term, decreasing term, whole of life, family income benefit. All have different merits and are better suitable to different aspects of your life.
If you are unsure on which policy best meets your needs, confused as to the level of cover you require or baffled by the insurance jargon – a broker can be an enormous help.
A broker will usually earn a commission from the insurer, so there should not be a conflict of interests with them channelling you towards a preferred insurer. They are working for you, not the insurer.
Some brokers, such as Reassured, do not even charge you a fee. Although, some brokers do charge a small fee, for example £30.
Once a broker has helped you find the right policy, they can need guide you through the lengthy application process, often saving you time.
A credible broker can also provide support if you want to write your life insurance in trust.
This is usually free of charge and will ensure your life insurance proceeds avoid forming part of your estate, therefore are not subject to 40% inheritance tax in the UK.
Lastly, if you are classified as an impaired risk, a broker can provide much needed additional support.
This is because high-risk applicants are often treated very differently by insurers. An experienced broker will know which insurer will best meet your unique needs. This may involve referring you to a specialist insurer, something a comparison website will not be able to do.
Pros:
Explain the insurance jargon
Often compare a wider panel of insurers
Guide you through the application process
Help you write your policy in trust (avoiding 40% inheritance tax)
The choice of advised or non-advised brokerage
Experienced in the marketplace
Impaired risk support
Cons:
There may be a fee to pay
Only open during working hours
In conclusion
Whether you decide to employ the services of a broker, use a comparison website or source quotes manually yourself, its vital to compare quotes.
This is because the cost of monthly premiums can actually vary wildly between different insurers. This is especially true if you are a high-risk applicant.
It is important to state that your age is one of the most influential factors when it comes to the cost of life insurance.
The younger you are, the less risk you pose to the insurer and thus the cheaper the premium. If you are in your 20s you can secure £200,000 worth of cover for around 20p-a-day.
So, why not seize the day, lock in those super-low premiums and get on with living your life safe in the knowledge your loved ones and family home are financially secure.
Video – What is Insurance?