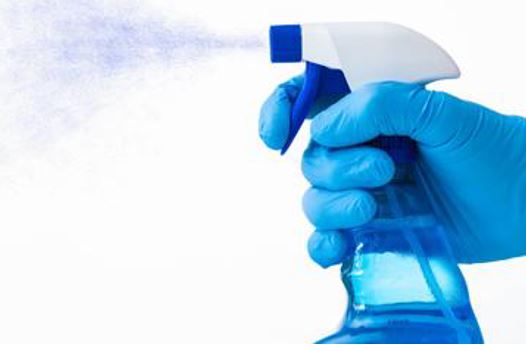 Earlier this year, American companies didn't think twice about meeting with a customer face to face. Host an office visit? Take the visitors on a plant tour? Follow up with dinner at the local steak house? All part of the time-honored art of building relationships.
That ended when we were forced to lock the building doors for sixty days due to a global pandemic.
Covid-19 taught the public some interesting things about how viruses spread. Keeping surfaces clean is important. Careful design and management of confined spaces is another critical element. Close contact with large groups of people is risky.
Welcome to the new rule of business: "keep it clean".
Sudden Growth in Janitorial Supplies & Cleaning Services
Nobody expected masks, hand sanitizer, and deep cleaning services to be the hot growth products of 2020. Both janitorial supplies and contract cleaning are fairly placid businesses. Industry growth rates are in the low single digits, lagging GDP. Demand is primarily driven by employment and retail traffic.
The competitive dynamics are challenging for incumbents. Both businesses are people-heavy enterprises that sell a commodity offering. This is especially true for "universal products", the institutional version of what consumers buy at the grocery store.
The simplicity and ubiquity of the offer makes it easy to sell, allowing competitors from adjacent channels to poach market share. This includes companies such as Staples, Amazon, and food service distributors. While there is innovation in a few product categories, most B2B efforts are focused on reducing end user cost. It's hard to get business customers to pay for better service and expertise.
Distributors do best when they solve messy customer problems. This includes securing access to product or providing expertise on how to use it. A similar idea applies to contract cleaning. Before Covid-19, cleaning and cleaning supplies were considered a solved problem. Everybody knows the basics of cleaning. Supplies and qualified labor were easy to find. On a similar note, their customers faced minimal cost of failure from hiring the wrong supplier.
These factors have changed overnight.
Where's the Beef?
Consider the case of Tyson Food's Dakota City Beef Packing Plant. A Covid-19 outbreak shuttered the plant in late April. Over 17.5% of the workforce tested positive (786 people), resulting in at least one death. The plant was closed for several days for cleaning and testing.
It's not an isolated incident either. A quarter of the workers at Tyson's Storm Lake Pork plant tested positive. Three quarters of them were asymptomatic. The Tyson plant at Council Bluffs had a similar outbreak, affecting 15% of the workforce. This will have a material impact on their results.
The ensuing supply chain disruption caught the attention of the national media. Stories ran about beef shortages, politicians and regulators took notice of the situation. Tyson's business impacts include lost revenue, negative presence, and liability exposure.
Unlike regular cleaning, infection control is an art. It requires an eye for worker traffic patterns and habits, knowledge of surface disinfecting, and the right equipment. These are not common skills.
For a janitorial distributor or cleaner, this is an opportunity to offer unique value on an essential service. In both cases, it addresses a strategic challenge for these businesses. For janitorial distributors, it sets you apart from your "no-frills" competition. For contract cleaners, it offers a chance to mix a high margin service into your regular offerings.
Either way, this can provide a path to higher margins and revitalized revenue growth.
Janitorial Supplies: Bain Capital's Excellent Adventure
Bain Capital's timing proved exceptional. They're no stranger to the industry, having been the lead investor for the Unisource Worldwide turnaround a decade ago. Bain invested again on the manufacturer side in 2017, buying Diversey Chemicals from Sealed Air. Their 2019 purchases include Imperial-Dade, the largest member of the Network Services cooperative. This gives them control of a successful rollup and platform with national reach.
The most recent chapter of Imperial-Dade's history began in 2007. CEO Robert Tillis bought the company and launched a string of 19 acquisitions. They were supported by Cyprium Partners and Audax Capital, growing the business from a regional distributor into a national platform. Their growth has continued in 2020 with acquisitions on the West Coast.
The crisis has been a mixed blessing for the janitorial supplies industry. On one hand, offices and non-essential businesses are empty, leading to a decline in demand. However, the buildings that remain in operation are buying more cleaning supplies and protective equipment.
The real opportunity remains in solving problems for customers. Product expertise is a great way to create value for your customers. Supply chain disruptions create an additional opportunity: masks, cleaners, and other protective equipment are critical items. Distributors who can help customers navigate product selection and supply issues will quickly become valued partners.
In a recent article on PeHub, Bain Capital Managing Director Ken Hanau noted that the two businesses are "meeting increased demand" during this crisis. In retrospect, their timing was impeccable.
The Emerging Market in Deep Cleaning Services
An employee testing positive for Covid-19 prompts an awkward "morning after' question for managers and executives. After isolating exposed team members, how do you ensure a building is safe to reopen?
You need a cleaning partner with credibility, who can instill confidence the problem was handled. This is a strong opportunity for businesses with experience in sanitizing, biohazard remediation, and mold cleanup. If these capabilities are already in your portfolio, growth becomes a matter of marketing and sales.
This sets the stage for our next example, a portfolio company of Lincolnshire Management. Lincolnshire Management owns Powerhouse, a construction services and facilities maintenance contractor who already offers cleaning services and Covid-19 related redesigns. Lincolnshire Management's planned pivot is simple: sell this capability into new markets.
"We want to grow the products and services to other spaces and do more in healthcare, retail and hospitality," said Phil Kim, a managing director at Lincolnshire Management.
Lincolnshire Management sees portfolio company value creation as a key piece of its investment strategy. The underlying math is attractive. Since they already have the brand and technology, just add marketing. This is a very capital-efficient growth strategy.
There's a strategic lesson here. Look at the capabilities you already own and see if anyone else needs these services. By taking a broader view of how Covid-19 has reshaped the market, Lincolnshire Management has been able to tap into new sources of growth with minimal investment.
---
Interesting related article: "Does hiring a cleaning service make financial sense?"