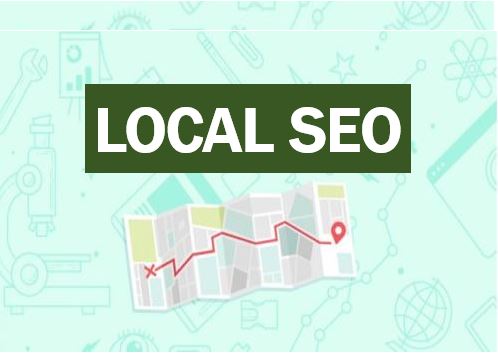 Did you know?
Nearly half of Google searchers (46%) are looking for local information. Yes, that's correct.
Words like 'near me,' 'name of city,' 'fast,' 'best,' 'cheap,' 'free,' and 'buy' are popular ways people express these local desires.
What does this mean for brand owners? That there's an opportunity to position your brand as the local answer people are looking for.
How to do that is what you're here to learn.
What is local SEO?
Local SEO is the practice of optimizing a business for local-intent searches. Unlike regular SEO techniques, the approaches adopted here primarily focus on exposing a brand to people looking for local-only information.
More often than not, local SEO is tailored to service-based businesses, although product-based businesses sometimes leverage it, too. In a broader sense, one can attribute local SEO solutions to brick-and-mortar store businesses.
If your business is land-based – where customers walk in to transact physically – you have to optimize for local SEO. That way, your products, and services will be positioned where prospects can easily find them.
Local SEO Tips: How To Make Your Brand visible to local targets
1.
Get a Google My Business Page (GMB)
Google My Business is the primary tool for implementing a local SEO campaign. This is thanks to Google's superior reach in the search engine marketing industry.
To optimize for local SEO via GMB, you need to create an account with Google. Once you do, the company becomes aware of your brand's existence in a particular neighborhood.
Is that all you need to make local searchers (potential buyers) find your brand? Not exactly.
Creating a GMB page is only half the job. You need to prove your business is credible, trustworthy, and one of the best in the area.
How do you do that?
       

By getting customers to leave online reviews

       

By updating your contact information and open hours

       

By selecting the right business category

       

By posting high-quality product/service pictures

       

By responding to reviews to show you care

       

By posting new offers regularly

       

By adding the right attributes

       

By using the right focus keywords in your business description
2.
Craft local-intent blog content
In the first paragraph of this post, we mentioned that a large percentage of Google searchers seek local information. Local information, in this case, is not always about a product, service, or brand information. Sometimes, it could be answers to questions. The best way to provide such is by writing helpful blog content.
For example, someone visiting Birmingham for the first time may be looking for information on what the city is like. If your business has an SEO-optimized guide to this effect, Google will gladly expose your brand to this person.
Another example is someone looking for updates on an ongoing crisis in a particular area. By writing blog content that provides such updates, you position your brand for local prospects to find you.
3.
Get backlinks from local-based authority websites
Backlinks are another wonderful tool for drawing Google's attention to a business.
Does your city have a local magazine publication? Find a way to feature in one of their works and get a backlink to your site.
Is there a nonprofit event happening in your area? Earn yourself some links by getting participants to visit your site to win some freebies.
What about playing host to a volunteer day? That, too, can earn you some much-needed backlinks.
By and large, look for ways to get other local-based businesses to link back to your site. Such signals will put you in the spotlight, making it impossible for search engines to miss you.
4.
Get citations on popular data aggregators
If you have a business in the US, there's a rare opportunity to position your brand in front of local prospects. In the US, the four most popular data aggregation platforms are:
       

Factual

       

Foursquare

       

Express Update

       

Neustar Localeze
These aggregators are where popular search engines like Google, Trip Advisor, Bing, Yahoo, Yelp, and Yandex get data. If you can optimize your citations accurately on these platforms, it will be easier for search platforms to find and show your brand to local prospects.
5.
On-Page SEO techniques
Who else has noticed grammatical mistakes like the ones below on a website before?
"Car rental Florida" instead of "Car rental in Florida"
"House cleaning service London" instead of "House cleaning service in London"
"Best SEO service Canada" instead of "The best SEO service in Canada"
Apparently, these phrases aren't typo errors. TAhe site owners intentionally wrote them like that. You know why? It's an on-Page technique intended to make search engines understand what a site is about and where the business is located.
You, too, can leverage similar keyword structures in your web content to optimize your web pages for local searches. You can add the keywords to your URL, title tags, meta descriptions, image alt text, headers, and blog content.
6.
Get social signals rolling in
Another way to boost your local SEO campaign is by sharing your GMB info on Instagram, Facebook, Twitter, Reddit, and other social media channels.
 The idea is to get social signals such as likes, comments, shares, and tags rolling in.
Google takes signals coming from these platforms seriously. In a way, it helps them ascertain that a brand is legit and credible.
---
Interesting Related Article: "AI And SEO: Are They The Key To SEO Success?"