Nearly every American—98 percent—owns a cellphone. For four out of five of us, it's a smartphone. When you think about the adoption of these technologies five, ten or even twenty years ago, it's incredible to see how much has changed—how we've changed.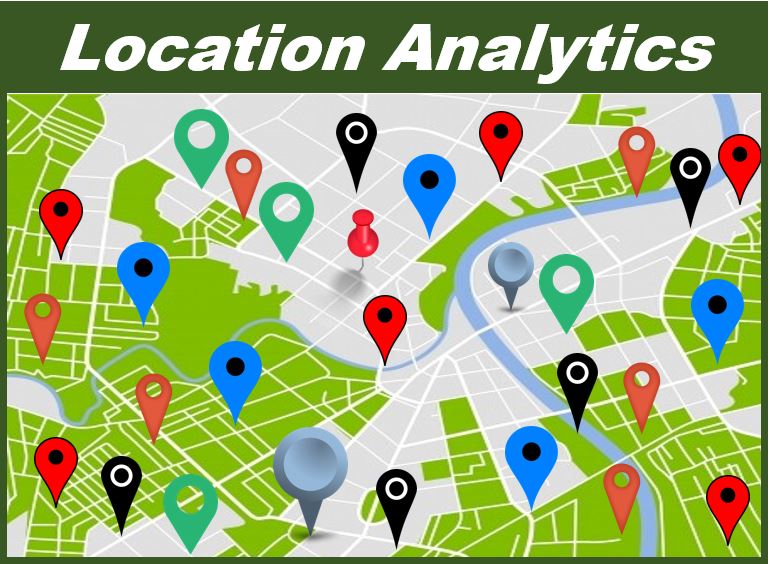 There's been a huge shift in the way we interact with technology and the role it plays in our everyday lives. In fact, there are many unseen aspects of technology constantly working in the background, collecting information about us as our smartphones rest comfortably in our hands. 
This data collection is happening all day, every day, with little awareness on the part of the user. Marketers use all sorts of data from their customers to do a better job—from demographics, to shopping behaviors. But there's one type of data that most marketers are sleeping on…
We're talking about location analytics. 
As you walk around with your phone in hand, you're generating a digital footprint. Your phone silently communicates with GIS satellites and sensors in the real world, working together to track where you go, when you go, and even why you go. 
Businesses are taking notice and beginning to use location information to inform marketing strategies and decisions. This practice has been dubbed, "location intelligence." 
In 2019, 58 percent of North American retailers planned to invest in location-based marketing. An interesting statistic, given the vast majority of North American businesses are small businesses. 
Clearly, businesses of all shapes and sizes are noticing the impact of location analytics. Here's how they're harnessing it as their secret weapon in 2020.
What can it do?
The possibilities with location data are vast. Businesses can glean all sorts of insights and, more importantly, begin to predict customer behavior by analyzing location information. Here's how it can help your business. 
Gain a sophisticated understanding of the customer
Collecting demographic information about your customers has been a cornerstone of market research for decades. But in many cases, this information lacked rich location data, adding an important layer of context to your customers' demographics. 
Location analytics may reveal that customers from one neighborhood tend to shop with you in the morning, while others from the neighborhood across the street prefer to shop in the evening. You could also notice a group of customers who travel a great distance to visit your location, despite living closer to your competition. 
These types of insights, and more, can help you understand who your customer is and how they behave. With that information, you can more precisely inform your marketing decisions and gain more customers. 
Find new markets 
Another benefit of using location information is finding untapped markets. You may simply assume every household within a 10-mile radius of your business knows about your company and what it does, but that might not be the case.
After looking at location information from your customer database, you may notice a few neighborhoods with residents who match your target demographic, yet you have few customers from that part of your territory.
Armed with this information, you can plan a targeted campaign to capture those neighborhoods and grow your customer base. 
Identify opportunities for expansion
Location analytics is a great way to find new markets, yes. But what if that new market is just a bit too far from your existing brick-and-mortar location? Should you open a new store? Maybe.
Using location intelligence to map where your customers come from is a great way to determine if a new location is a good next step. You may notice a pocket of customers coming from farther than most, but is that enough reason to open a new store? Possibly.
You can also use location information to learn if there are potential customers matching your demographics within range of where you'd like to add a location. If you find a spot that's reasonably far from your current location, within a few miles of several existing customers and potential new customers should you expand? Probably.
Segmentation
Segmentation is another old trick in the marketing playbook, but incorporating location analytics takes this tool to the next level. 
Say you're the owner of a local lawn and garden store. Through location data, you learn customers from a certain geographic area buy their spring flowers from you, but not their mulch. The rest of your mulch sales are well-dispersed throughout your coverage area.
You want to sell more mulch, but don't want to do an entire advertising campaign around it. The solution? Only advertise the mulch in the neighborhood where your mulch sales are weak. It more precisely targets your marketing efforts, reducing costs and (hopefully) increasing sales.
This is about getting the right message to the right audience, and not wasting money in the process.
Advertise to customers in real-time
Have you ever walked into a Target store, only to have your phone ping letting you know about the day's promotions and offers? Yes, it's obnoxious, but it's also incredible. Because of location intelligence, Target knows you're in the store (and probably what departments you like to shop in the store) and advertises to you as you're driving by or walking in.
Real-time push notifications are powered by individual retailers' apps, but if you don't have a front-end app for your business, you can still use location analytics to advertise to your customers in real-time. There are media buying tools available enabling you to engage instant advertising through programmatic media. 
Personalize promotions and offers
A recent survey found that 63 percent of consumers expect personalization as a standard service. These same customers felt recognized as individuals when sent personalized offers and promotions. If they think personalization is lacking, they'll probably move on to another business that makes them feel like a valued individual.
Don't neglect personalization and risk losing your hard-earned customers!

Using location intelligence to enhance your understanding of your customers will naturally lead to personalization. The more you know about your patrons, the better you can tailor promotions and offers, the more customers you will maintain and gain.
Who's doing it well?
Clearly there are many benefits to engaging location intelligence to inform your marketing decisions. Here are a few companies successfully using location analytics as their secret weapon to enhance their marketing strategy. 
Sephora
As you may have heard, we're in the midst of a retail apocalypse, transforming the landscape of brick-and-mortar shopping as we know it. But don't tell Sephora that. In 2019, Sephora planned to open 35 new stores in the US, expanding its total store roster to more than 2,600 worldwide. Not to mention the more than $4 billion in revenue the beauty giant rakes in annually. 
How, despite the seemingly insurmountable challenges facing the retail industry, can this company survive and thrive? There are many reasons for Sephora's success, but its use of location analytics is certainly a leading factor.
Sephora uses its mobile app to recognize when a customer is near or in a store. Once there, shoppers are sent customized promotions and offers to entice them to try and buy. The company's mobile app includes detailed store maps and directions to customers' favorite products, all powered by location intelligence. 
Chick-fil-A
The fast-food industry has stagnated in the last decade. Changing customer tastes, over-saturation in the market and the rising costs of doing business have hit this once-thriving market segment hard. But Chick-fil-A is the exception, not the rule. 
Chick-fil-A is the third-largest restaurant chain in the U.S., making a mind-boggling $10.5 billion in 2018. Every year, it opens anywhere from 90 to 100 new locations. This company has experienced consistent growth while its competition has settled for survival. And its not-so-secret weapon is location analytics. 
The company's expansion efforts are data-driven decisions powered by location intelligence. When it begins to consider a new territory, basic census data layered with location information is considered. But it takes this data a step beyond by creating personas for the people living within the geographic area based on employment status, family size, income, home value and more. Location analytics are also used to consider competition in the surrounding area.
How can I get in on it?
Location intelligence powers the marketing efforts of nearly every successful company today. Few among us are on the same level as Sephora or Chick-fil-A, so it begs the question, "is using location analytics  feasible for my business?"
The answer is a resounding yes.
There are many tools out there to help any size business harness to power of location analytics. Whether you're a local coffee shop or a regional distributor of medical supplies, there are effective and affordable tools out there to help engage location information to inform your marketing decisions.
One such tool is Maptive, which uses your existing customer data from Excel spreadsheets to do everything from mapping demographics, determining the boundaries of your territory, creating heat maps and more. 
Maptive's powerful software works for any type of business, regardless of size. All you need is a solid data set to get started. 
So what are you waiting for? Location analytics are the secret weapon of every expert marketer in 2020. It's time to elevate your advertising and engage location intelligence to power your business.
_______________________________________________________________
Interesting related article: "What is Digital Marketing?"
Video – What is Online Marketing?