Coding is becoming a part of our daily life, most of us see code hidden everywhere. From the point we buy fruit from a grocery store we scan our product and get a bill to transact money, we see code as a part of our daily lifestyle. There are so many coding languages involved in every single product or service we avail that even an expert takes a few hours to figure out the coding language that is being used for the work. A website has two different parts, one is a front end and the other back ends, to run things properly both front and back end are combined via different languages.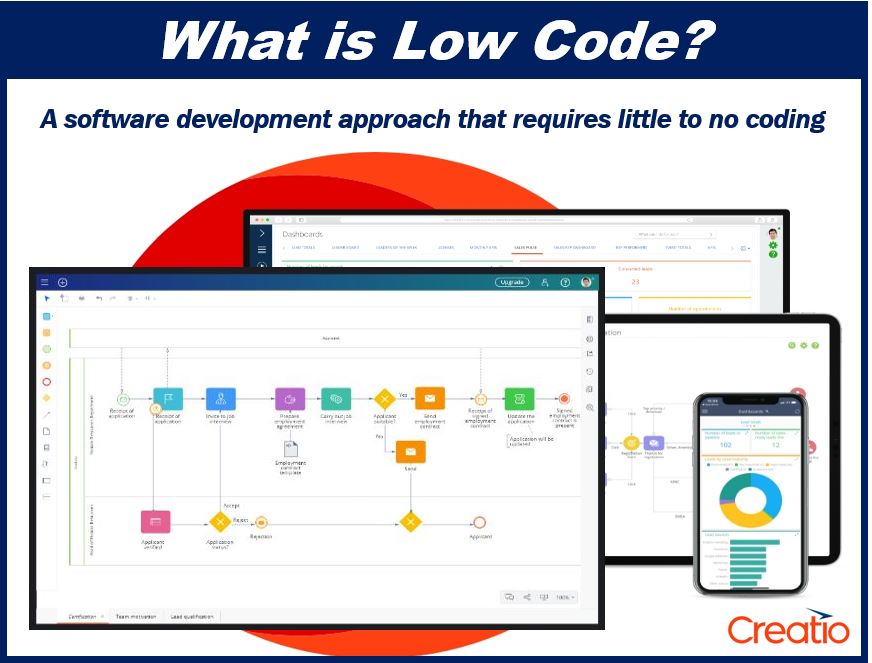 If you don't know what a low code platform is, you are at the right place, let's dig deeper into figuring out about low code.
What Is Low Code?
In application development, low code is a visual development approach, it helps the developer create various applications for mobile as well as web. Low code has been specially developed for developers who are not yet fluent in development. It has a drag and drops procedure with a combination of model-driven logic, with a graphic interface. In short, no matter you are a professional or beginner, low code platforms help developers of all sorts, experiences, and backgrounds to write code.
Even for non-technical developers, low-code platforms help in the coding process however, for professionals it works as support that enables them to complete tasks that are required for the development of the application.
In any IT space, developers work together to create an application and they release it, however, it is done via a traditional coding method, so this is a lengthy process and takes a lot of time. With the help of low-code platforms, this work is done quicker, easier without any extra effort to write code and formulate a logic.
So, when a developer uses low code for developing an application, it helps in developing full range applications with all types and varieties. With low code, developers can develop apps arranging from upgrading legacy to IoT enabled smart apps.
What Are The Components Of A Low Code Platform?
Constant Integration
Low code helps in merging the model changes into a version control repository, once the whole task is completed. Every time a change is made, the system grabs the latest version from the repository and fetch changes. Overall, this helps in building, testing and then validating the whole work every time a change is made.
Reusability of Work
With low code, the work is becoming more reusable, which means that every time a new project comes, developers are not required to start from the beginning. What is low-code? With low code, the project that has already been developed can be changed, in case there is a bug, it can be detected and then fixed by using the components. This further increases the application portfolio quality.
App Development via Omni-Channel
Usually, code is completely supported independent and there is a requirement for tooling each incompatible target. However, with the low code, developers can now look for various ways that help them unify activities and serve targets via just a single modular codebase.
Open and Extensible
Low code has fast integration and provides better control. In responsive development environments, there is always a dedicated code and logic that is built for helping in understanding code. With low code, deploy applications are just one click away and they can be used for native architecture. Furthermore, there are integration told for app store publication that helps a developer and make his work easier.
Better Performance
Low code provides a way that is faster and minimizes the risk of failure. It has built an automated testing process with proper proactive quality assurance. Moreover, it has real-time performance management that further helps in making the development process easier.
Better Connectivity
It provides easier access to technology to the new generation. Where most have to learn full-fledged development, with a low code platform, anyone can work on machine learning, blockchain, cognitive services, and IoT without any special expertise in either of the domains.
Deployment
In the traditional working process, deployment takes the longest. However, with low code platforms, anyone can deploy to the cloud with just one click. The developer can take full advantage of the public cloud as it manages the application on its own without any help. The scalability of the work comes with simple configuration, it also helps in reducing costs and also helps in forming an infrastructure that is better by providing control over everything.
What Can You Do With Low Code Platforms?
Low code platform is mostly made for people who are not familiar with coding or in short they are not very well versed and professional in coding. With low code platforms, anyone can make an app with just drag and drop format. There are so many apps that can be made with the help of low code platforms. Some of the apps that can be made with the help of low code platforms are listed below:
Innovative Apps
A developer can explore emerging technologies, the complex layout including sophisticated machine learning, blockchain, AI and IoT that otherwise requires a lot of effort and learning. With the help of low code platforms, next-generation can start with drag and drop to develop an app that otherwise is not easy to develop without proper education and learning.
Legacy Migration Apps
For people who already own an application, low code can help in modernizing the already existing platform and making the latest adjustments to help in making it more advanced and sophisticated. Low code, comes with better interrogation quality that further helps in managing performance as well as making changes that help in enhancing the reliability of the app.
Customer Engagement Apps
Low code helps in developing apps that are more user-friendly and have customer engagement. With better user engagement, comes better customer satisfaction, more retention, and better revenue generation. This further also helps in developing a better user interface framework.
______________________________________________________
Interesting related article: "What is Software?"