Low cost manufacturing in China has been the driving force behind three decades of major economic growth, which has taken the country to prominence as a global manufacturing powerhouse.
Low cost manufacturing has helped China become the world's greatest producer and exporter of low-skilled, labor-intensive manufacturing goods.
Ingo Pitterle and Rui Zhang, at DESA (Development Policy and Analysis Division), the main development research division of the United Nations secretariat, suggest that perhaps an imminent end to China's dominance in low cost manufacturing is looming.
Wages as well as other productions costs in China have increased significantly. The country has moved up the industrial value chain.
The researchers gathered and examined data on American imports of footwear and clothing during a ten-year period ending in 2012, where China had a more dominant position compared to Europe.
Data showed that in both footwear and apparel, China's market share in the US market fell from its peak in 2010. So far, the fall has been a modest one. China is still America's main supplier of clothing and footwear.
While wages across the manufacturing sector rose significantly from 2010 to 2012, China's share of US total imports in footwear fell from 87.5% to 83.7% during that period.
China's dominance of American clothing imports is less pronounced. In 2002 its market share was less than 10%, rising to 39.2% in 2010. This fell back to 37.8% in 2012.
Viet Nam's share of US clothing imports rose to 9.2% in 2012.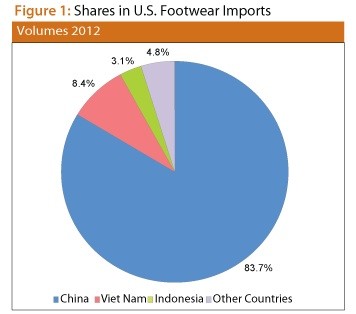 Will low cost manufacturing shift to other parts of Asia?
Pitterle and Zhang say there is little doubt that in the decades to come, low cost manufacturing will shift away from China towards other developing nations in South and East Asia, especially as far as clothing, footwear and textiles are concerned.
They emphasize that this shift will be a gradual one. Productivity in China continues to improve, meaning that "wages still have space to continue rising before there is a more measurable impact on China's market share in these sectors."
West China offers cheaper costs. The authors believe many companies may choose to move their production there, rather than moving abroad.