Lupus affects nine times more women than men. Experts know that lupus erythematosus, SLE, or lupus affects many more women than men, but none of them can explain why. Now that University of Houston biomedical engineer Chandra Mohan has the funding, he has set out to determine why.
Prof. Mohan, Hugh Roy and Lillie Cranz Cullen Endowed Professor of biomedical engineering, has $2 million to solve the mystery.
Prof. Mohan says he is taking the $2 million straight to the bank. Not a financial institution, however, but Bank1. In other words, a critical gene in the B-Lymphocytes.
B-Lymphocytes are immune cells that make the antibodies that make the immune system attack good cells and tissues. That is what Lupus does. The immune system of a patient with Lupus attacks good cells as if they were nasty germs.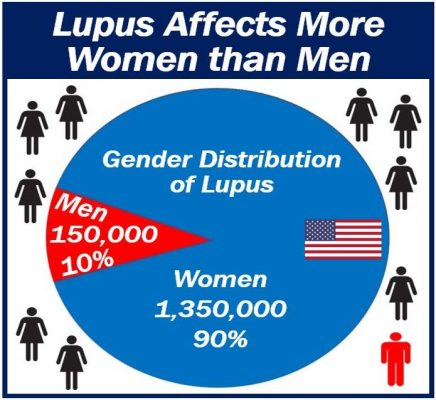 Lupus affects more women – due to Bank1 gene?
Regarding Bank1, Prof. Mohan said:
"Bank1 exists in men and women, but in women, the consequences are more drastic because the Bank1 gene and female hormones work together on the same pathway and make even higher levels of disease-causing autoantibodies."
Genetic studies have identified many genes that probably increase the likelihood of developing lupus. However, how they function is still a mystery. Bank1 is one of these genes.
Prof. Mohan added:
"We will examine how the Bank1 impacts B-cell function and disease, in concert with female sex hormones."
"A unique aspect of this grant is its focus on unraveling why females are more prone to lupus, by factoring in the contributions of culprit genes and estrogens."
Lupus is a complex disease
Having a target to aim at is a great step forward. Lupus is a complex immune system disease that is extremely difficult to diagnose. Many of its symptoms exist in other conditions and diseases.
It is also not simple to treat because it is a systemic disease. Systemic means it affects either the whole body or many different parts of the body at the same time.
One study found that more than one-third of lupus patients saw six different doctors before they were properly diagnosed with the disease.
Experts believe that lupus is the result of environmental, hormonal, and genetic factors. Sunlight and air pollution, for example, are environmental factors.
The body of a lupus patient has high levels of anti-nuclear autoantibodies and B-cell hyperactivity. Autoantibodies are antibodies that attack good cells and tissues in the body. They should not do that.
Over the past six decades, the FDA has approved just one treatment specifically for lupus.
A recent Phase 2 trial of Baricitinib (trade name Olumiant) showed that lupus patients with a skin rash or arthritis benefited from treatment.
Lupus affects more women – are sex hormones at play?
Prof. Mohan plans to examine the molecular mechanisms through which sex hormones and lupus genes interface. Specifically, how they interface to cause autoimmunity.
We need to gain a better understanding of the pathogenic mechanisms underlying lupus. Then we would be in a better position to create new and effective therapeutics, Prof. Mohan said.
Prof. Mohan is one of the leading lupus researchers globally. He has been exploring the disease on different fronts for over thirty years.
Regarding the major areas scientists need to advance in, Prof. Mohan said:
"There are three major areas we need advances on concerning lupus. We need a better understanding of the disease, we need to know if we can diagnose and monitor the disease better using better biomarkers, and we need to know superior ways to treat the disease."
Prof. Mohan will be working with biologist Anne Satterthwaite of UT Southwestern Medical Center in Dallas and Chin-Yo Lin of the UH Center for Nuclear Receptors and Cell Signalling.