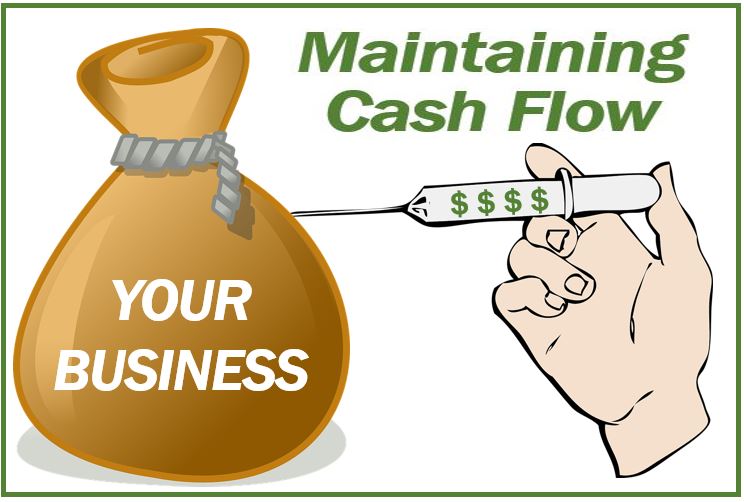 Owning a business is one of the most exhilarating moments in many individuals' careers. It enables entrepreneurs the freedom to work by their own rules and can lead to exciting and potentially unlimited financial rewards. A business' cash flow is one of the more mundane elements of a business, but it is the most pivotal point to focus on.
As an entrepreneur, you can lose everything if you fail to monitor your ins and outs effectively and responsibly. It is also worth considering your responsibility to your staff: if your business gets into bankruptcy, you are affecting many more people than just yourself. There are a wide variety of simple and effective ways to manage your company's cash flow, from adhering to traditional principles of budgeting to predicting consumer behavior with data. This article aims to help you organize your financial sphere to avoid any harmful business mishaps.
Financial Forecasting
Your first step is to maintain proactive financial forecasting. Financial forecasting is the process in which you predict how your business will perform in the future. It requires you to keep an extremely accurate report detailing your current revenue and expenses so that you can utilize historical figures or trends to forecast future margins. This is the optimum way to forecast gross margins and non-production expenses (rent, marketing, accounting, bonuses, etc.) that the business may incur throughout the financial year.
This process relies on a set of well-maintained reports detailing itemized costs and spending. A really easy place to start when improving the cash flow of your business is to record everything that your business has achieved so far and to benchmark appropriate figures for the future. It is worth exercising caution when you start your calculations because it goes without saying that too much money in the bank is vastly more preferable to having too little.
Scaling at the Right Time
Companies that grow too quickly are in danger of collapsing at the same speed. The most common reason this happens is that there are cash flow mistakes, often due to overly-optimistic growth projections. This is just one reason why financial forecasting that errs on the side of caution is strongly advisable. However, there is also a valuable lesson that you can learn from the difficulties that other businesses have faced. That is to control your business growth and allow your company to flourish at its own pace. Having ample cash as a buffer for unforeseen circumstances, including economic and political impacts, is essential.
When it comes to making these scaling decisions, you can rely to some extent on your forecasting, but you'll also want to consult someone who's incredibly knowledgeable about business financials. This individual you can either find through a recruitment drive or as a consultant, but ultimately your business should look to onboard a CFO.
Appoint a CFO
As a business grows, the moment comes when every business owner hands their fiscal responsibilities over to a qualified professional. It may be a very challenging task for many extremely adequate CEOs who remember when their now-thriving business was just a figment of their imagination. However, handing over fiscal responsibilities to a CFO (Chief Financial Officer) comes with a whole host of benefits.
Although they will not know the company as well as you do, they can offer objective opinions and potentially even better analyses. It is also worth highlighting that just because you know how the company's finances have always worked and how profit has ebbed and flowed throughout the months or years, you do not know its future and have no experience with handling the finances of a larger company – something a CFO will be incredibly useful for advising on. Appointing a CFO such as a Colorado Fractional CFO is a serious commitment, and it is crucial to learn as much about their role as possible before you decide whether hiring for this role is suitable for your company. Look out for:
Extensive experience working with other businesses in a startup environment
Knowledge of your industry and other players in it
A great working relationship with other professionals
Excellent techniques to adapt a model to your business
Using Budgeting
Financial forecasting is an intricate art, and it is highly advised that you invest in the appropriate accounting software that will help you to maintain a budget and ensure that the delicate balance of your gross profit and your expenditure is within a reasonable equilibrium. There are also a wide variety of accounting apps that are extremely helpful because they are accessible through your smartphone, which will most often be on your person, meaning that there are no excuses for not being on top of your fiscal responsibilities at all times.
Over time, though, you're going to need to ditch the apps and the simple spreadsheets as your business becomes too large and too complex (and your data too valuable and private) to run on your own. It's at this point that you will manage your cash flow with the help of extremely highly-developed software that can show you not only how your financial health is faring over the weeks and months ahead, but also the value of that data to your company – including predicting other sales spikes and consumer behavior.
Plan for Every Eventuality
One crucial part of maintaining efficient cash flow is to take the responsibility to be prepared for every eventuality. Unfortunately, the reality is that some things come entirely out of the blue and can floor your business if you're not well prepared to take it on the chin and spend a little extra cash to get you back on track.
One such unfortunate and unpredictable event occurs when larger clients and customers fail to pay you. This is rarely due to any underhand reason; most of the time, it'll be because a client is having cash flow issues of their own. In any case, you should be perfectly prepared to use debt recovery companies in order to legally claim the money that you're owed as soon as possible after credit defaults and failures on the part of customers or clients. Otherwise, someone else's cash flow issue can quickly become your issue.
If you plan for the worst-case scenario, you will benefit from a more objective perspective towards your business. You have poured your time, capital and best ideas into this business so you will be heavily invested in its success, however being emotionally dissociated from your company will be extremely beneficial in relation to maintaining a positive cash flow. Remember that it is imperative to plan for failure rather than success and that this attitude will help you generate ideas or even recognize mistakes that you would not previously have noticed.
Manage Loans Well
Whether you're paying back loans slowly, or you're the beneficiaries of some angel investment that'll take your business to new heights, it's this kind of source of cash that's highly critical to managing effectively. If you don't, you can end up in ever-tightening spirals of harmful debt that ultimately can lead your company to financial ruin.
Always be on top of loan repayments. Your credit rating and history could not be more vital as you're starting out in business – and it's simply impossible to run a business if you're defaulting on loans. Be responsible, don't over-spend, and take the time to note down all the spending and repayment obligations you have each month before planning investment injections into your business' infrastructure.
Maintaining a healthy cash flow within your business is a very simple process, but it requires business owners to take responsibility for their finances. If you are proactive in your financial planning, data predictions and ensure that you have an adequate buffer in case things don't go to plan, there is no reason why your business should not flourish and continue to grow at a healthy speed.